Cat & Chris are a relaxed, fun-loving couple who decided they wanted an at home engagement shoot with their cat Chutney, and then to visit their favourite local microbrewery for some retro board games! I love how different engagement shoots can be and I think it's really special when couples let their personalities shine through.
When Cat & Chris first booked me to photograph their wedding, they weren't sure if they wanted an engagement shoot. I explained that I designed my wedding package to create the very best images and allow me to tell the story of a wedding. Although of course it's not compulsory, I always recommend an engagement shoot (& include one for free in my wedding pricing) as it's a lovely way for us to get to know each other, for me to get used to photographing you and for you to feel comfortable in front of my camera. This helps to ensure the images on your wedding day are as beautiful, relaxed and natural as possible. Knowing how important their cat Chutney was to them, and how he wouldn't be at the wedding, I also sent over a few engagement photos with cats as possible inspiration! They decided that something informal might be a good idea – as they put it "to do some smiling practice!" and chose to do it with their cat, at their first home together before they moved.
Starting in the comfort of their flat for their at home engagement shoot, with their cat for company, they relaxed in front of the camera before we headed out to By The Horns a quirky microbrewary in Wimbledon. Chatting over drinks, playing Guess Who and Scrabble was the perfect opportunity for relaxed, laughter-filled photos. And before we left, we stopped for some portraits against the gorgeous blue shutters I'd spotted outside. (I love bright colours and quirky backdrops so I'm always looking out for spots like this for gorgeous photos).
At the end of the shoot, Cat said they'd actually really enjoyed it and that it "felt very special", and when they received their gallery of images they both said they were so glad they'd decided to do it.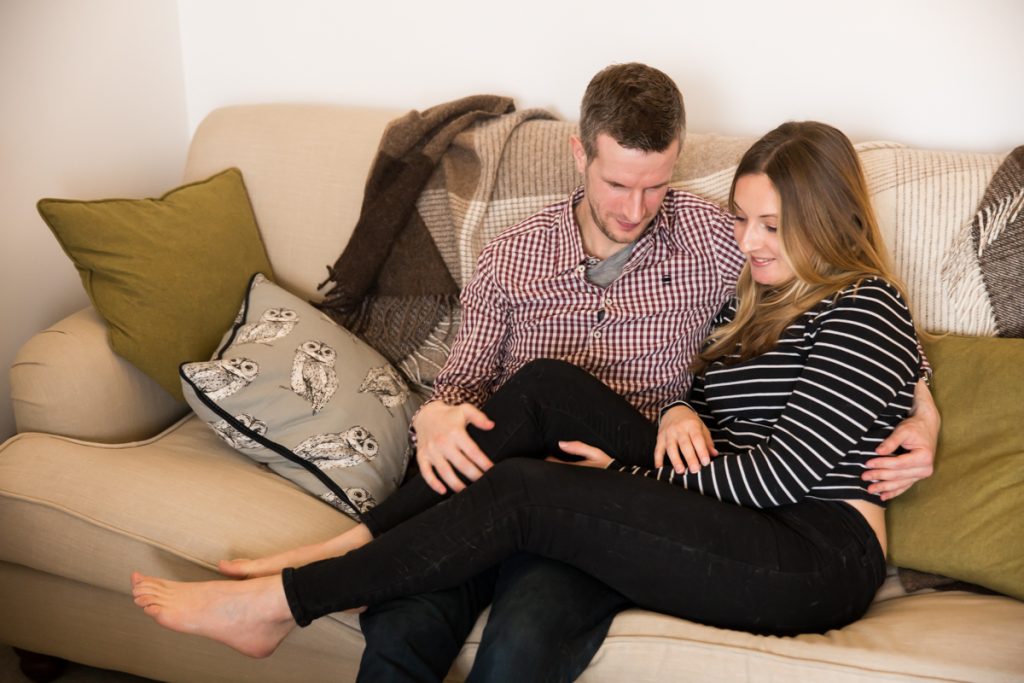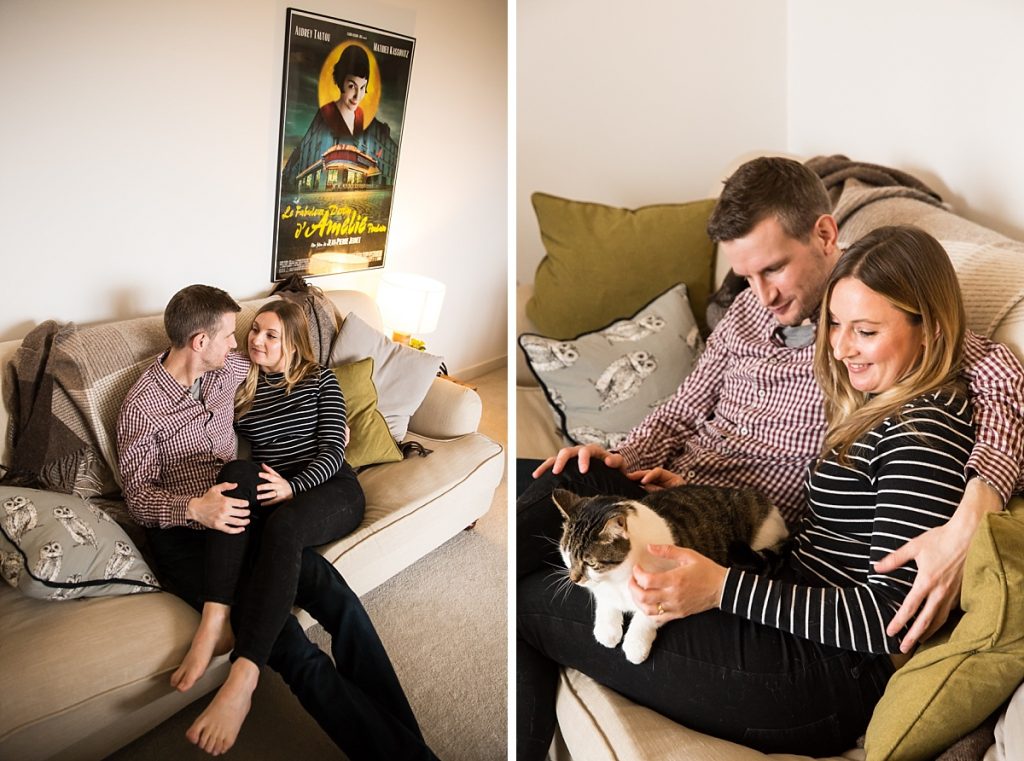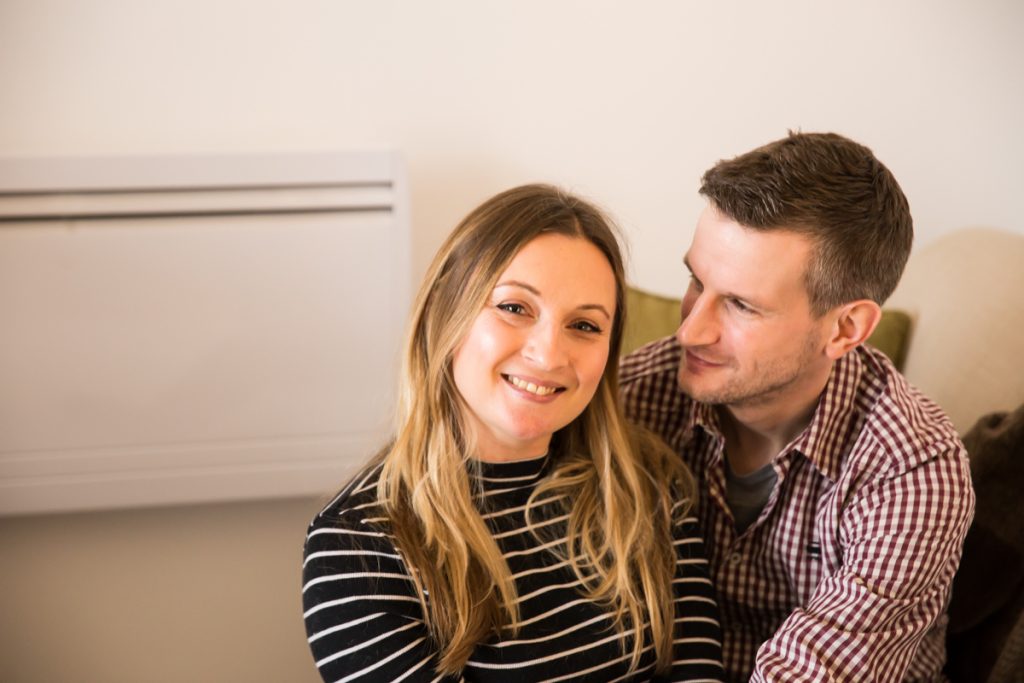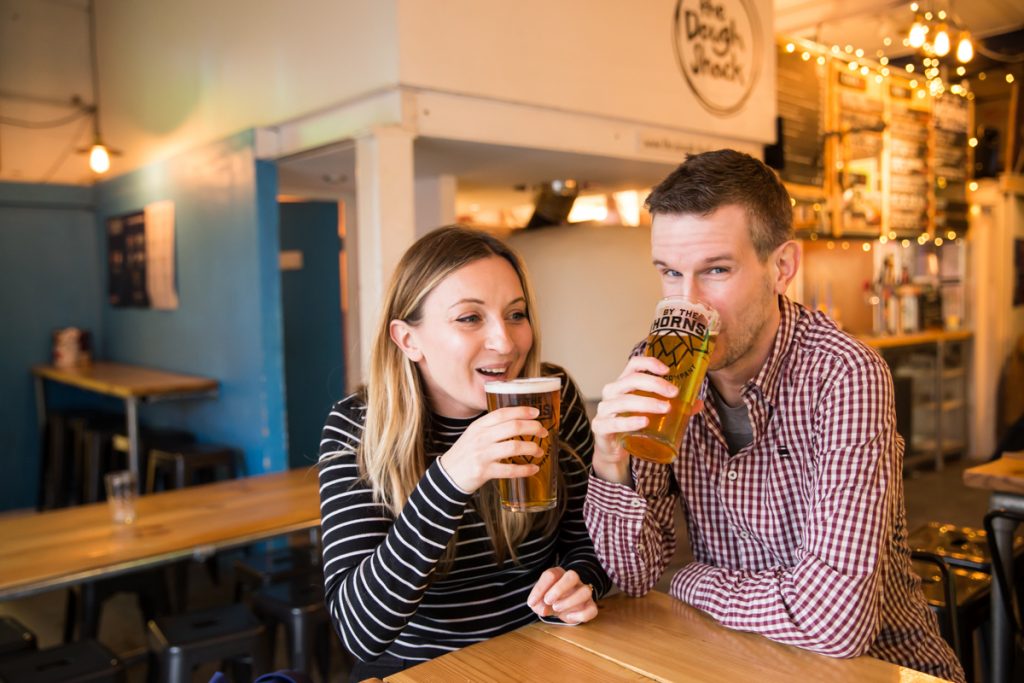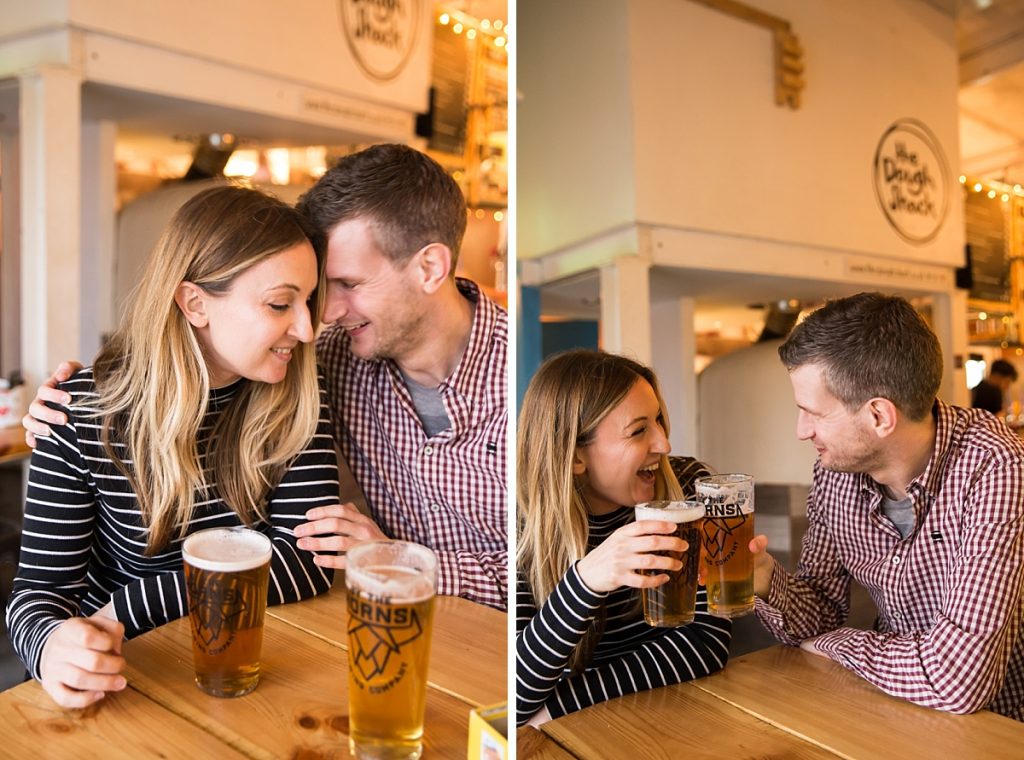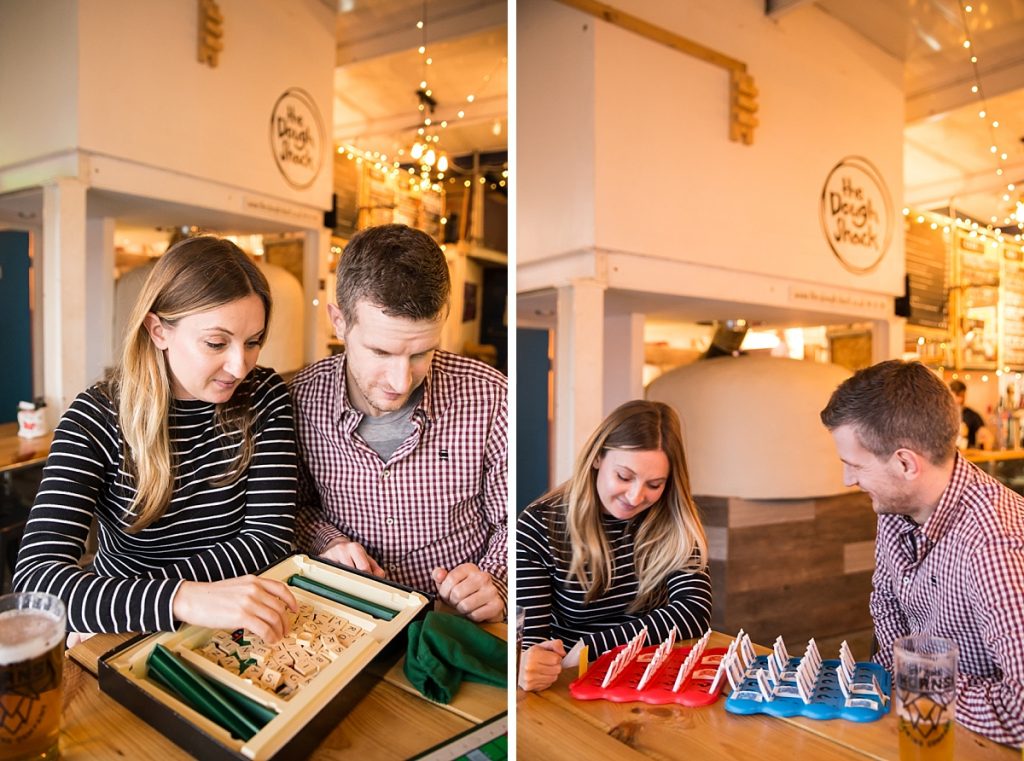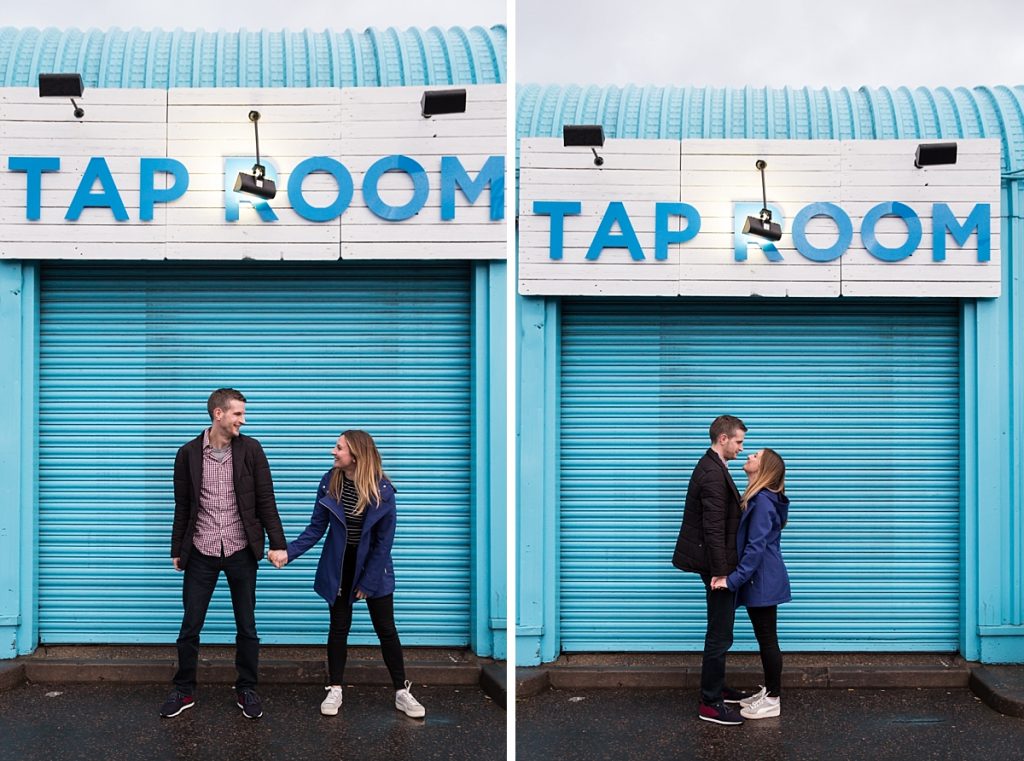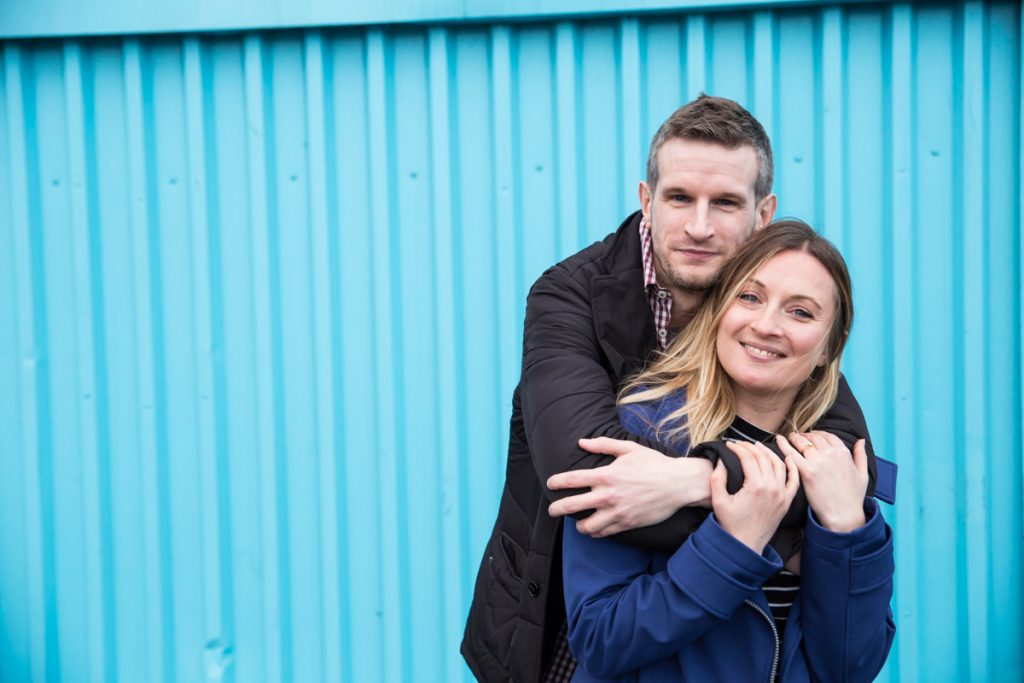 There are so many options for engagement shoots – for some extra inspiration you might want to see my engagement photos framed by London landmarks, or rugby lovers engagement photos, colourful urban engagement photos or romantic portraits in one of London's beautiful parks. If you'd like a natural, relaxed engagement session that shows your personality (perhaps this has inspired you to have an at home engagement shoot with your pets!), or if you're planning a proposal and you'd like me to capture the moment, I'd love to talk to you about your plans.