I love personal weddings – full of thoughtful touches and meaningful details. Your wedding ring is the symbol of your marriage that you'll see every day, so choosing a personalised wedding ring that feels and looks just right for you is so important. Justin Duance is a super talented jeweller best known for unique handmade rings cast in beach sand or inlaid with salvaged wood. With two decades of experience creating bespoke rings, I asked his super talented team for their top tips on how to design a personalised wedding ring. From the basics of choosing the right width of ring, to the details of including your own wood or beach sand in the making process – they take us through the steps to commission a ring made especially for you.
***
Begin by getting an idea of what you would like – either by looking at images or trying rings on. Visit a local jewellers or gallery where you can see and try a wide range of designs. This is also a great opportunity to find out your ring size if you don't already know it.
While trying rings on, make a note of the elements you like. Things to think about are:
Metal
Profile
Shape
Width
Budget
Details
Metal
Almost all our rings can be made in any precious metal. Different metals are different colours, weight and strength:
Silver is the most budget friendly precious metal. However, it is also the softest making it less durable and therefore not ideal as a wedding ring.
Gold comes in different carats and colours. The higher the carat, the heavier and also more expensive it is. You can read more on choosing your gold here.
Consider alternative metals, such as titanium. Titanium is super strong and super light weight. Because it's not considered a precious metal it's not as expensive. However, you may find yourself a little limited with design as it's such a difficult metal to work with due to it's strength. It's a great choice for wood inlay rings, as it offers maximum protection.
Profile
Our rings fall into two categories: Comfort or Flat. You may have seen variations and combinations of these profiles which we can certainly do if that is preferable to you. Choosing the shape of your ring is based on look and feel:
A comfort profile can also be referred to as a court profile, it is curved inside and out. The rounded edges make the ring more comfortable to wear.
A flat profile ring is, as the name suggests, flat inside and outside. It doesn't necessarily mean it's not comfortable, plenty of people choose this profile and there aren't any sharp corners.
If you like the look of a flat ring, but the feel of a comfort profile – just ask us for a flat-comfort ring.

Shape
Your ring can be any shape you like. From classic shapes such as straight or wishbone, to the more organic curves and varying widths of our sandcast rings. If you are fitting your ring around your engagement ring that may inspire the shape of the final design, you can see some inspiration for choosing a shaped wedding ring here. There's really no rule book you have to stick to – because we make all our rings from scratch, we can make you a totally personalised wedding ring.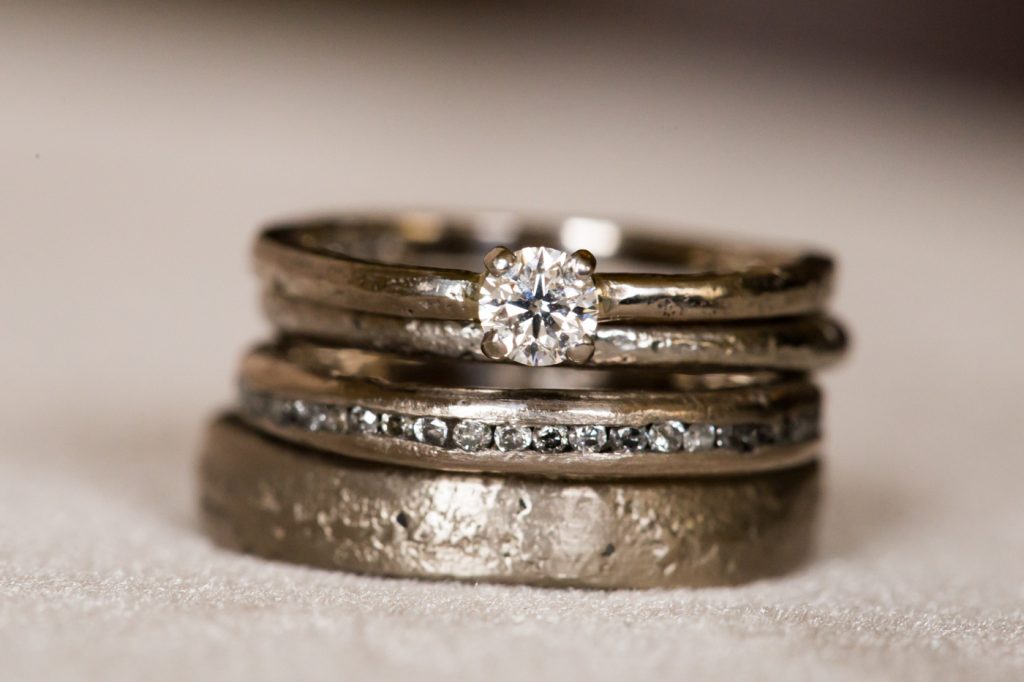 Width
You may already have a preference for chunky or dainty jewellery and that's a good place to start. If trying a selection of rings on isn't an option for you, a good exercise can be done with paper. Cut a few strips of paper in different widths and see how they look on your hand. It's very rudimentary but actually quite effective!
Budget
It's good practice to have guide prices for the pieces that are catching your eye. If you have a set budget, mention it to the jeweller you are speaking to. We always strive to work within our customers budget and can often offer suggestions or variations to reduce cost. We'll never take a hard sell angle, it's not in our ethos. Ultimately we want you to end up with a personalised wedding ring that suits you, your lifestyle and your purse.
As a rule of thumb, the higher the carat of gold and the more intricate the design is, the more expensive your piece will be. There is no additional cost for using your own wood or beach sand. Using your own heirloom materials can reduce the cost, although it does depends on the design.
Details
Personalisation using beach sand or wood
Because our ring designs are cast in beach sand or inlaid with wood you can actually send us your own! It's a lovely way of adding a unique and very personal touch to your wedding ring.
Have you been holding on to a chunk of the cherry tree from your childhood home? Here's your chance to use it! Or perhaps your partner proposed to you on a beach? Your personalised wedding ring could be cast in that very sand (from that very day if you're super organised!).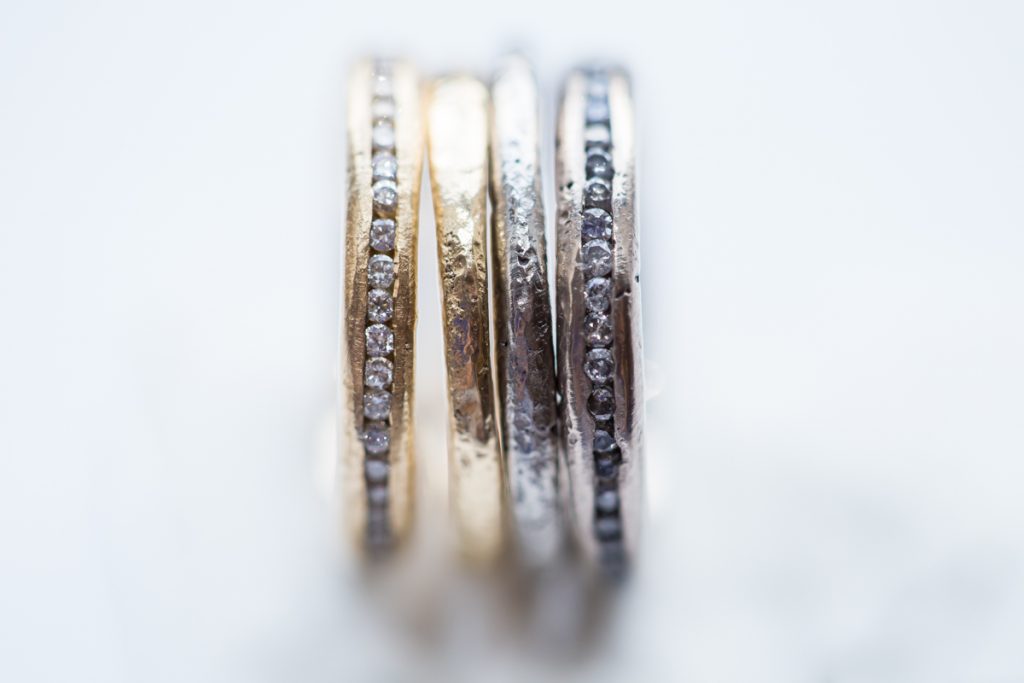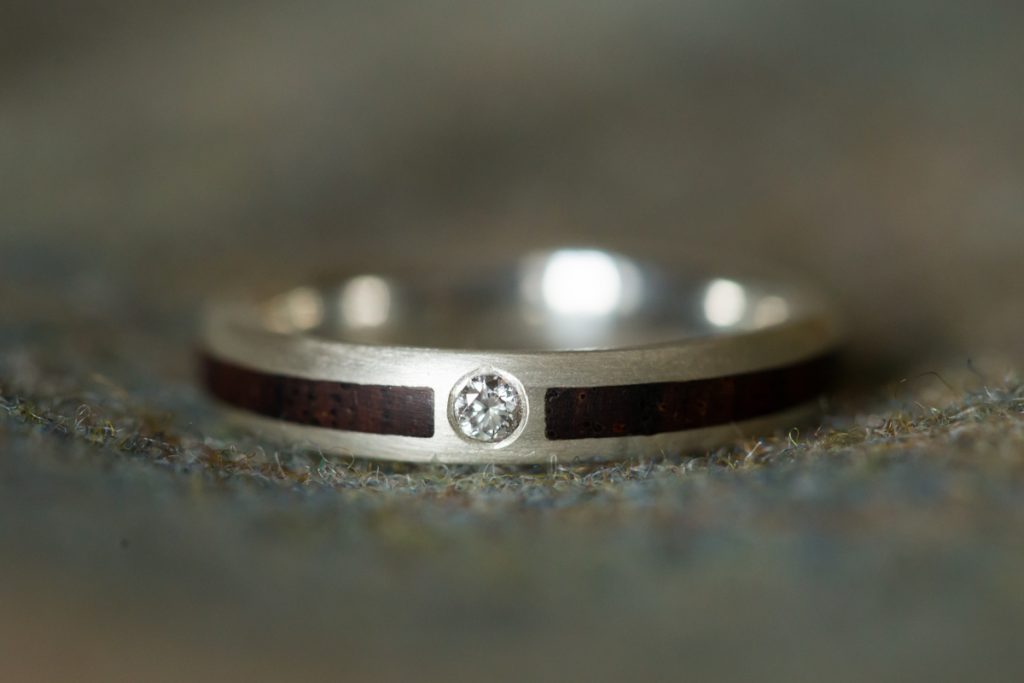 If you don't want to send your own wood or sand, we also have extensive collections of wood to be inlaid into your wedding ring and sand that can be used to sand cast your wedding ring that you can choose from. We're always happy to help and there is no additional charge.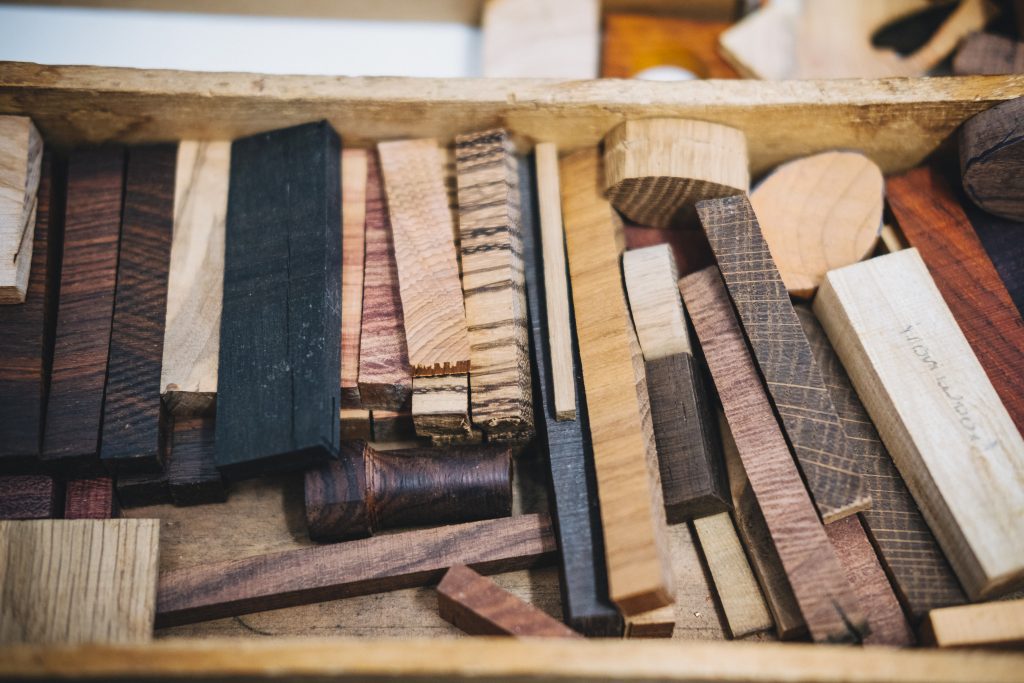 Stones
Stones are a great way of adding a bit of sparkle or a pop of colour to your ring. They can also be very symbolic – add birthstones to represent each other or loved ones. This is a lovely touch if you have kids, as a way of including them in your personalised wedding ring.
Stones can be added to your ring design in a variety of styles, from a simple flush setting to a full eternity ring. Other options include a starry scatter of stones around the ring or little bead set diamonds in the crevices of a textured band.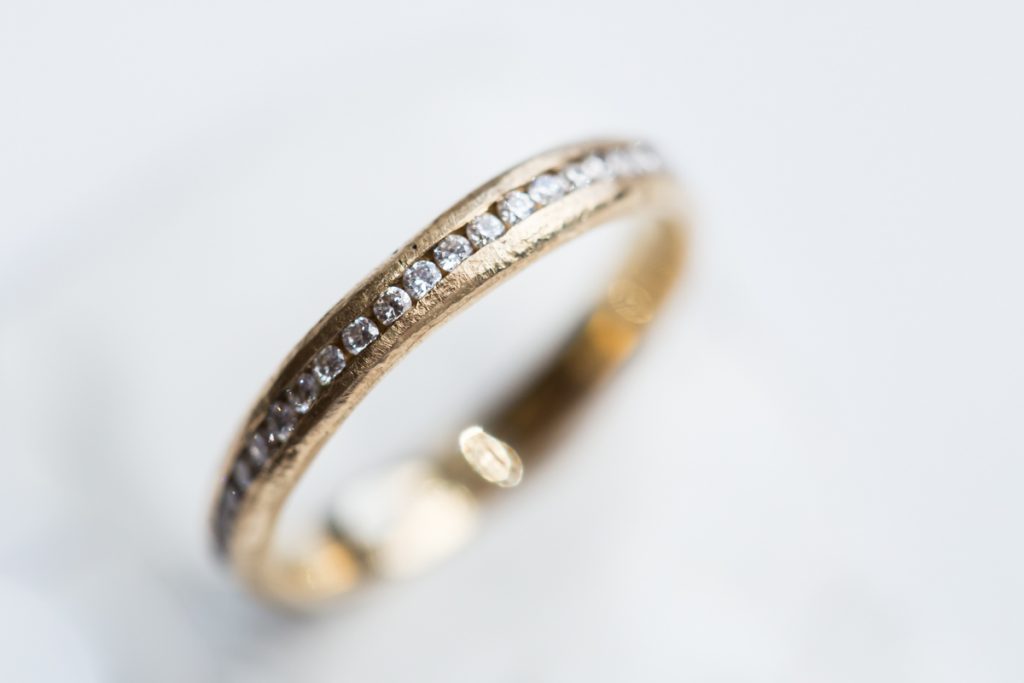 Engravings
An engraving is a great way to personalise a wedding ring – from classic options like names and dates to more intricate laser engravings. We have laser engraved fingerprints, handwriting, doodles, contact details, parts of the coastline, even messages in Elvish! You name it, we can probably have it engraved in your ring.
Using heirloom metal
Nothing adds sentimental value like using your own materials. If you have heirloom gold, we would be happy to cast your ring from it. This also extends to including heirloom diamonds or gemstones in your piece.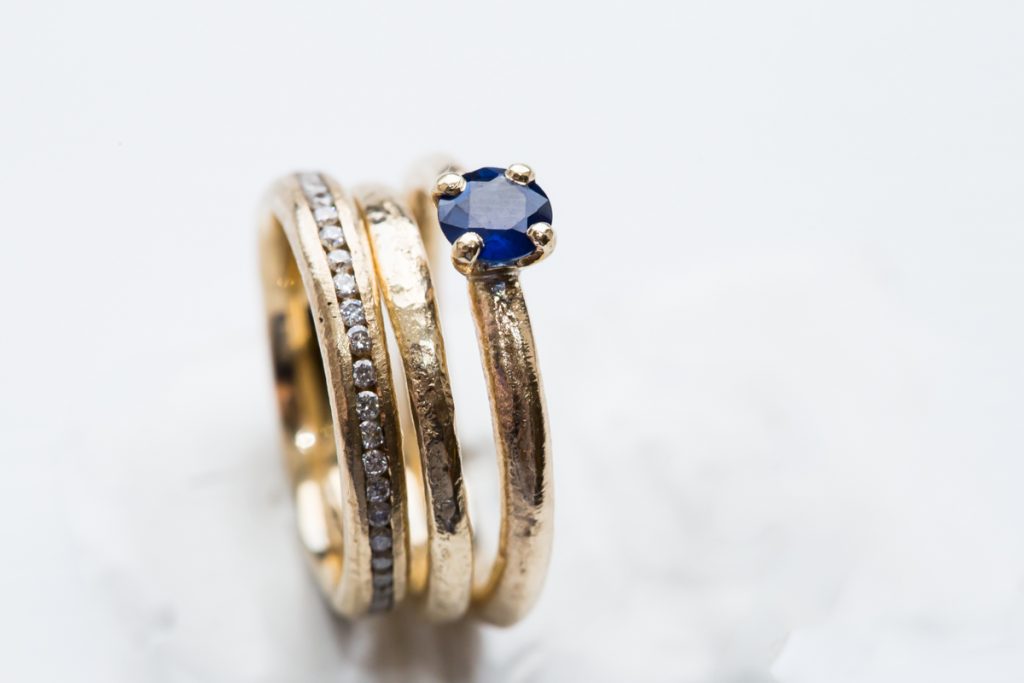 ***
If Justin's article has inspired you to commission your wedding rings, you can arrange to visit Justin Duance's workshop in Cornwall to go through these steps with them in person, or use this guide to help you work with them remotely so they can create your perfect personalised wedding ring.
Alternatively you might like to like to try to make your own wedding ring, which you can hear all about in my interview with Mark Fenn. Whatever you choose, see my top tips for photographing your rings so you can share your excitement about your beautiful rings!
If you're planning a personalised wedding I'd love to talk to you about photographing your wedding day (and your rings!). You can find out more about my personal wedding photography here and send me a message so we can talk about your plans.