Interested in making your own wedding rings? Whether you're planning a proposal and want to commission a bespoke engagement ring – or you're engaged and starting to think about your wedding rings – Mark Fenn talked me through the options & how he can help you to create very special wedding rings for each other. As a wedding photographer I love capturing details that have been chosen or made with love and I think making your own wedding rings is a really special touch.
I haven't yet had the chance to photograph wedding bands made under Mark's watchful eye, but I'd love to! So if you're making your own wedding rings with Mark please do get in touch. (Please note that my photos are not showcasing Mark's jewellery)
Watch the video of our chat or read the transcript below – and if you have any further questions about making your own wedding rings do leave them in the comments and I'll find the answer for you.
Hi I'm Hannah from Hannah Larkin Photography, and I'm joined by Mark Fenn who is a silversmith and jewellery designer. Hi Mark, how are you doing?
Good afternoon Hannah, and thank you for inviting me for a little chat
You're very welcome!
You're welcome. I'm Mark Fenn, I'm based in West Wales. I run a jewellery studio and jewellery lessons, but my wedding thing is I have couples come and make each other's wedding rings with me in a day. I have loved up couples coming to me and we have a good day whacking metal, drinking tea, eating cake and having fun!
It's sounds such a cool idea for couples who want to do something that little bit different, a little bit more personal with their wedding jewellery – making your own wedding rings. And I am right in thinking you can also be commissioned to make rings for people who maybe aren't able to come and make things in person?
Yes if someone wants a design, yes we can discuss it, with the wonders of the internet I can make things for people anywhere in the world. I have clients in Japan and China. I've had couples – the last couple who came – lovely couple called Sarah & Allan – who were English but they're based in Slovakia. So we did skype and they came over a fortnight ago. They've left the wedding rings with me because they've gone for some optional extras that can't be done in a day – like Allan's having a diamond set in his and Sarah is having some engraving. There are certain things that can be done in the day and there are options where the rings are left with me and we take care of that. But that's all decided in the initial consultation. I consult by the internet or people come and see me. But yes I can make wedding rings to commission.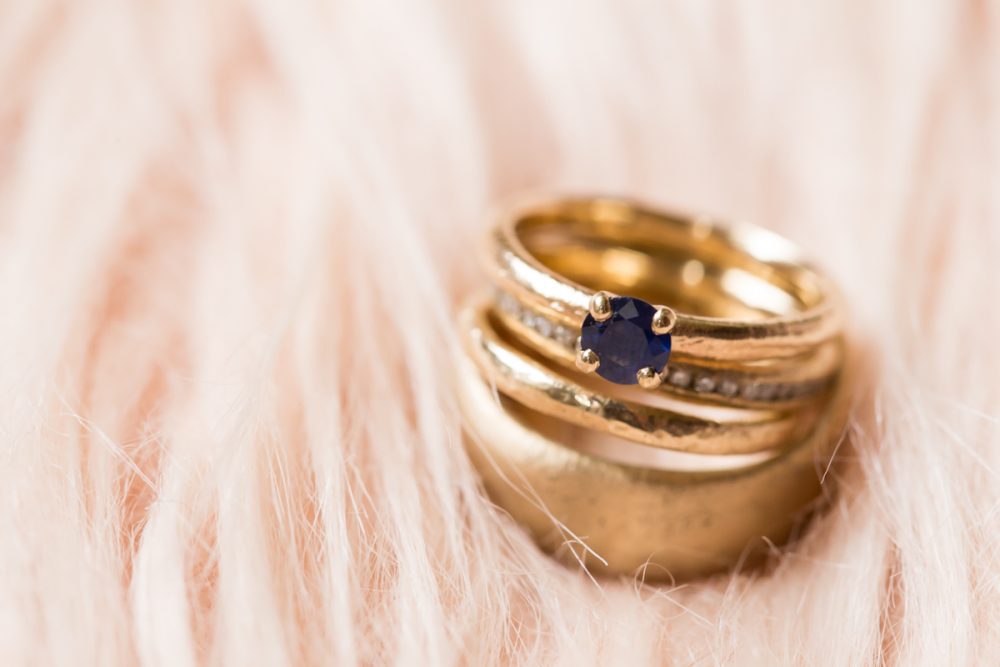 OK and so if someone is getting in touch about a bespoke engagement ring, do they tend to have proposed already are you finding or are you getting people coming to you before their proposal?
The speciality or the niche that I'm working with is the wedding bands, the wedding rings, so what seems to have happened is that the engagement ring is already taken care of. If someone wants me to do an engagement ring then I will, but what seems to happen is that they have the engagement ring already and then they come to me about doing the wedding bands.
How important is it that you can see their engagement ring and get a feeling of it, how much does it need to match your wedding & engagement ring?
Not really – because I offer the classics. Classic wedding bands. And I've got this ready to show you how we buy the bullion – it comes in certain formats, we call it wire within the trade. Here goes! How it comes: It can come in round, or this is the classic one which is D wire, or this one is oval some people will call it a court ring and then this one is just out of a sheet, gentlemen seem to be going for this one [the sheet] because they can have any thickness and any width – whereas these other options come in particular sizes. If they want to send me photographs of their engagement ring they do so, but what I ask for is the ring size and also the metal of the engagement ring. Because if you've got an 18 carat gold engagement ring with diamonds etc – you normally have rule of thumb the same metal as your engagement ring. But that doesn't always go – that's the rule of thumb and the general thing, but there are exceptions. But I discuss this with couples in the process, if they give me enough time. Sometimes I get couples saying "we're getting married next month can we come and make our wedding rings?". Yes you can do – but it sometimes limits the options. The thing that, not causes problems, but if someone has an heirloom engagement ring and it's quite large and they want the ring to go round…
To fit it?
That can be problematic, but we can work round it – I'm here to help
So even if you've got quite an unusual engagement ring, like you say maybe an heirloom piece, that does have a more fiddly outline I guess rather than a continuous band, then you can still work round that to create a wedding band that will work for that shape.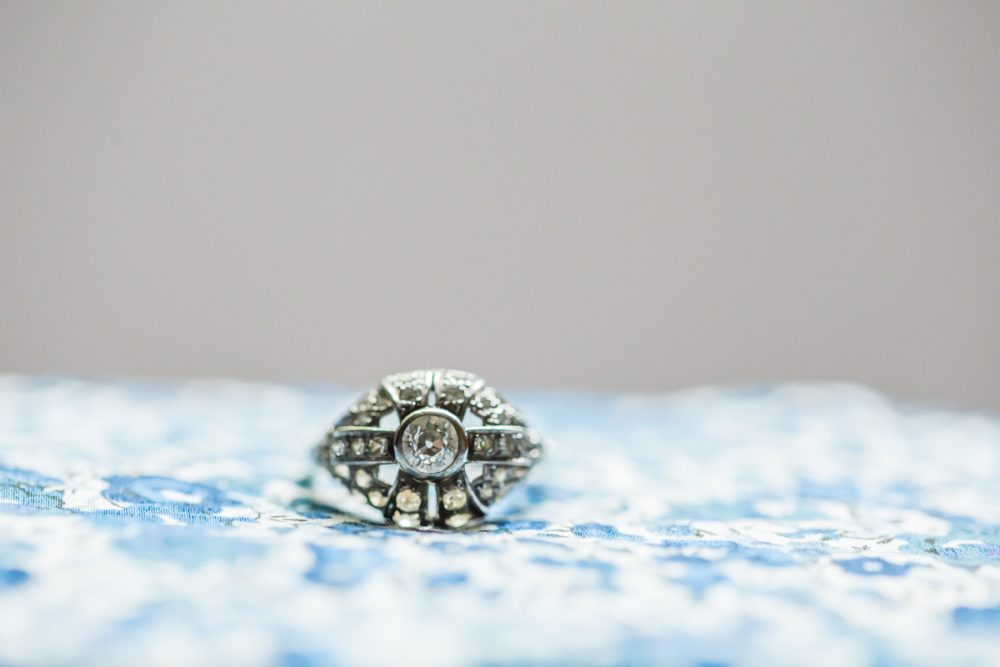 Yes there are a couple of ways. I have engagement rings sent to me and I take a template and I get that template ready for the gentlemen to cut it out. They make the rings, I don't. So I facilitate their progress. So I make a template, it's laid flat and they cut round that. They have practice metal to work on first
Good! I was going to ask about that – how long does it take for someone to be able to do that, making your own wedding rings in a way that's going to give them a ring they can wear for the rest of their life?!
It's a day – it can be a long day! But it's a day. What happens – the couples make the wedding rings and at the end of the day we make a judgement call – whether I let them out. I'm not going to let anything out of the studio that I wouldn't put my name to. And so sometimes what happens is, because it's something new and if they are going round the engagement ring, sometimes the finish would need a bit of what I call refining. So what I do is I would keep the rings, I would do the final adjustments and then either have them hallmarked or have them sent to them. I don't charge for that, I don't charge for any work – they pay for the day and if I think there's maybe some extra work which is maybe just a couple of hours – that's down to me. It's all transparent.
And so it's still the ring that they've made – I assume for the other person? Do they make each other's rings?
Yes – so for example if you came to me, you'd make your partner's ring and your partner would make your ring. There's no romance in making your own wedding ring – it's making something with love…
….for the other person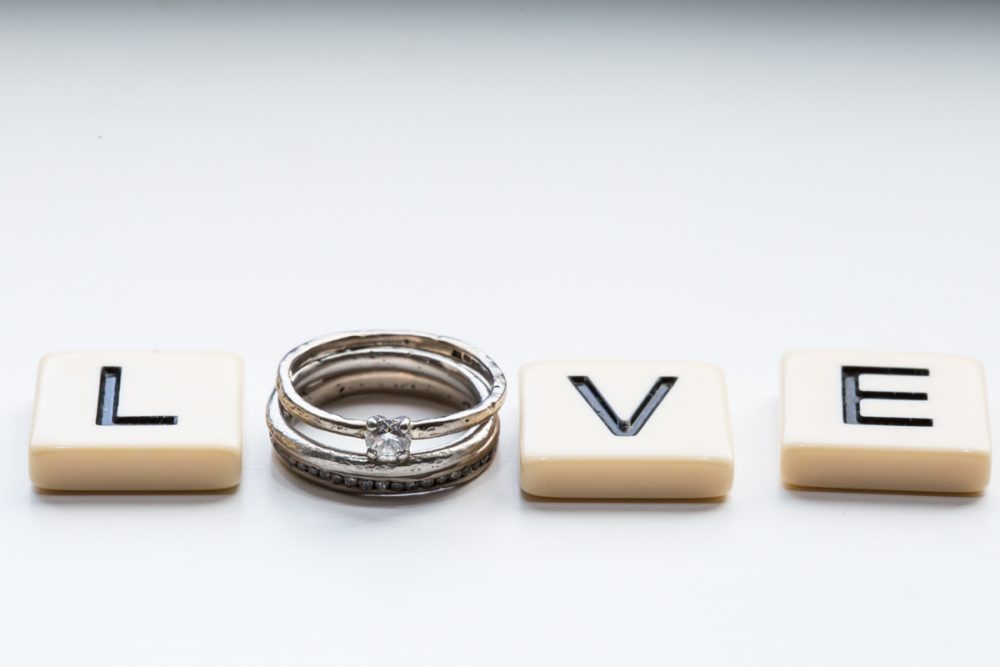 And it's really nice. I have all sorts of couples – I have what you would call heterosexual couples, I have gay couples, I cater for everybody, no judgement. What I'm doing is to help them make each other's wedding bands and it's a lovely
And that's really reassuring as well that perhaps you don't have to be super arty or really good with your hands, you'll be helped to make something and then if it's not quite right then it'll just be kind of finished off by you as the professional Mark.
To be quite honest that doesn't happen that often. It's where the ring, like Allen's ring that he made, it just needed refining, and literally it was just making sure the edges are smooth, there were no saw blade marks. Just making sure that if someone looked at it they wouldn't go "oh hang on". What they take with them is a ring that they would be proud of and that the quality is there. I'm all about making sure that they make something that has a quality to it, but also made with love
So important. And it sounds like you can also add a few optional extras – if people want engraving for example that's something you can do?
Yes – the optional extras are engraving, hallmarking but that's a different ball game altogether – there is an information thing on Wedding Espresso about hallmarking explaining it to couples. If couples really want to know they can go to the goldsmith centres or to the goldsmith companies' websites and there's information there about hallmarking. And also, if they want stones set. Stone setting cannot be done in a day – it's a three year apprenticeship for setting stones, so trying to teach someone in a day it doesn't happen! But it can be done after and we can discuss those options.
So that can be added on, ok. And where can couples go to find you Mark, if they want to make their own wedding rings with you? Where do they need to go to contact you?
My website is my name – markfenn.co.uk. Click there and there's some information there's some links, if they want to fill in the form, if they want to phone me, email me, I'm available – not 24/7 but 7 days a week!
Brilliant – oh well thank you so much Mark, it's been lovely speaking with you and hearing about this unique way of making your own wedding rings together
Hannah – thank you it's been absolutely lovely speaking to you and have a good afternoon.
Thank you
Hannah from Hannah Larkin Photography chatting to Mark from Mark Fenn Jewellery about making your own wedding rings thanks to Wedding Espresso.
If you enjoyed this wedding chat you might also like to learn all about wedding stationery in my chat with Katherine from Giftast.