Anneka & Kuba planned an intimate London elopement at Chelsea Old Town Hall, with a wedding breakfast for two at The Ritz. Their intimate winter elopement included a bespoke 1950s style silk wedding dress and a velvet tuxedo, with a first look in their garden at home. They chose to get married just the two of them and invited two Chelsea Pensioners, Ron & Walter to act as witnesses at their registry office wedding in the Rosetti Room at Chelsea Old Town Hall. Ron & Walter threw confetti on the Town Hall steps before a surprise appearance by some London firemen, a walk by the river & portraits on the Albert Bridge before heading to the Ritz.
Anneka chose a 1950s inspired short wedding dress for her London elopement, designed for her by Kate Edmondson and paired with nude high heels and a gorgeous pink coat from Ted Baker. To complete this elegant look with touch of vintage romance, she chose a soft beehive paired with a twisted french roll up-do and finished with a birdcage veil. Instead of fresh flowers, Anneka held an exquisite paper flower bouquet made by Kuba's mother Beata. Kuba looked dashing in his 3 piece velvet tuxedo and bowtie and he waited to see Anneka for their first look in their garden in West London.
I always love first looks, whether they happen as you walk down the aisle, or if you choose to meet before your wedding to have a private moment to see each other before your wedding. I could feel the excitement in the air as Anneka walked towards Kuba and when he turned around his face just lit up. They then chose to have some wedding photos at home – giving such an intimate feel to the photos as they sat on their blue velvet sofa together.
Then we travelled to Chelsea Old Town Hall where they met Chelsea Pensioners Ron & Walter, and spoke briefly to the registrar before their simple civil ceremony. They walked in together to Meditation by Massenet and were able to focus solely on each other as they said their vows and exchanged rings. After being showered with confetti on the steps outside Chelsea Town Hall they braved the cold for some romantic outdoor portraits.
There are lots of beautiful spots in Chelsea for wedding photos – they were standing outside of the Chelsea fire station when suddenly the doors started to open. As I was urgently motioning for them to clear the doors – two firemen came out in full rebreathing masks and asked to pose with them for photos! It was very sweet and funny and made a lovely moment for them to celebrate and share their London elopement with strangers.
Walking down towards the Thames we found a perfect pink door with lettering spelling LOVE which was too good to miss, and then stopped to admire the views from the embankment. The Albert Bridge is one of my favourite London bridges and its pink paintwork matched perfectly with Anneka's bell sleeved coat. From there we jumped in an Uber and I captured them outside the Ritz before they continued their London elopement celebration with a dinner for two.
Read Anneka's thoughts about her elopement and her experience being photographed by me below her photos (and scroll to the end to see how cold it really was!)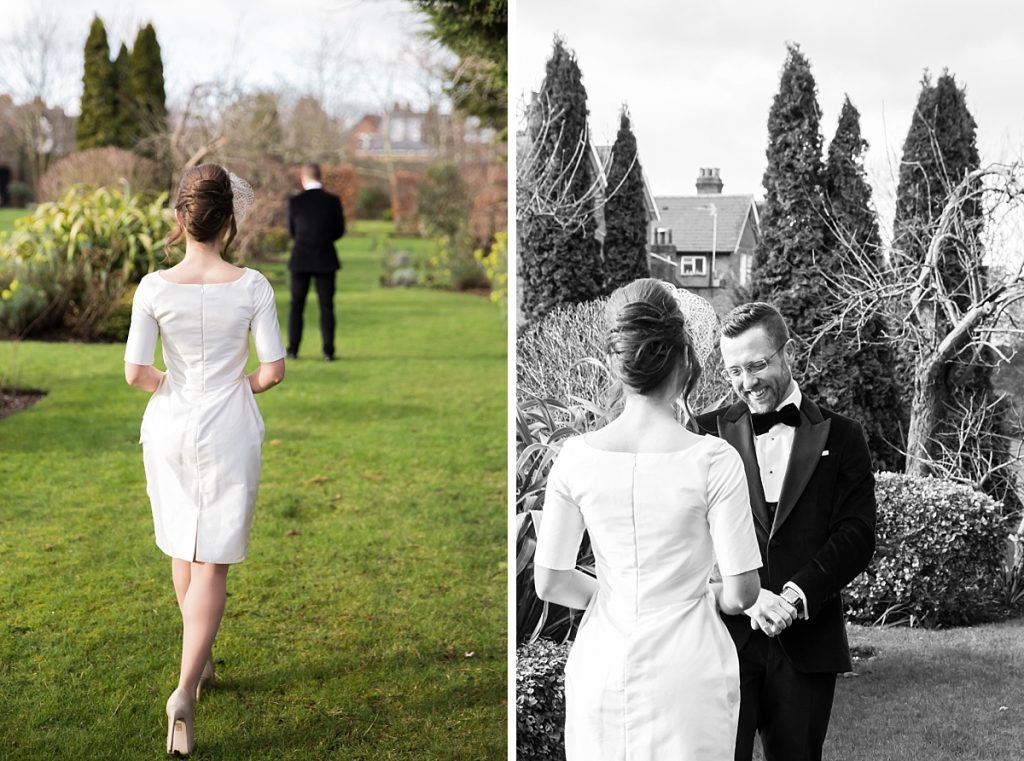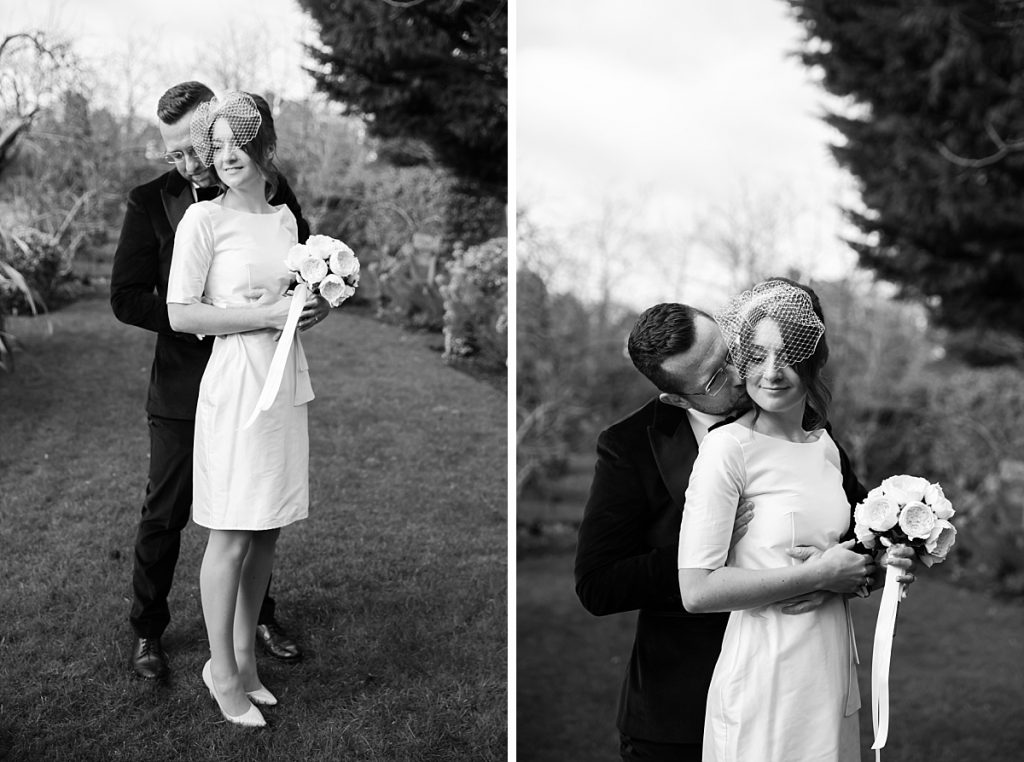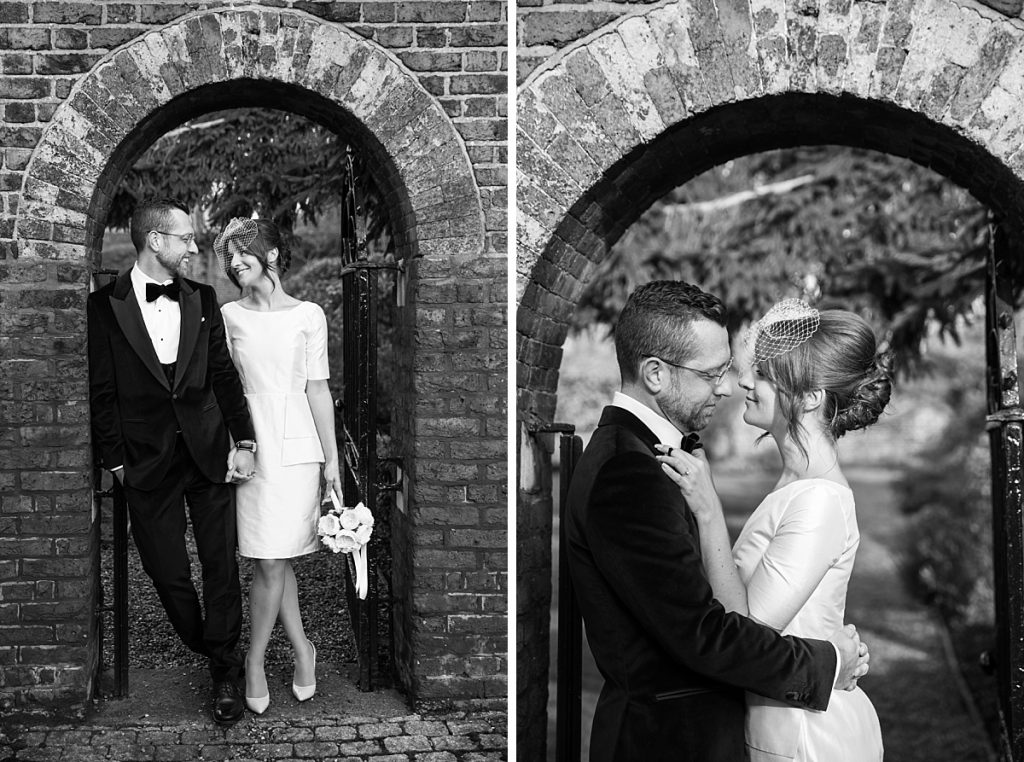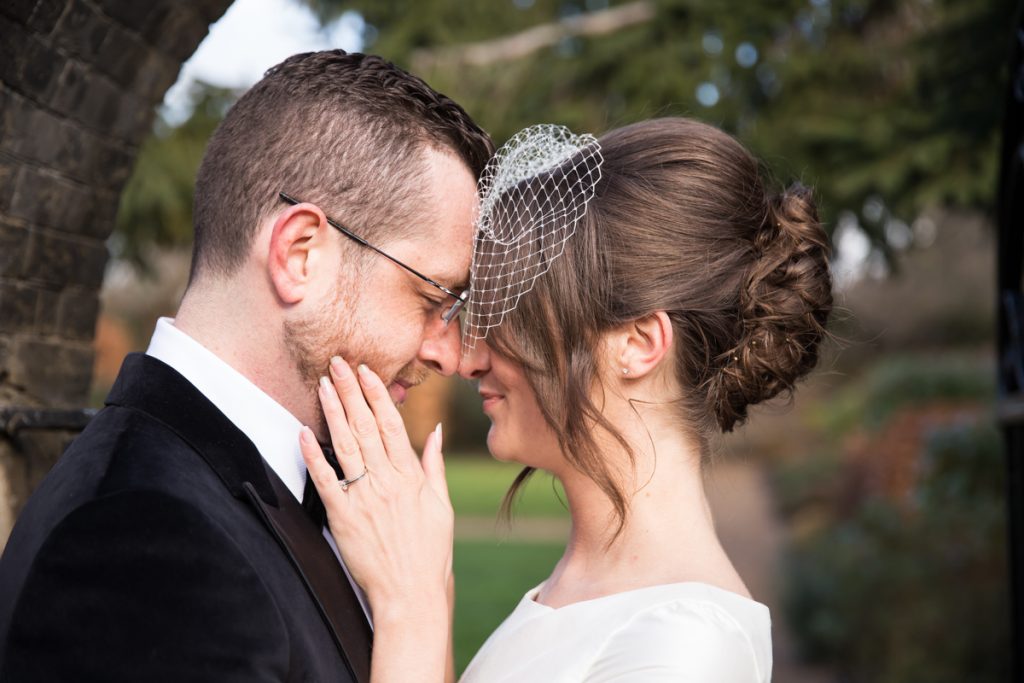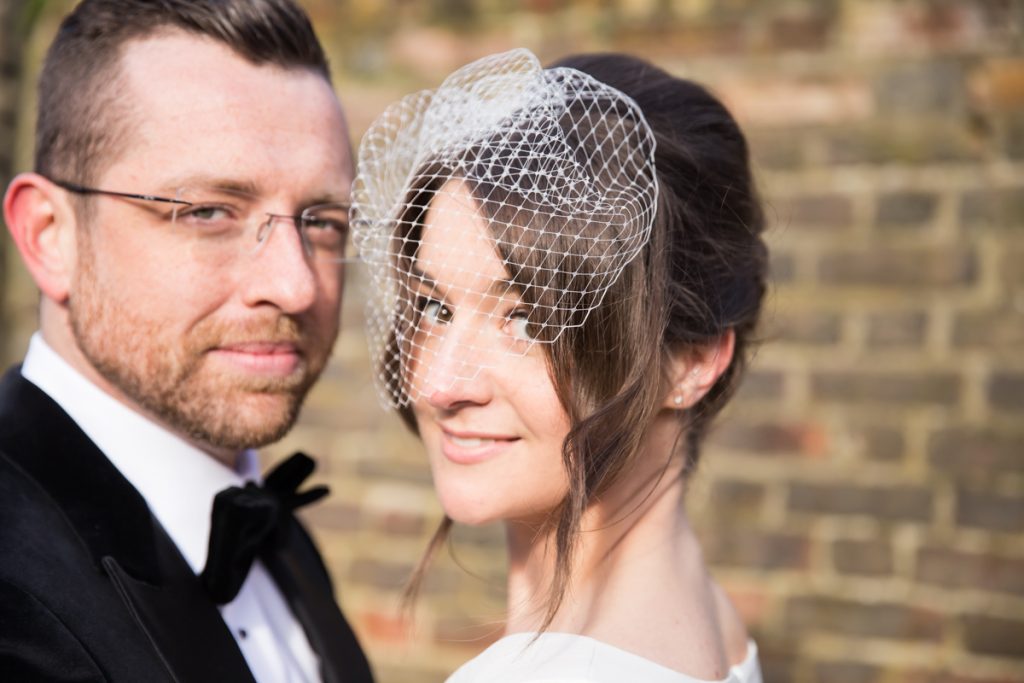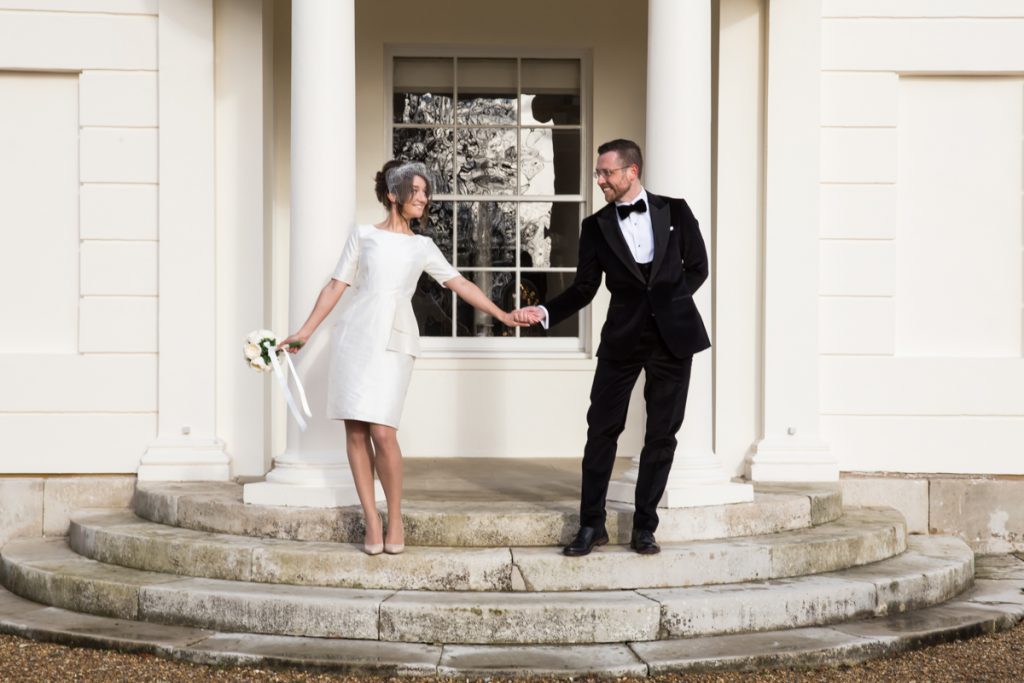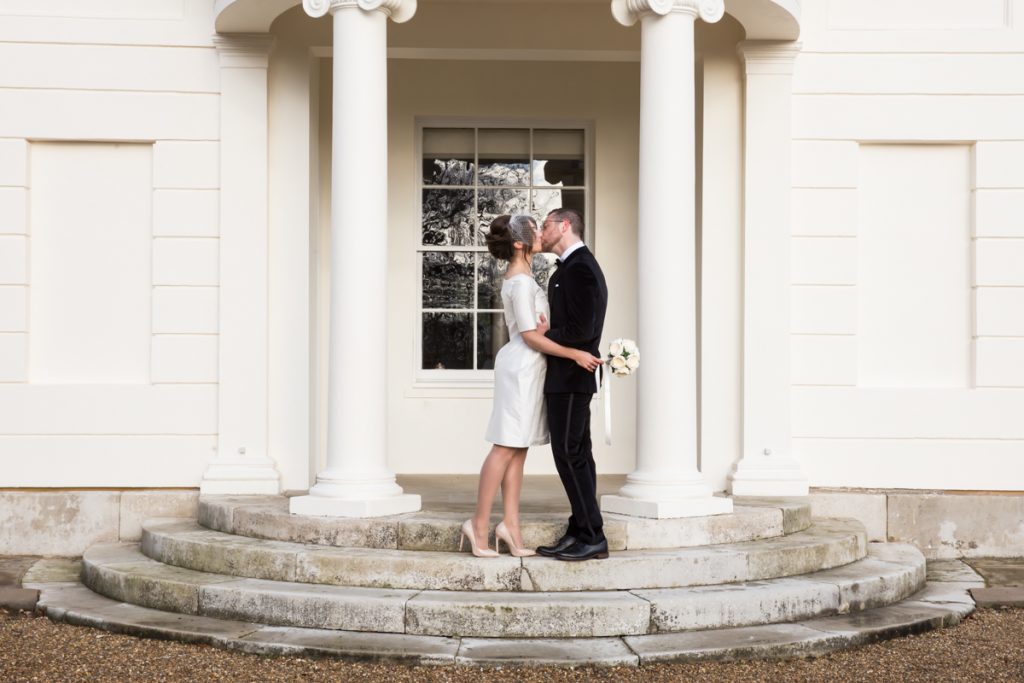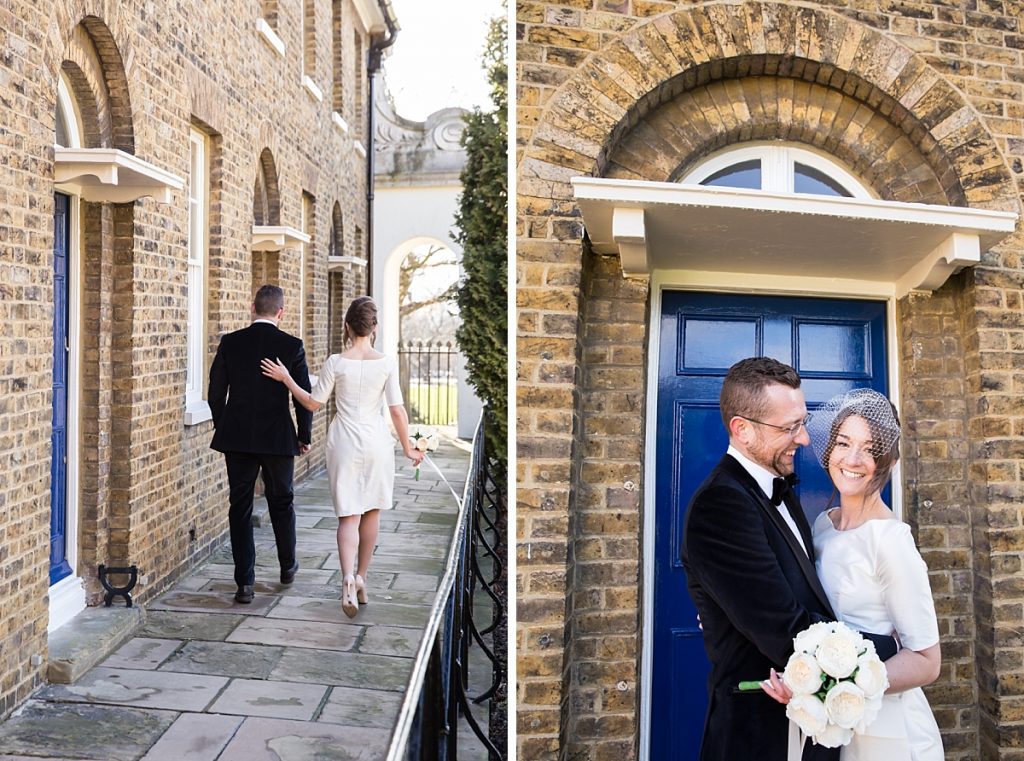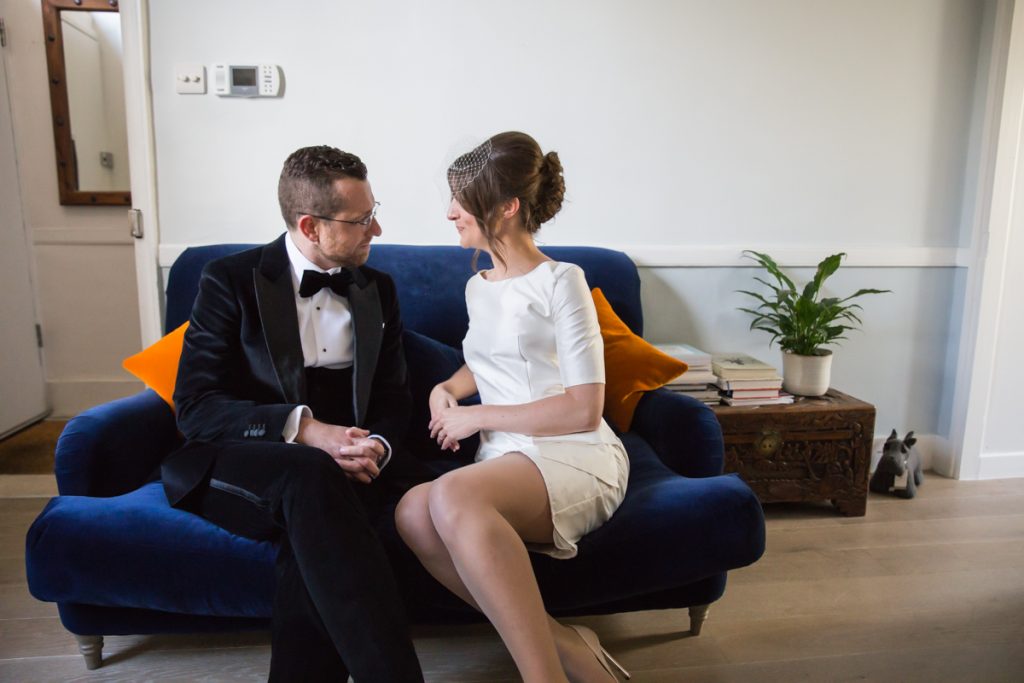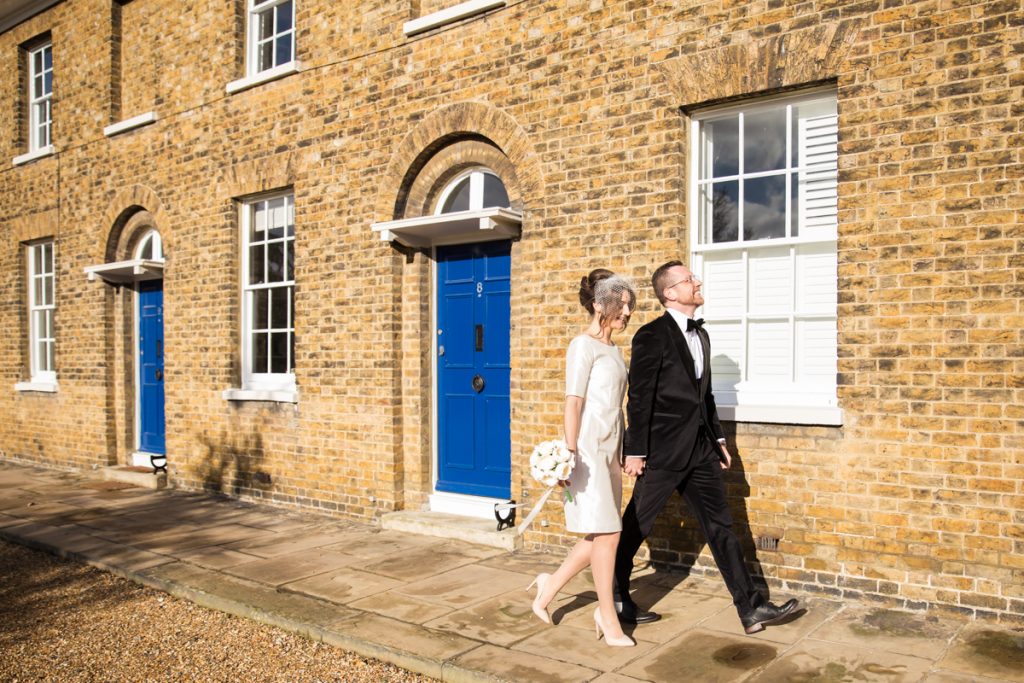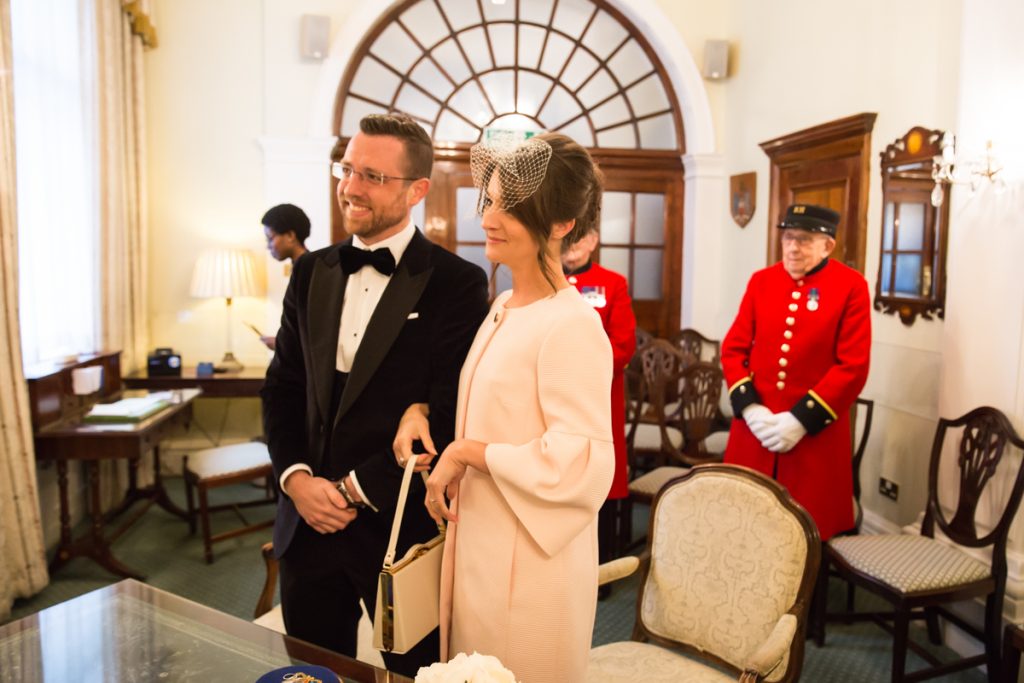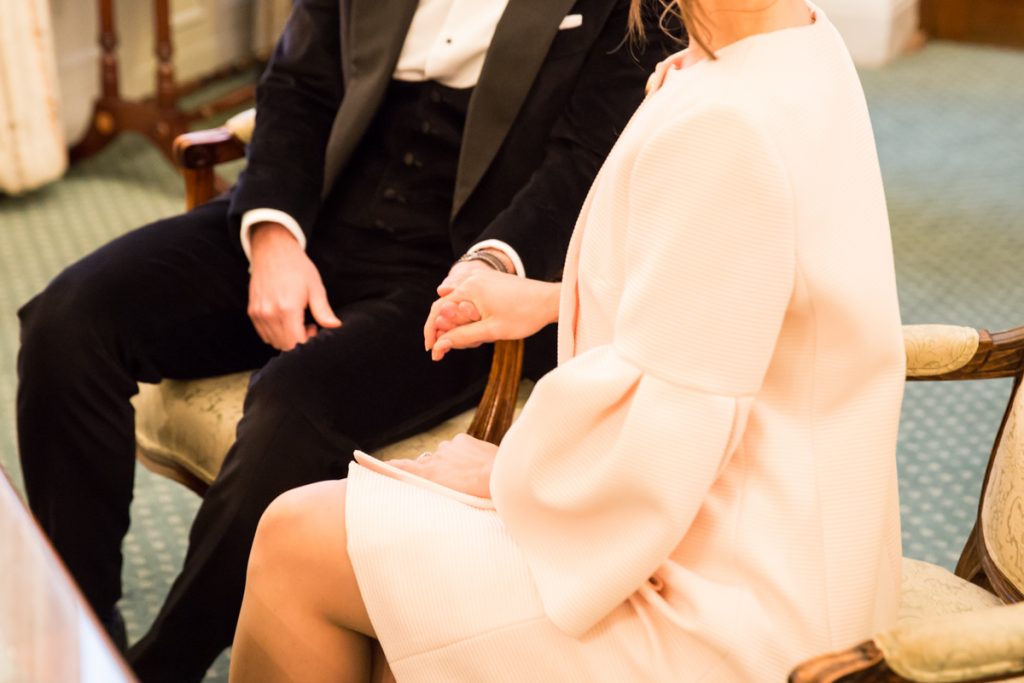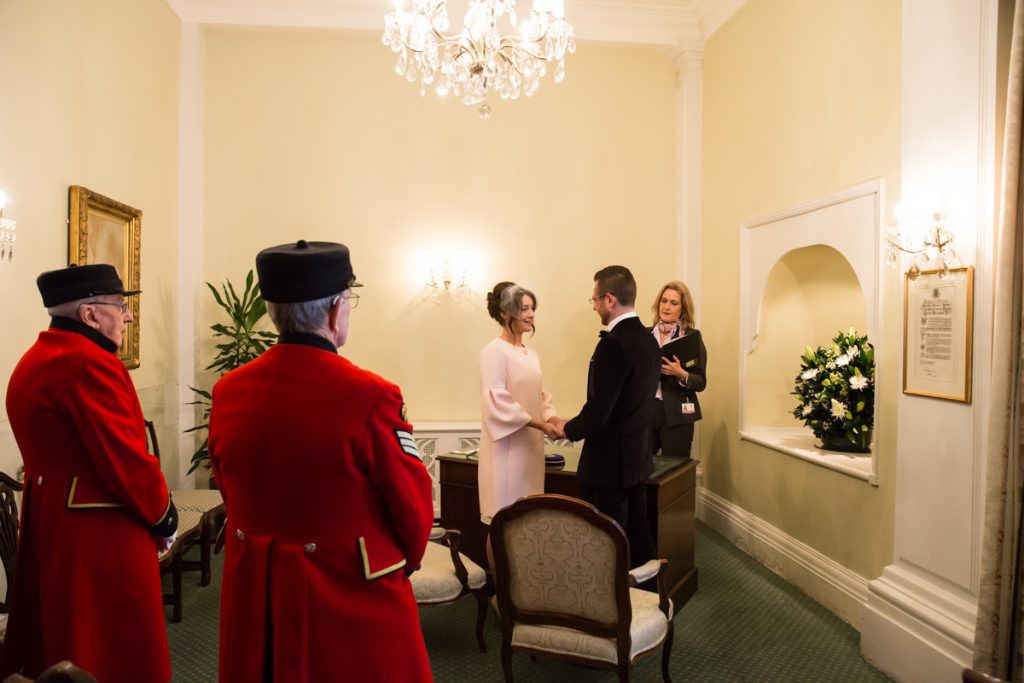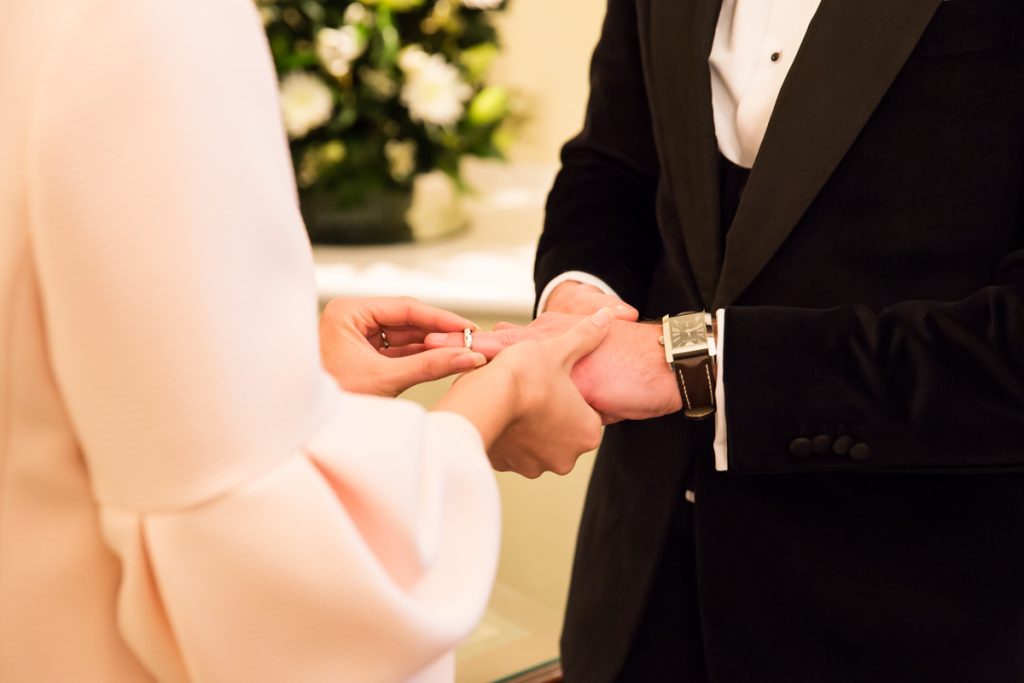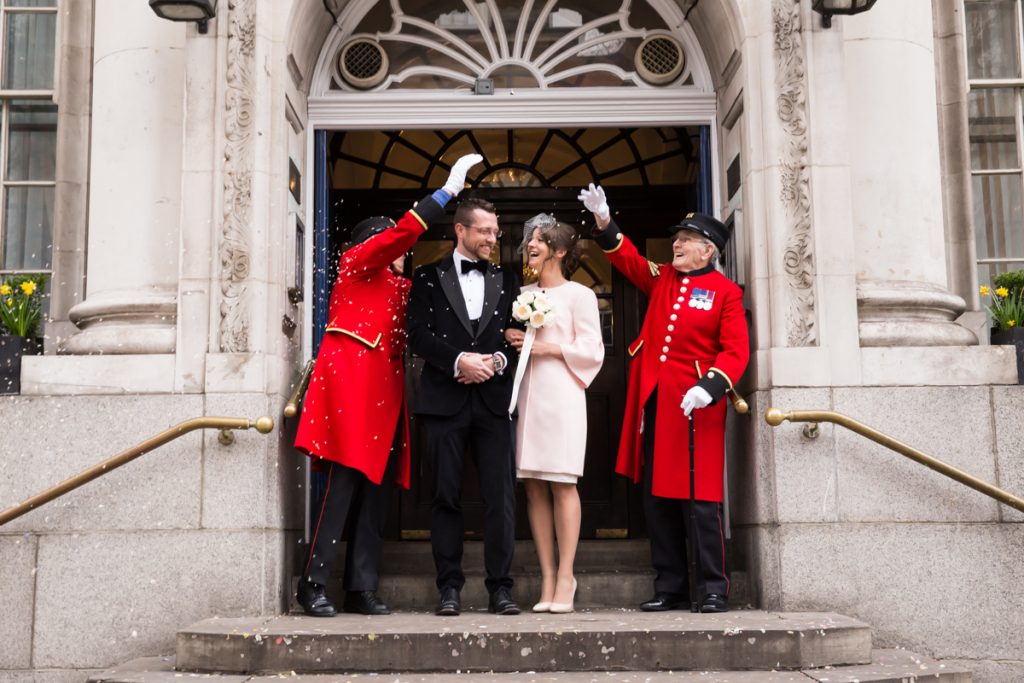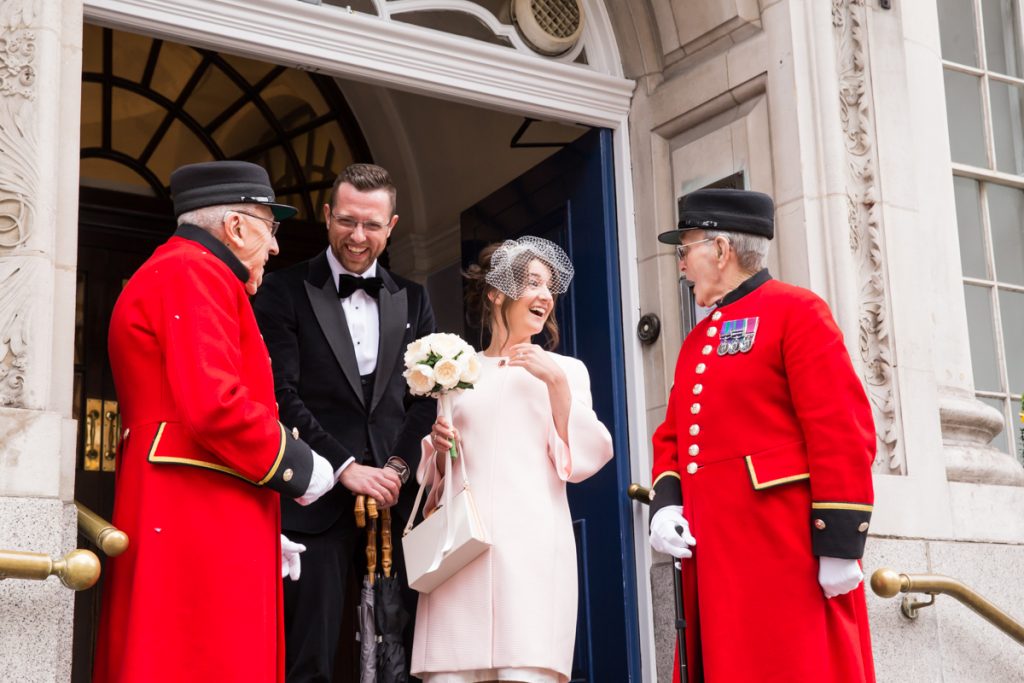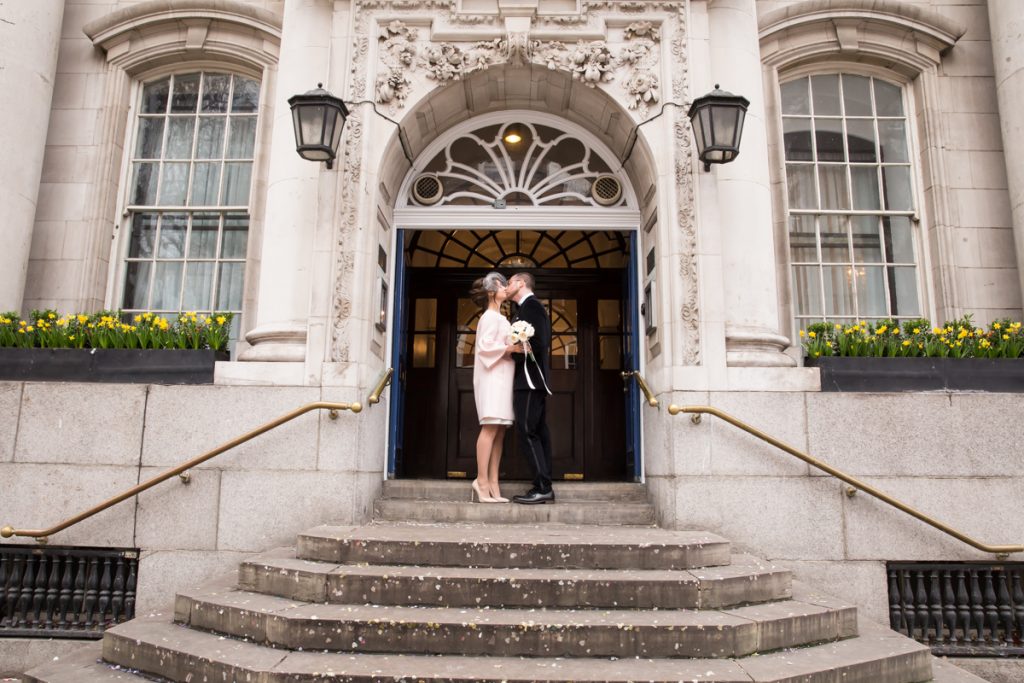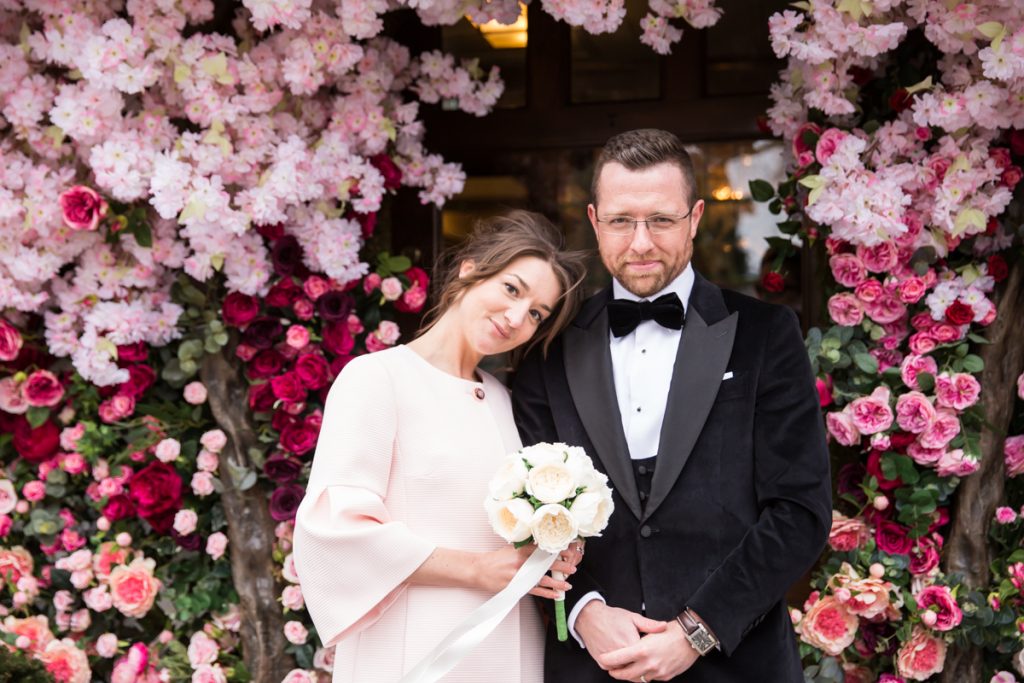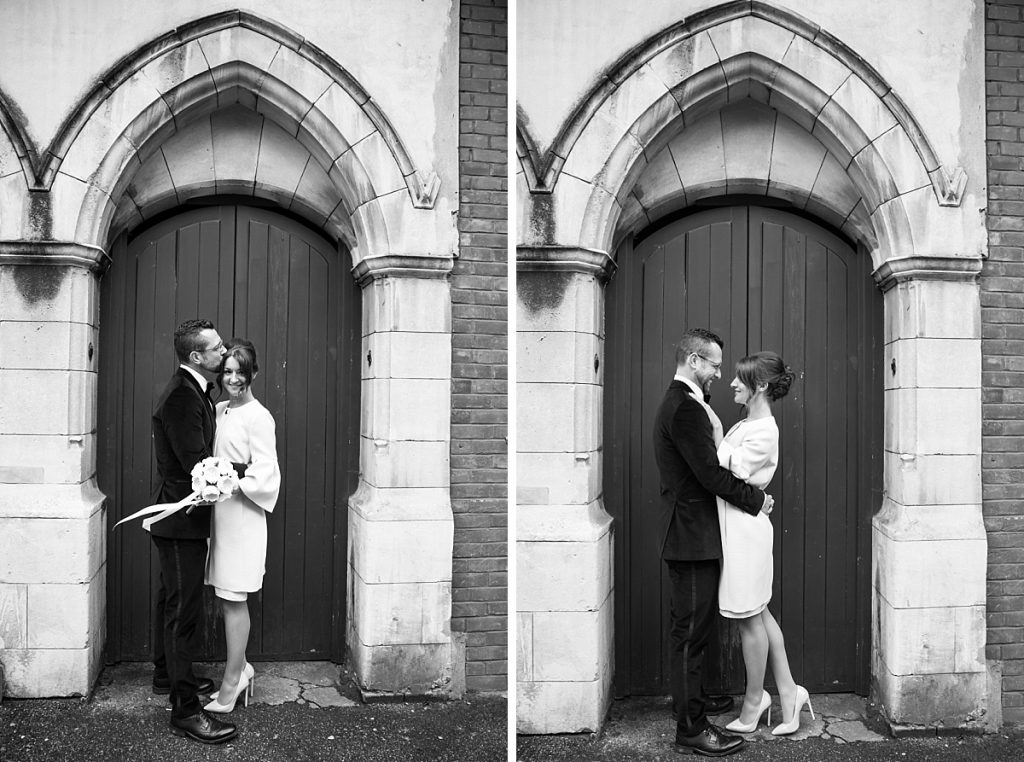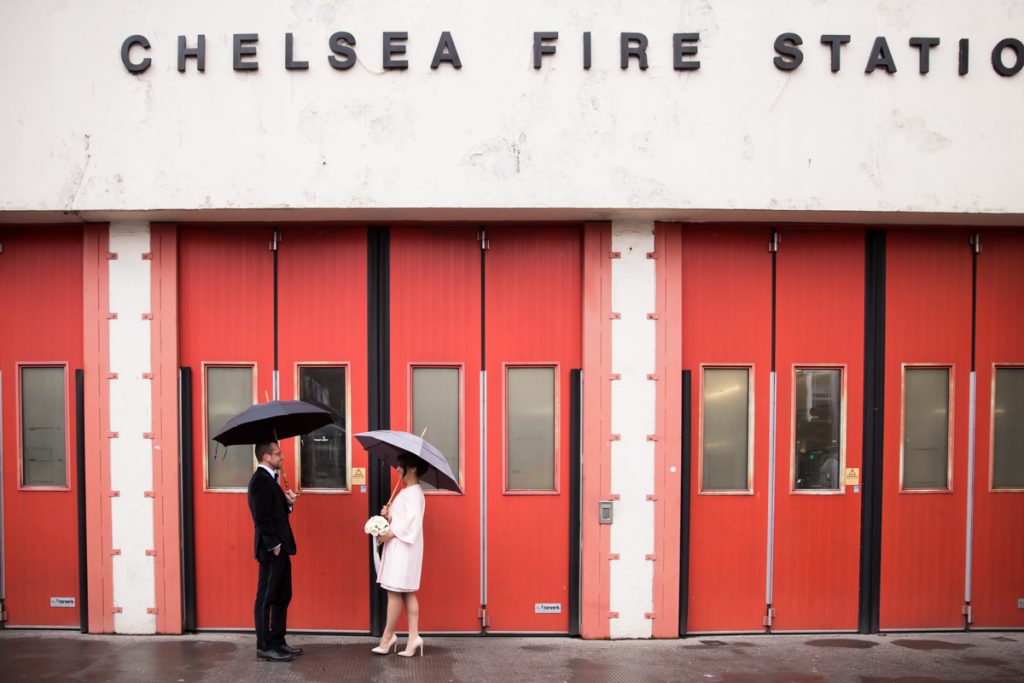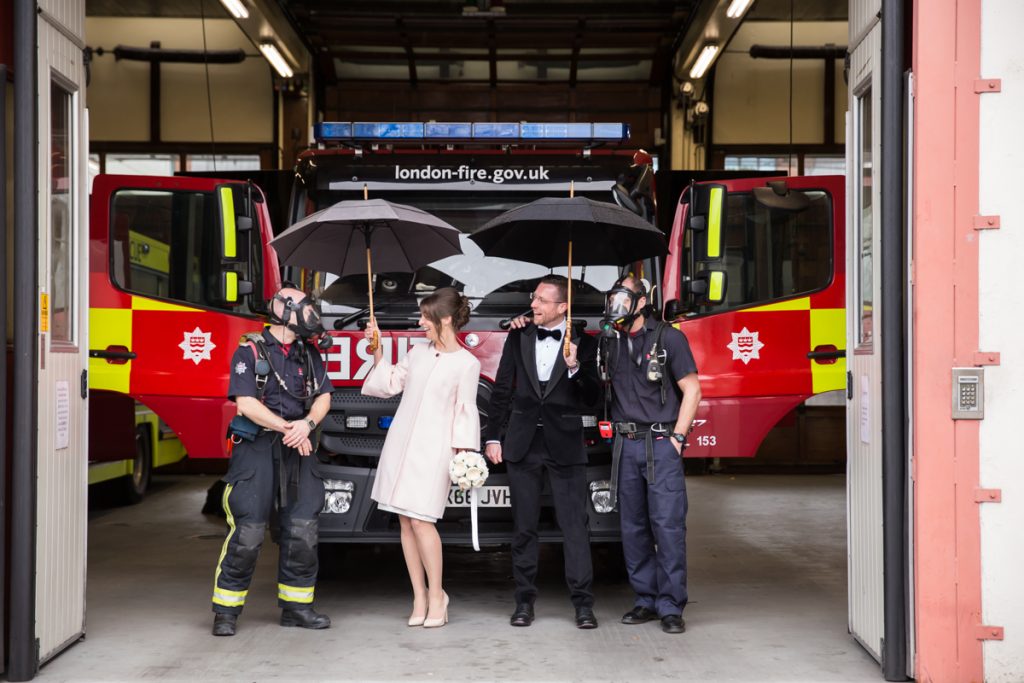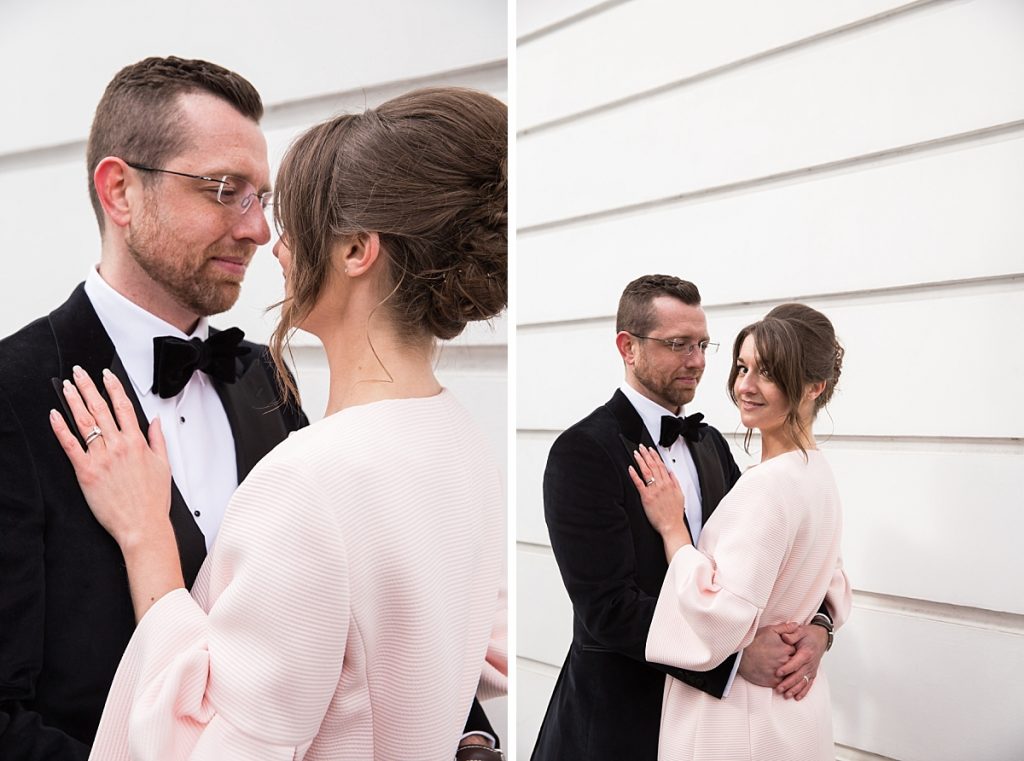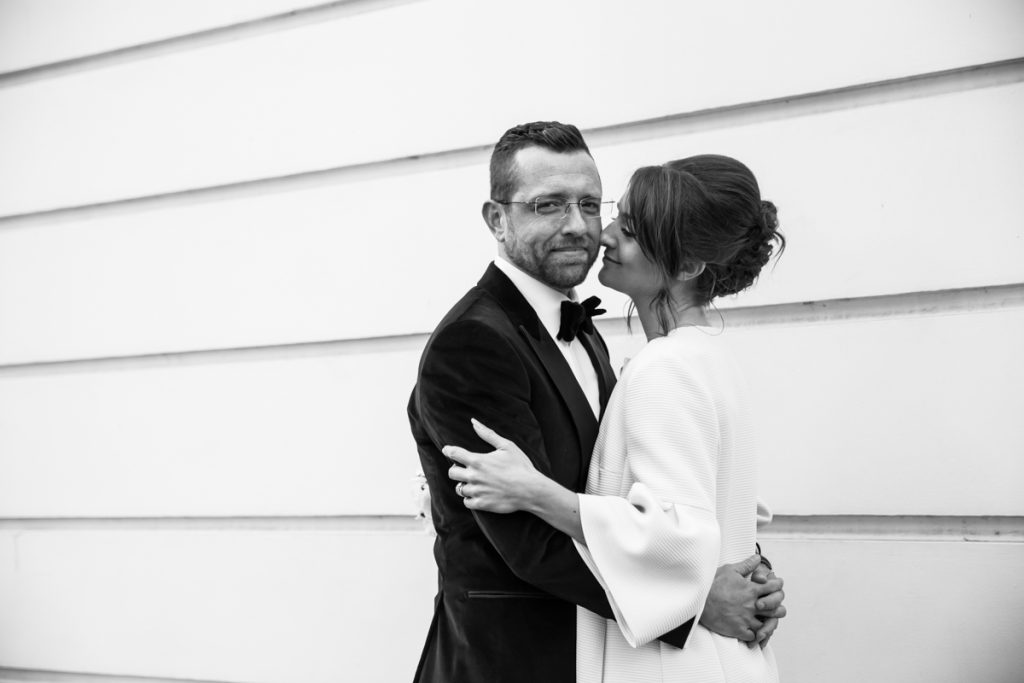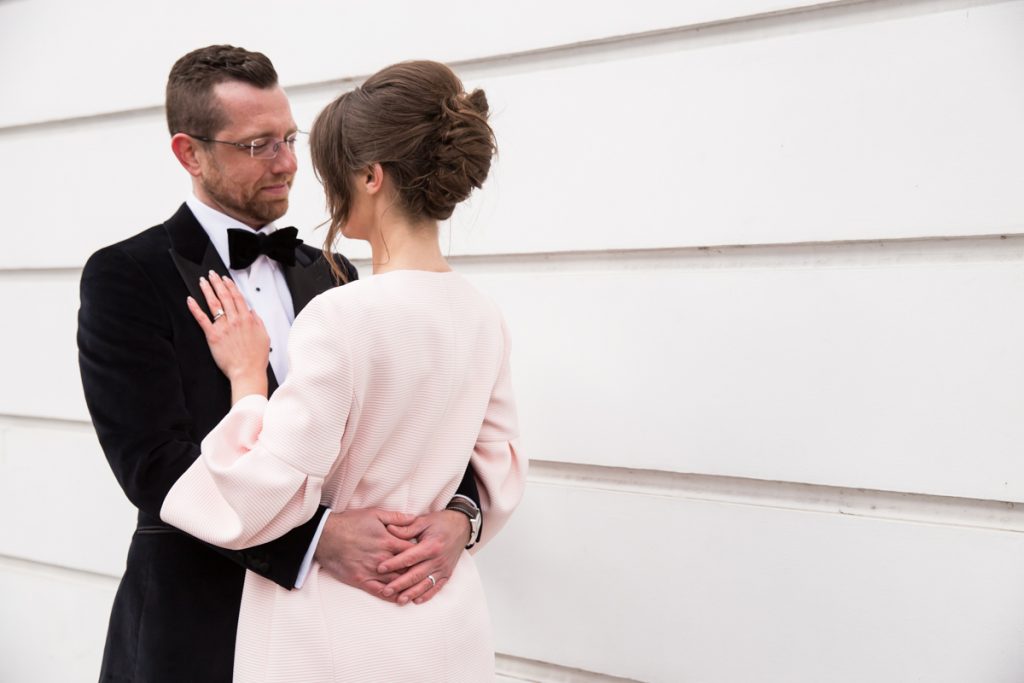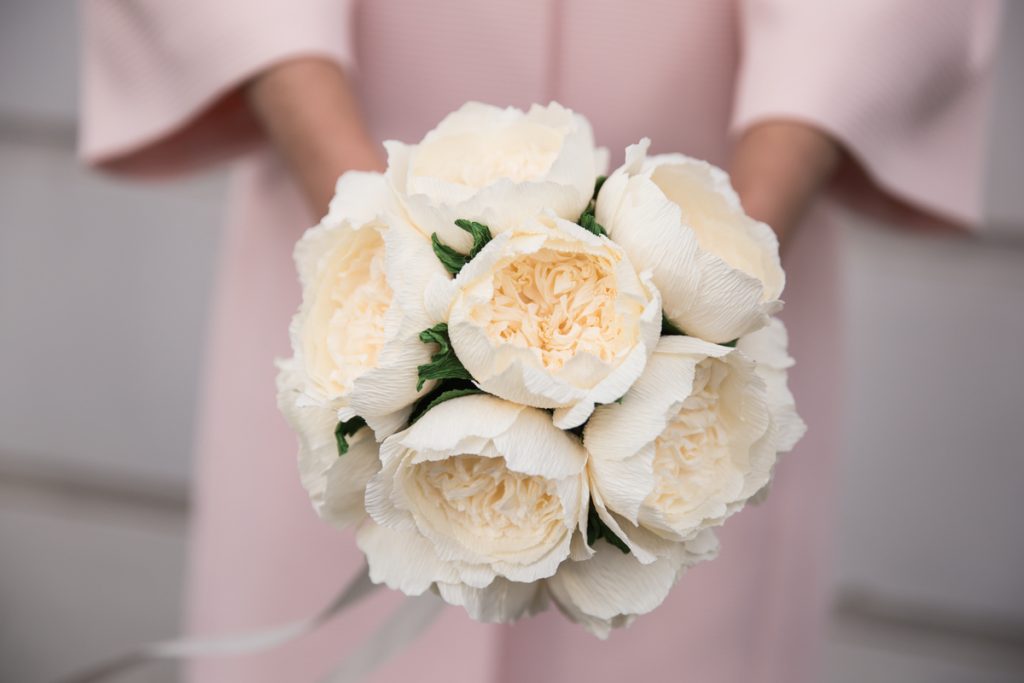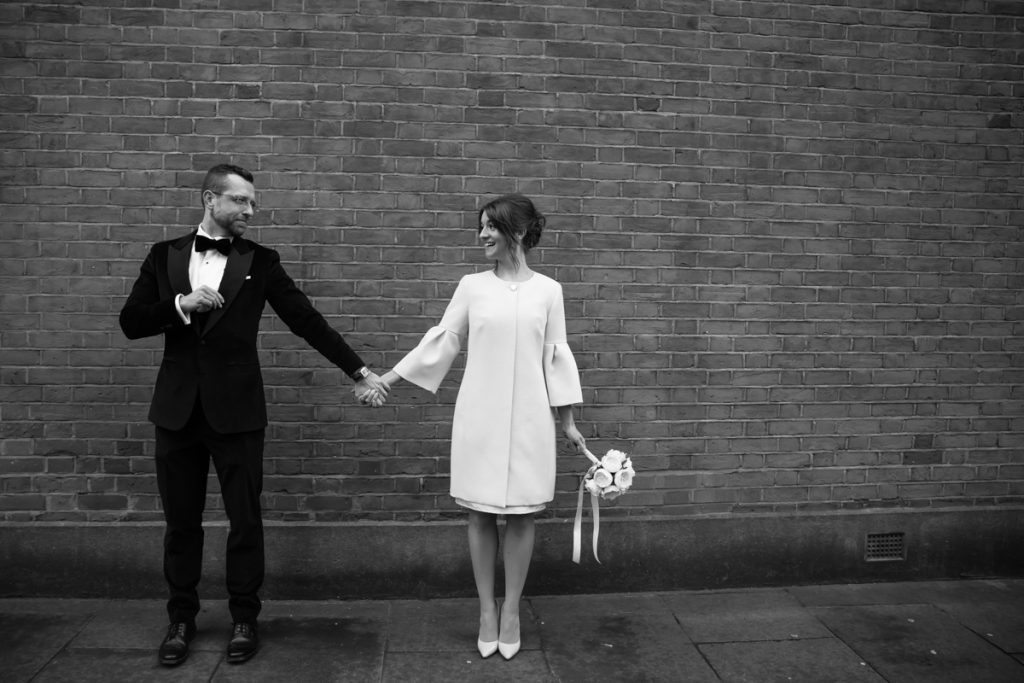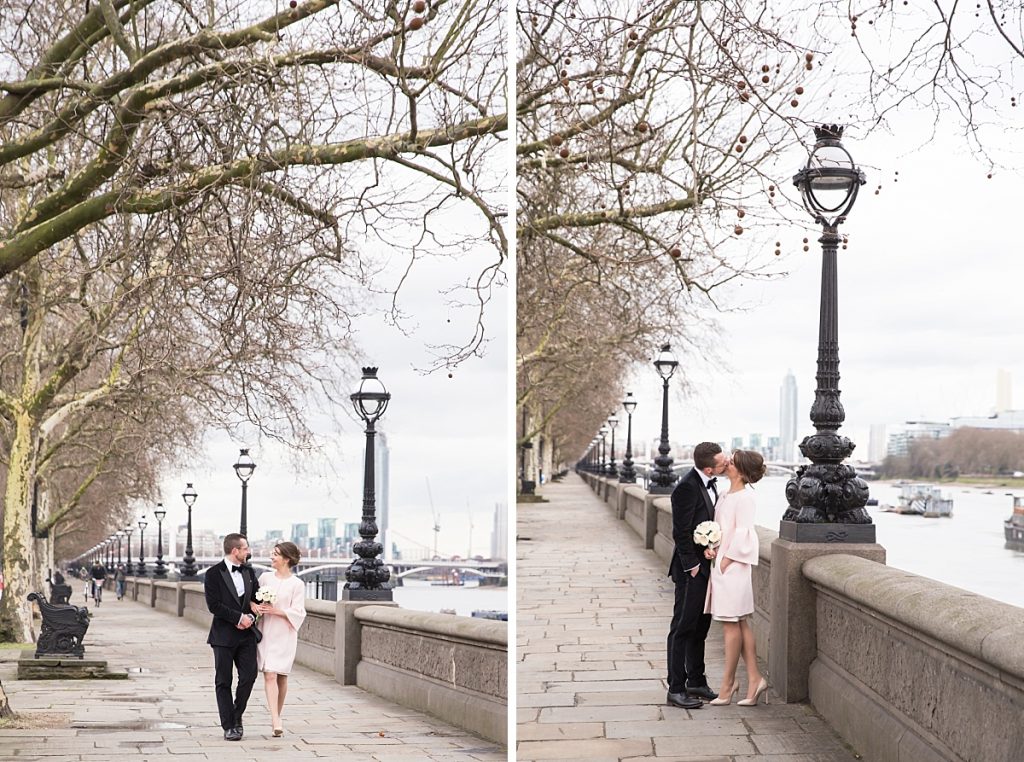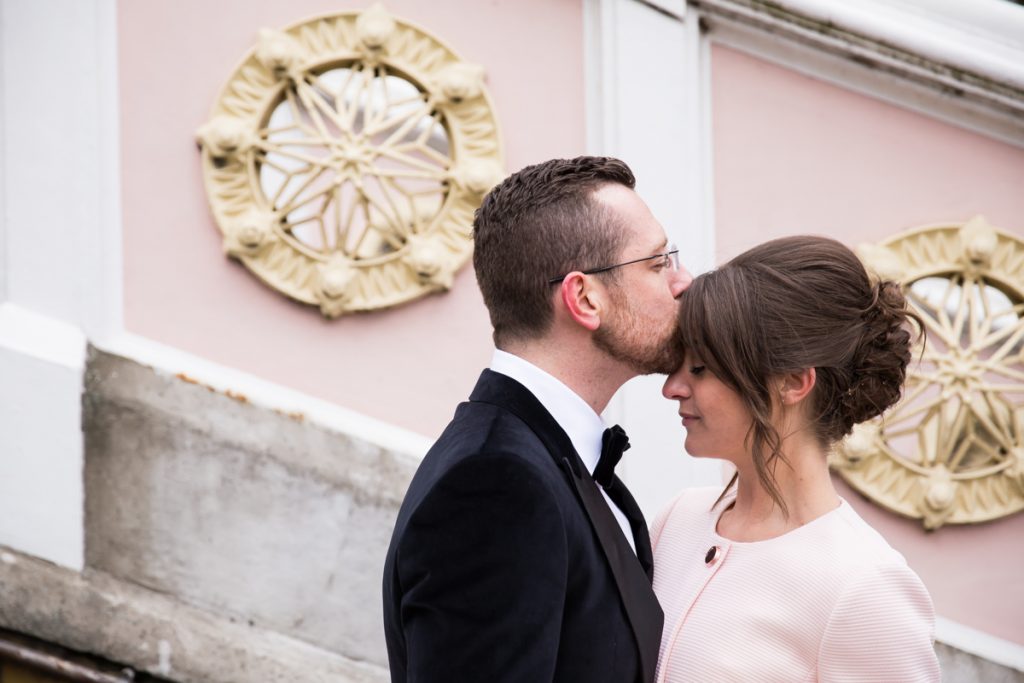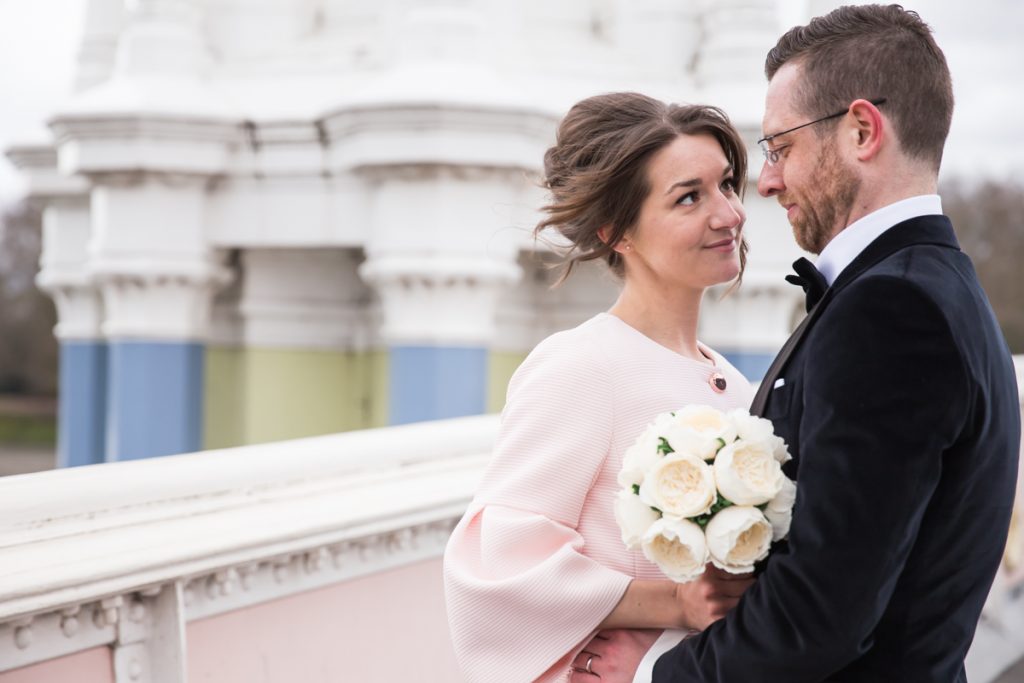 Their London elopement was featured on Love My Dress, a beautifully curated wedding blog showcasing honest & heartfelt wedding celebrations. There Anneka said:
"Kuba and I have always cringed at having our photos taken! We had initially thought that we would prefer not to have any professional photography on the day, not only out of being camera-shy, but also because I've never really liked the idea of having a camera pointed at me at times that are so very intimate and special. Through talking to others in the run up to the wedding though, we came to understand that we may come to regret not having any professional photos to capture the day, so we started thinking about what might work best for us…
I had seen some of Hannah's work online. Her portfolio clearly showed us that she had a talent for capturing those fleeting moments between people who communicate so much, and those small but meaningful details that can often be so easily overlooked. We ended up meeting her over a coffee and she gently explored our ideas and hopes, as well as putting to bed any concerns we had. She really took the time to get to know us and to work out what was most important to Kuba and I. It was from that meeting that we felt confident that she was the photographer for us.
I can't emphasise enough how glad I am to have listened to that sage advice from our friends and loved ones to hire a professional photographer. Not only are we thrilled with the results, but we actually enjoyed having the photos taken! That was very much down to Hannah; her warm and caring presence, along with her expert and gentle guidance helped us feel totally at ease. Feeling so relaxed allowed us to enjoy every moment and to just be ourselves. We cannot thank her enough for the beautiful photos. We love every single one of them!
We found the London elopement to be an extraordinary day! To be able to savour the moment with only the person you are about to commit to spending the rest of your life with allows you to truly appreciate the moment without distraction… For anyone considering it, whether they wish to celebrate with family and friends or not, we would wholeheartedly recommend a special day just for the two of you."
If you love the look of this London elopement, you can see more of my wedding photography and if you're planning an intimate elopement or a London Town Hall wedding I'd love to speak to you about your plans and how I could capture your special day to share with family & friends – please send me message.
Suppliers: