I love seasonal weddings – and always recommend that couples consider the flowers, colours and weather they'd like when they are choosing their wedding date. Fresh spring weddings can be very special – including gorgeous spring flowers, coloured dresses and venues full of blossom. Some of my favourite spring wedding inspiration includes: patterned wedding dresses and bright bridesmaid dresses, jars of daffodils or tulips, silver birch trees indoors in pots and photos with cherry blossom. I've asked some top wedding suppliers who've been kind enough to share their tips for planning a beautiful spring wedding. 
Spring wedding flowers
"Spring flowers have bright and cheerful colours but there are also muted options – gentle pinks, blues, yellows and greens. Here are some of my favourite flowers to include in spring weddings:
Blossom – a

beautiful addition to wedding flower arrangements, it can be a little more pricey, but I think it's worth it!

Tulips –

I love tulips. They have to be treated with care as they aren't the most long living cut flower, but as long as know how to work with them they are a great addition to any spring wedding and come in a huge variety of colours to work with any colour scheme

Ranunculus

– these gorgeous blooms are full of ruffles and come in lots of different colours. Kloon and Hanoi varieties are often favourites, but there are also butterfly varieties that are totally different and very elegant

Anenomes

– another elegant flower with soft almost poppy like blooms

Narcissi

or daffodils – from large traditional blooms to small headed blooms from pale yellows to dark orange trumpets

Alliums –

from the onion family, these gorgeous purple round fluffy heads of blooms are a dramatic option to include in spring wedding arrangements

Hyacinths

– if you love stronger floral scents these flowers with clusters of bell like flowers are perfect
I recommend combining these seasonal flowers with light green foliage including pittosporum, eucalyptus and ruscus. And of course lilies, carnations and roses are available all year to combine with these seasonal blooms." – Clare, Wedding Florist, Bloomin Clares (Follow Clare on Instagram)
Spring wedding makeup

"Many brides opt for fresh natural makeup in spring – with warmer days approaching I create makeup looks that are fresh, dewy and glowy. Consider individual lashes to add impact without looking as heavy as false strip lashes. And with a fresh natural look I recommend you choose a soft pink or rose colour for the lips.
You can also always add a pop of spring colour – I love all colours but my go to choices are green and blue. If you're not used to wearing makeup but want to add some colour, remember it doesn't have to be bright – pastel coloured eye shadows or eyeliners are beautiful and have lovely spring vibes. You might choose to pair your natural makeup look with a soft natural hair style – from Hollywood waves to a gently textured updo.
As we move from the colder months to warmer spring days – it's important keep a good daily skin care regime. It's so important to look after your skin in the build up to your wedding! I recommend: exfoliating once or twice a week to get your skin glowing, finding a good moisturizer and drinking plenty of water." – Shreya, Bridal Makeup Artist (Find Shreya on Instagram)
Spring wedding dresses
"Spring is a wonderful time of year to get married and there are some brilliant dress choices too. There can still be a nip in the air at this time of year and there are some wonderful options of adding little jackets over a dress. We fit these little jackets so that they look part of the dress bodice and your guests will never know it's a separate piece. The wonderful element of this is that you can remove it in the evening when things are hotting up, in fact we always encourage our brides to disappear before the first dance, remove the jacket, add a sparkly belt or some glamorous earrings, bustle the skirt and reappear looking like you've literally changed outfits. 
Another choices for spring weddings is to consider a dress with sleeves, the choices available in my collection right now are vast. Don't think of heavy fabric here, I am talking chiffon, lace, silk or soft crepe. All super lightweight but they do offer some cover.
Spring fashions right now have a real less is more feel, brides are choosing easier to wear dresses that max out on style but dresses that they can have super fun wearing. Finally a real favourite is the fun and flirty short dress which is simply thrilling to wear and requires so little effort before the party gets started." – Ellie, Bridal Boutique, Ellie Sanderson (See more from Ellie on Instagram)
Spring wedding photography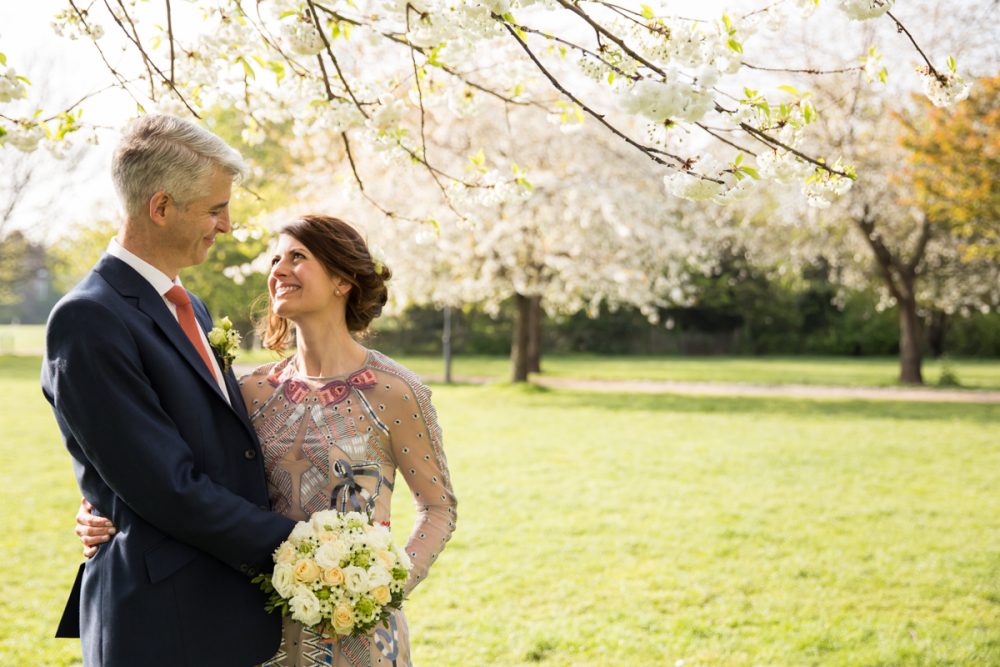 Gardens are often particularly beautiful in spring so consider a walk through the gardens or grounds of your venue for portraits. For spring wedding photos the weather can be changeable so I'd suggest having an outdoor plan to make the most of beautiful fresh leaved trees or blossom as well as wet weather plan – either an umbrella or sheltered spots like doorway arches, glass conservatories or covered walk ways. I'm a natural light photographer so I love to do photos outdoors no matter the weather – I can always bring a big white umbrella for you to use! 
If you're choosing a particular spring flower or colour for your wedding be sure to let your photographer know – perhaps even have items that colour or those flowers at your preparation venue so that they can be included in your bridal preparation photos. (Follow me on Instagram!)
Spring wedding inspiration
If you're looking for inspiration you can see some of my favourite spring weddings here: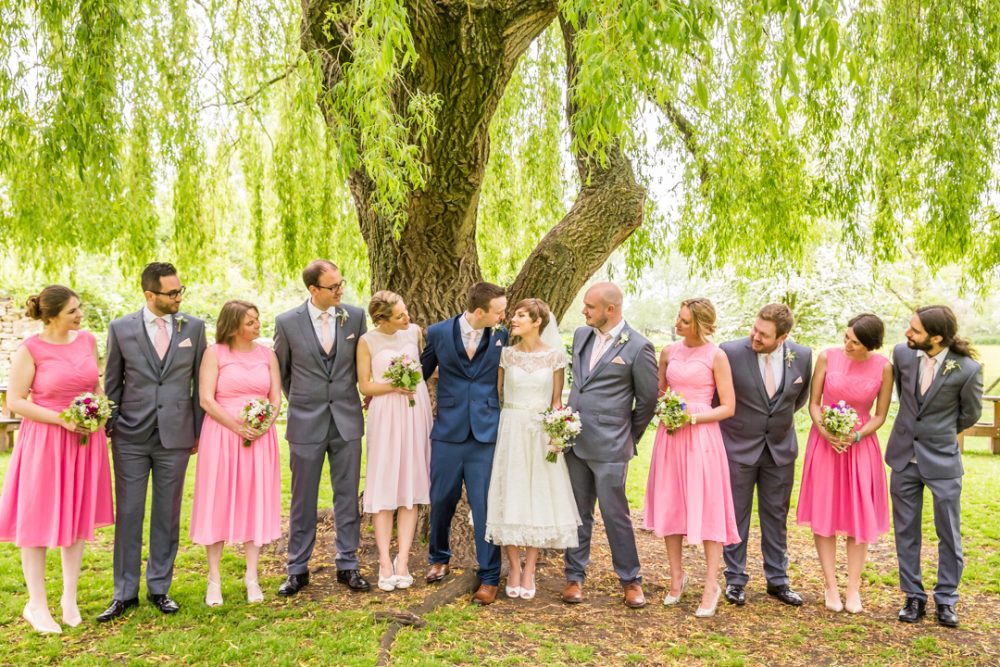 ***
If you're planning a spring wedding, I'd love to talk through your plans and explain how I could capture your wedding day – please send me a message so we can arrange a time to talk.