That Amazing Place wedding inspiration – elegant, luxurious wedding ideas for a multicultural wedding in a palette of blush, navy and gold. That Amazing Place is an exclusive use wedding venue in Essex, with beautiful ceremony rooms, pretty grounds, a gazebo & lake. Together with Gilly, the incredible wedding planner at Amore Star Events, I worked to showcase an luxury wedding style for a multicultural wedding in a palette of blush, navy and gold.
That Amazing Place Wedding – Luxury Wedding Inspiration
I was lucky to work with a fantastic team of talented wedding suppliers for this That Amazing Place wedding shoot and so much love went into every little detail, from bespoke stationery to ethical handmade rings, delicate jewellery fitting perfectly with pink wedding dress's V-neck, to nail art reflecting the colour palette of blush pink and navy blue with touches of gold.
Bespoke wedding stationery
Designer Suzanne Oddy created stunning wedding stationery in pink and navy. If you're choosing beautiful wedding stationery, please do save a set for your photographer to capture – invitations set the style of your wedding and personalised or monogrammed cards create lovely images.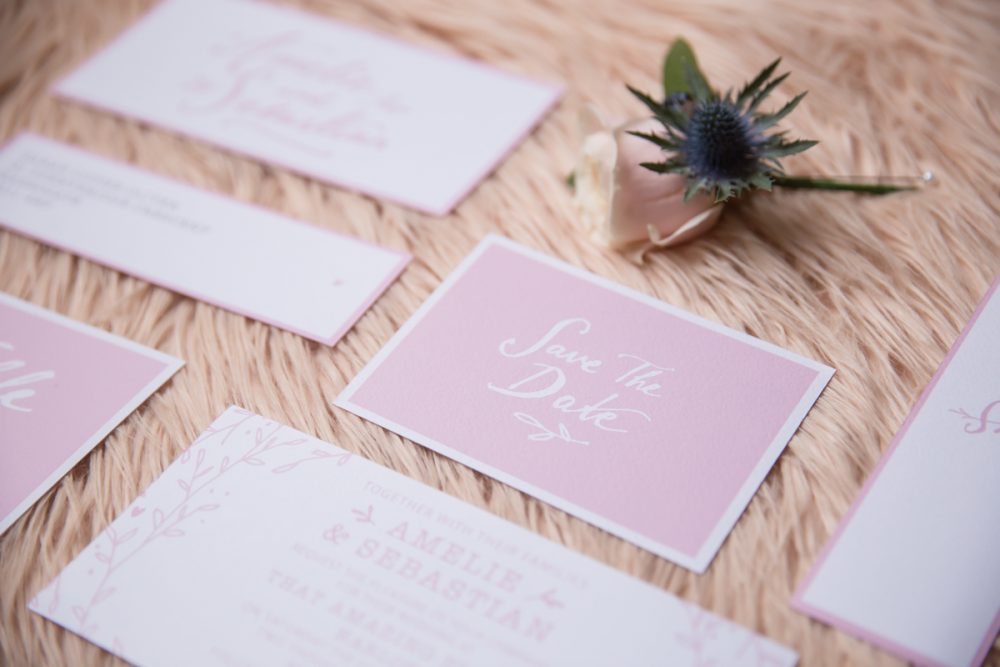 Romantic bridal lingerie
For dreamy, romantic bridal preparation photos, we chose dressmaker Ailsa Munro's luxurious silk bridal lingerie. With covered buttons and hand-sown French lace trim the chemise and shorts were paired with a sheer silk chiffon kimono perfect for your wedding morning – and of course you can enjoy them all over again on your honeymoon!
Fresh flower garter
One of my favourite luxury finishing touches is a delicate fresh flower garter. Jo from Brown's Blooms and Balloons used rose buds and viburnum berries on a lace ribbon to create this unique bridal garter.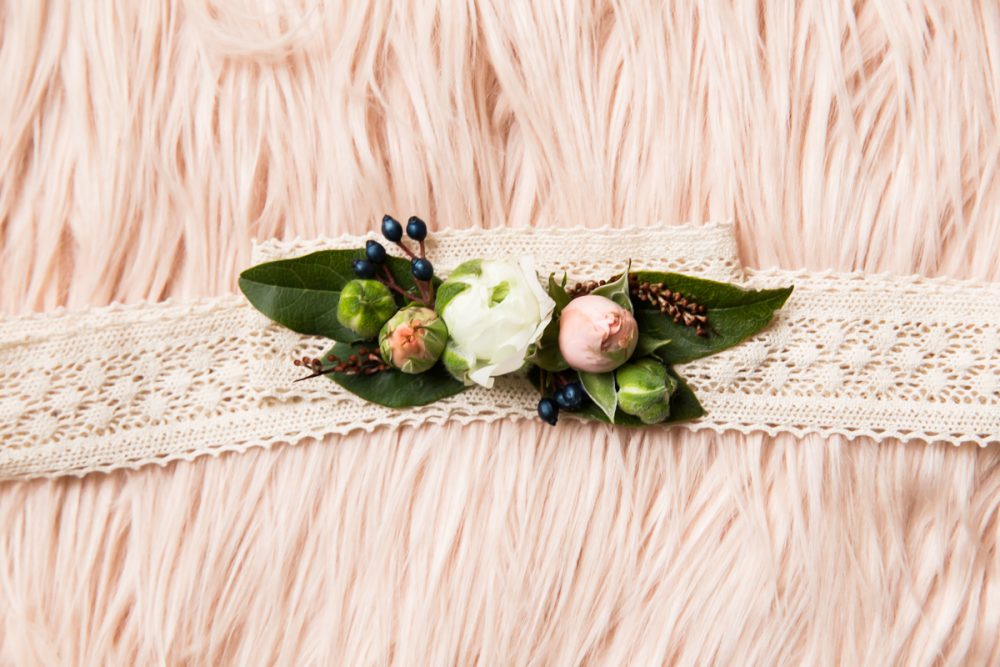 Wedding table decor
When it comes to wedding table decoration – small details can really make a big difference. As well as large table flower decorations, colour was added with decorative chargers and coloured glassware and light from the candle holders is reflected by a sequinned table runner.
Luxury wedding cake
One of my favourite London wedding cake bakers, Asma at Sugared Saffron created a luxury four-tiered blush wedding cake personalised with a gold monogram crest and finished with navy satin ribbon, pink sugar flowers and gold leaves.
***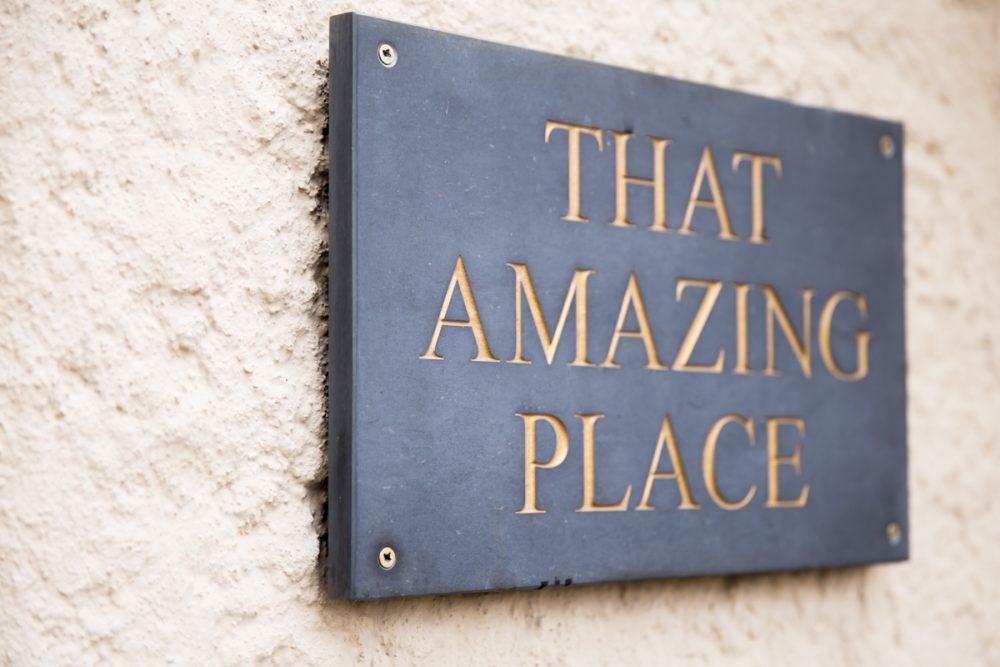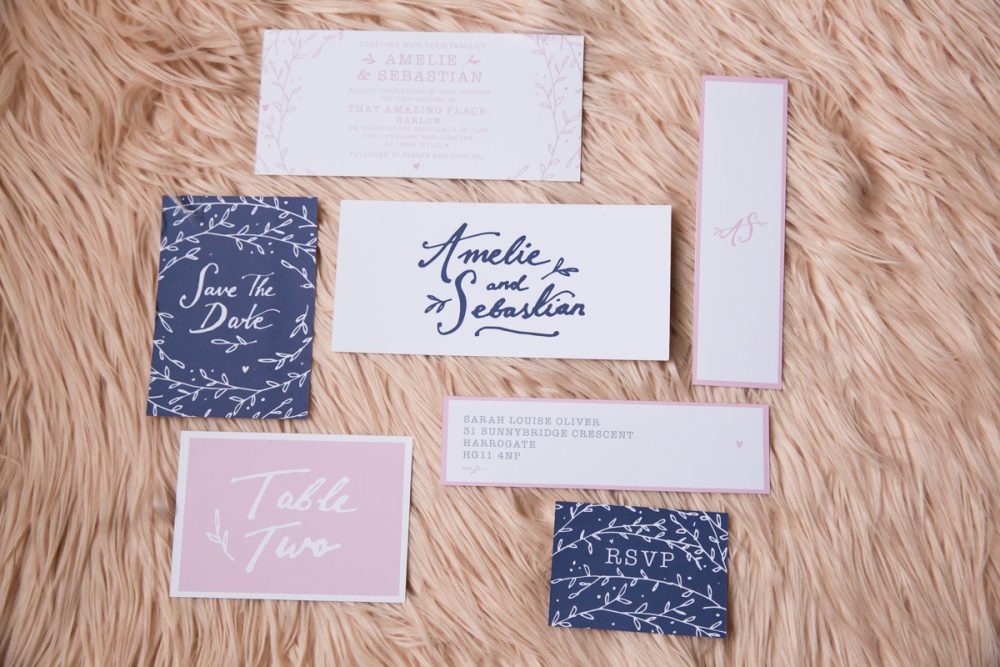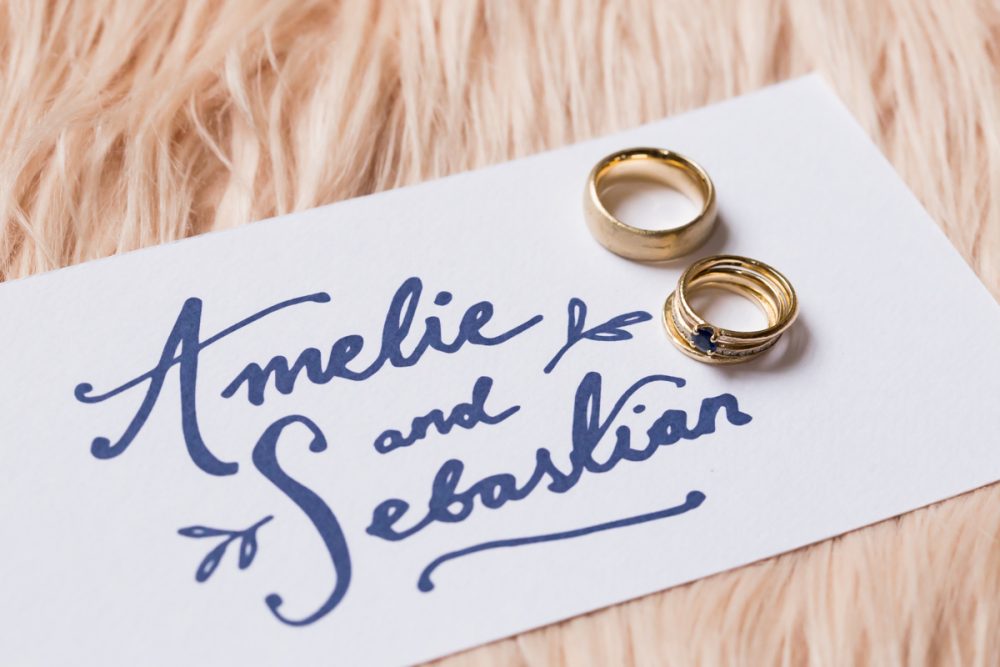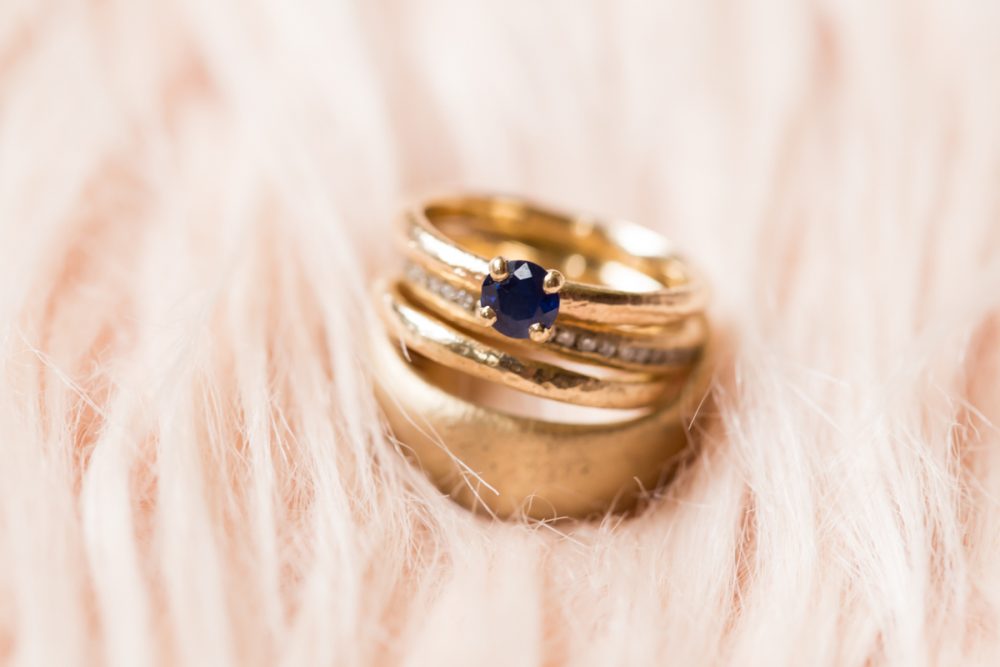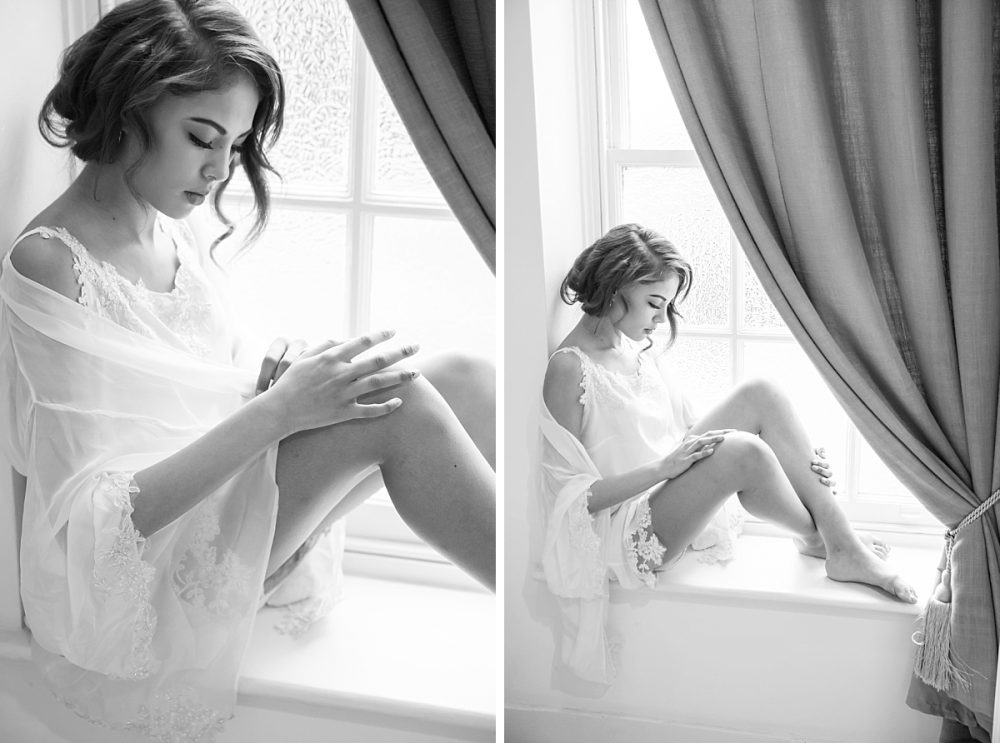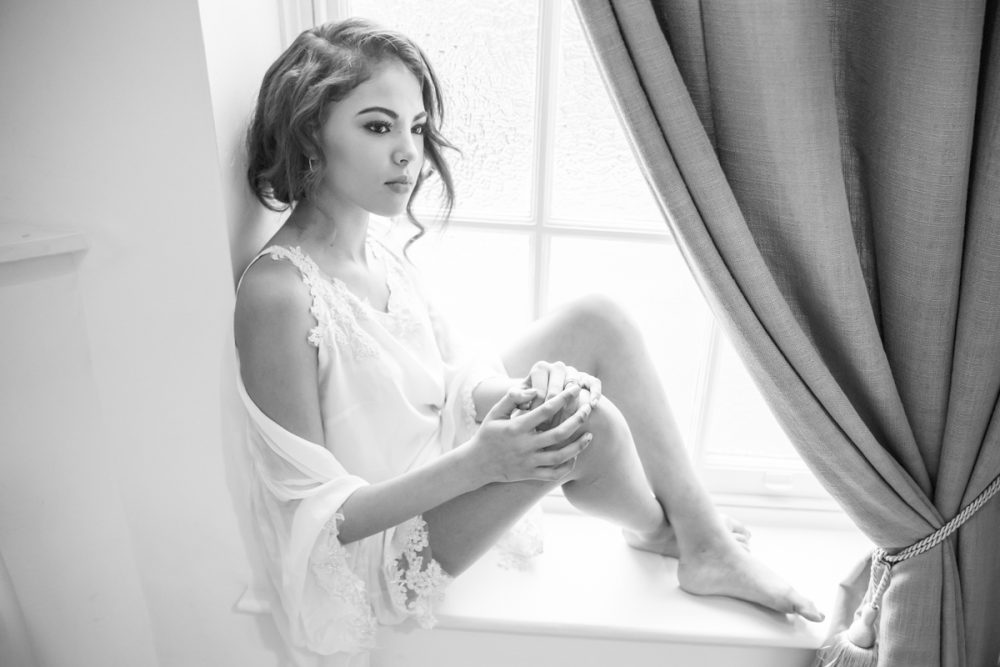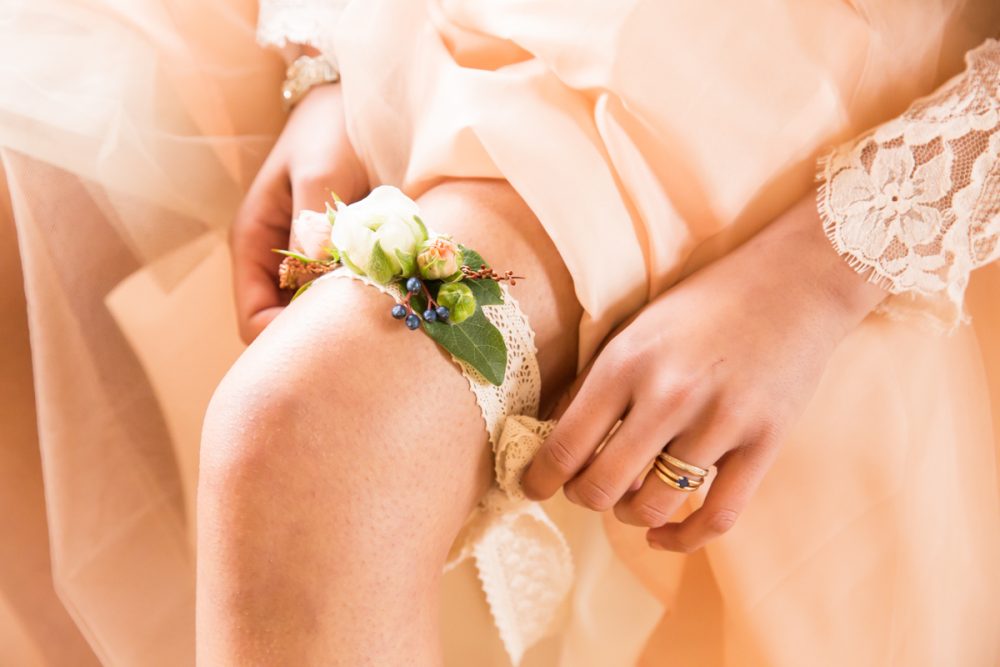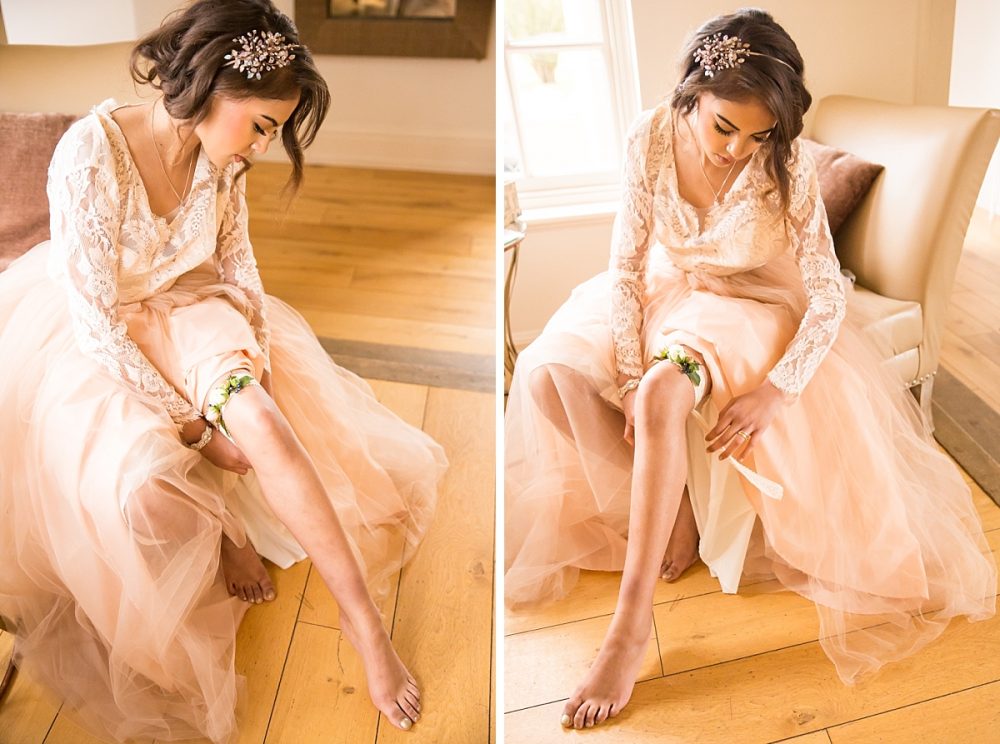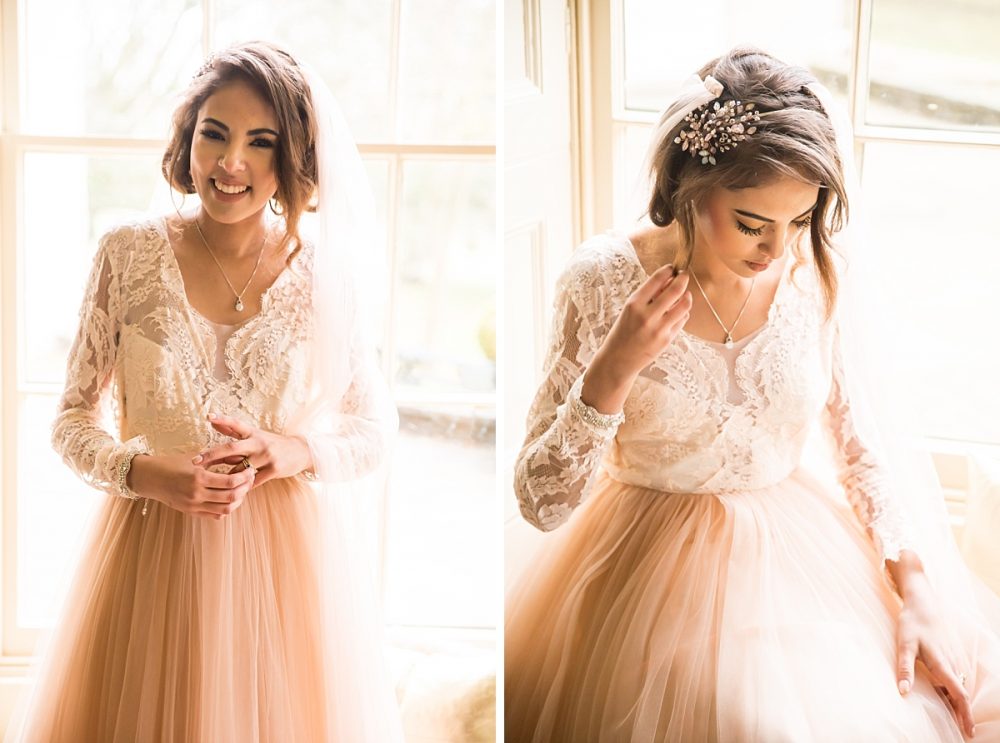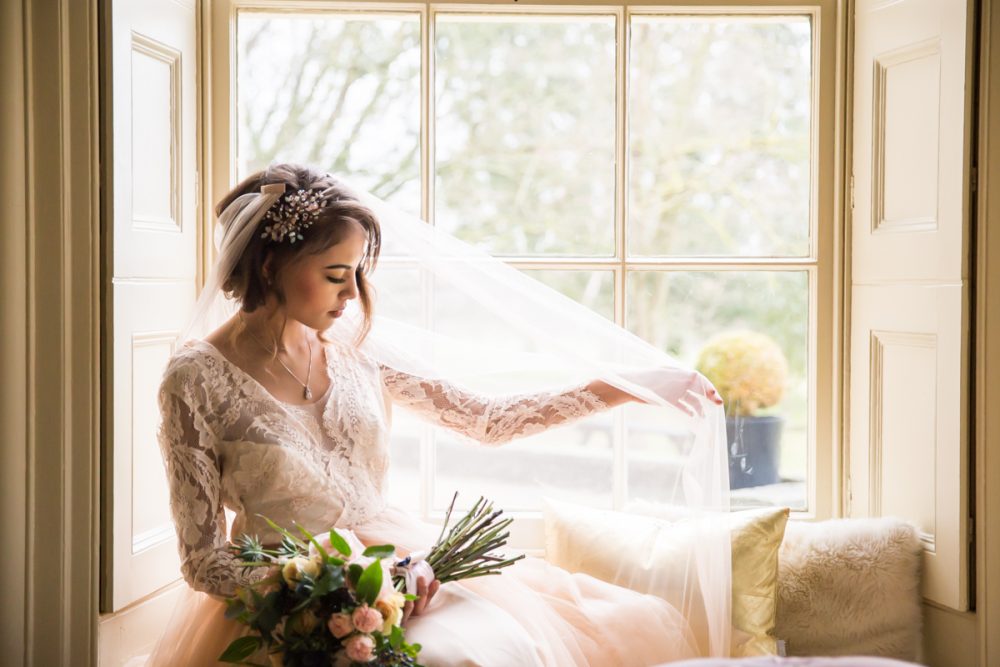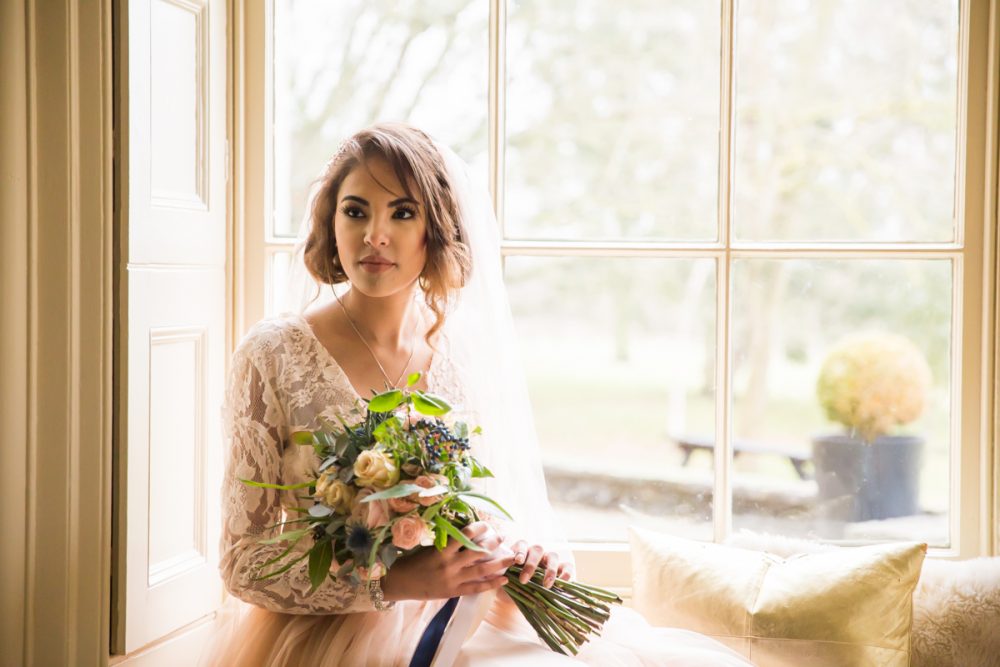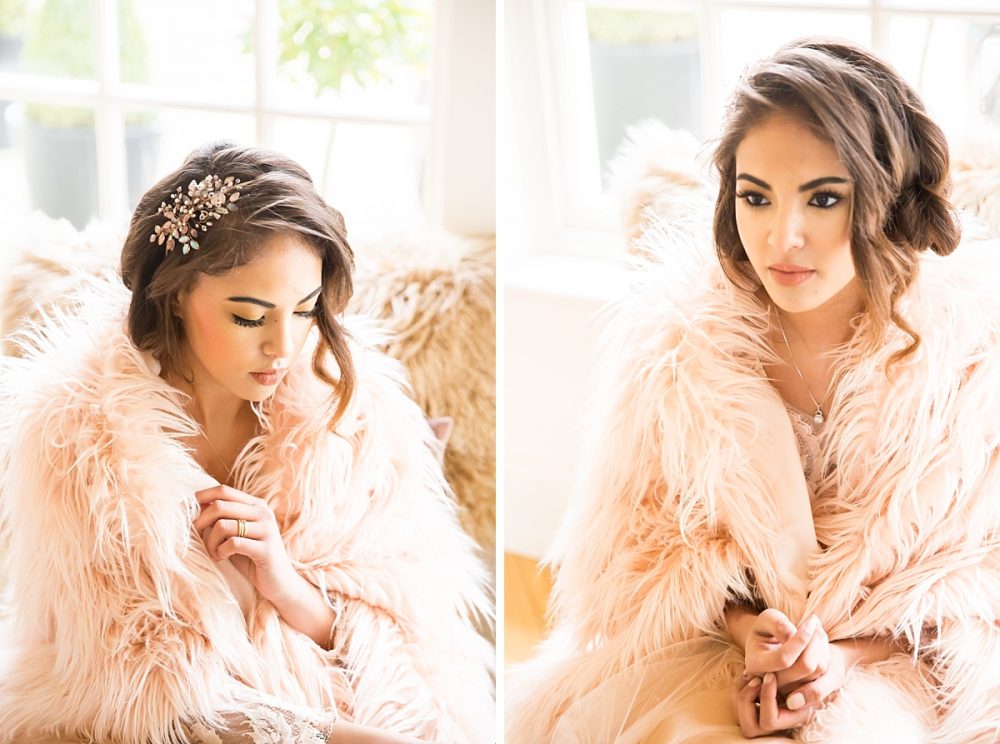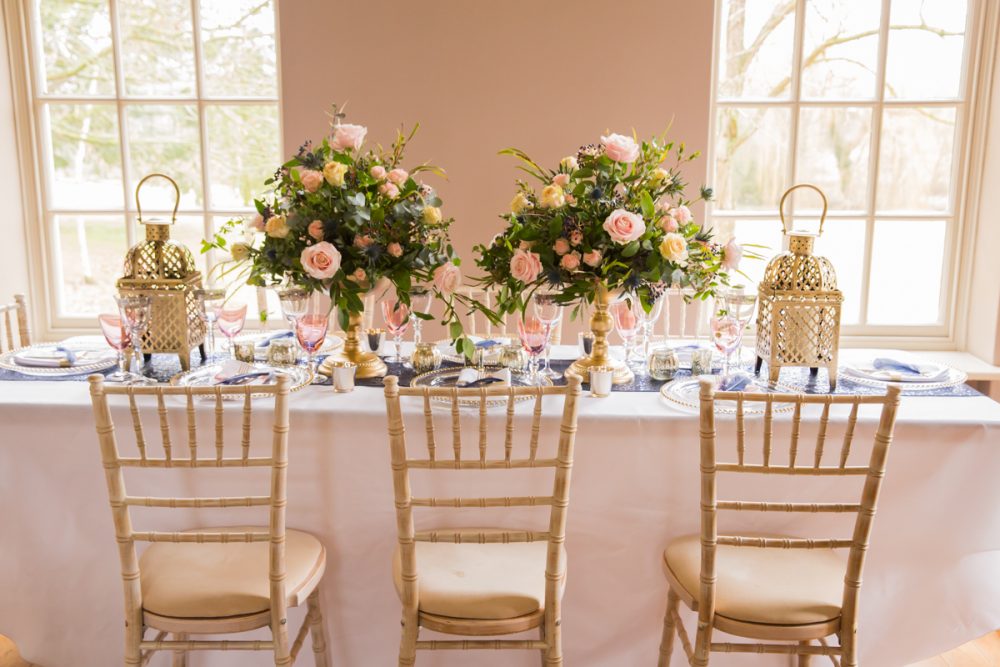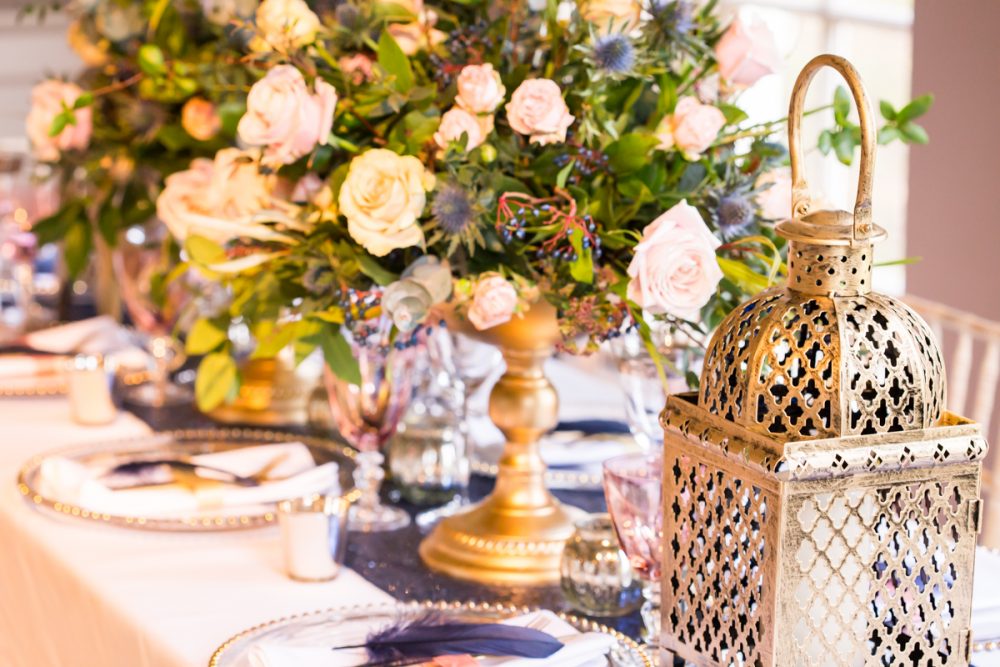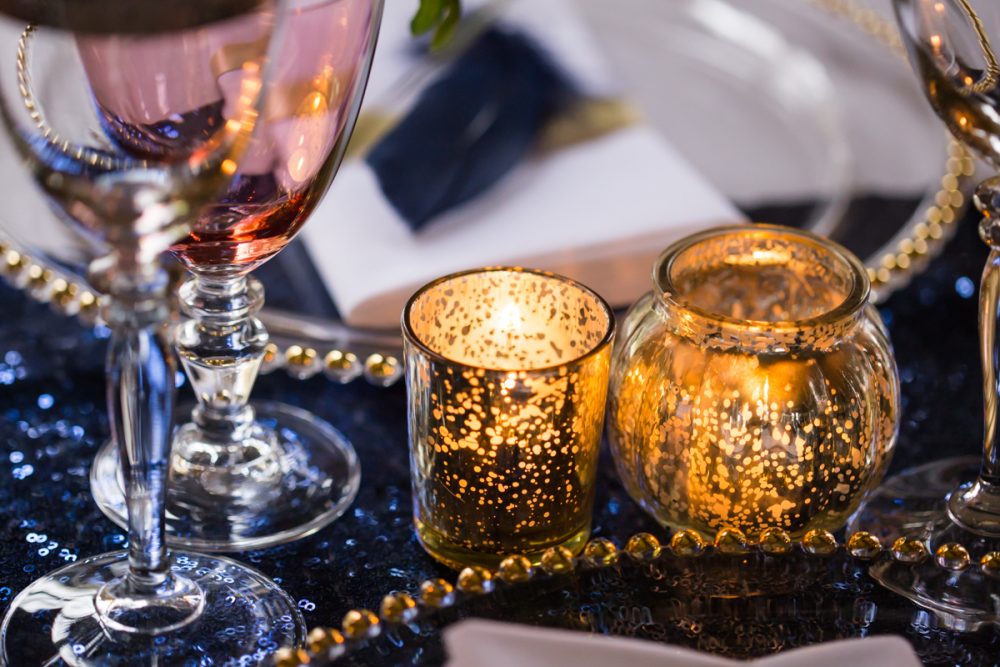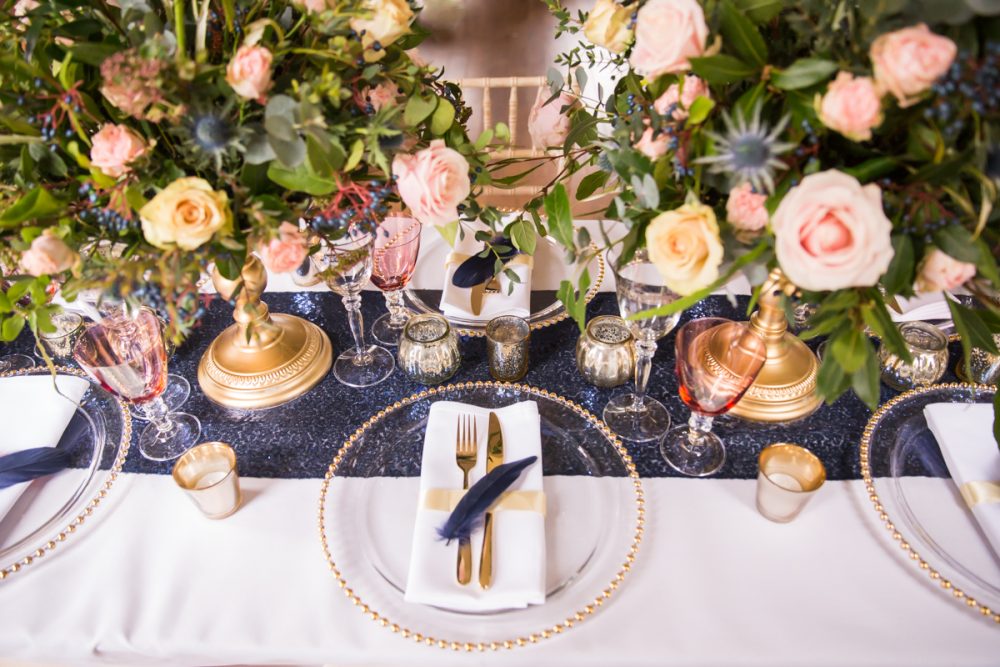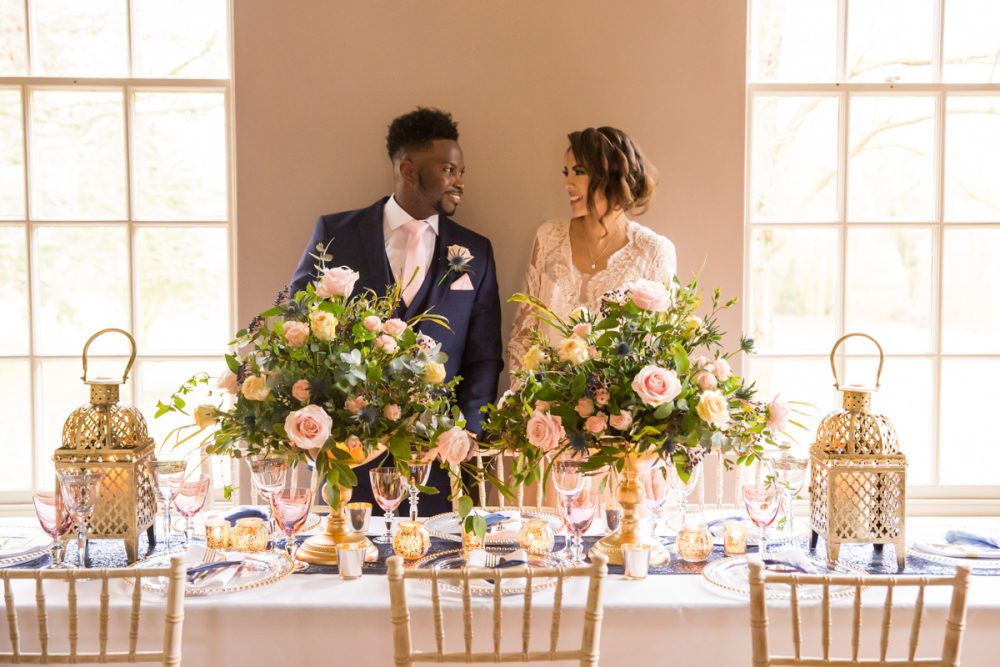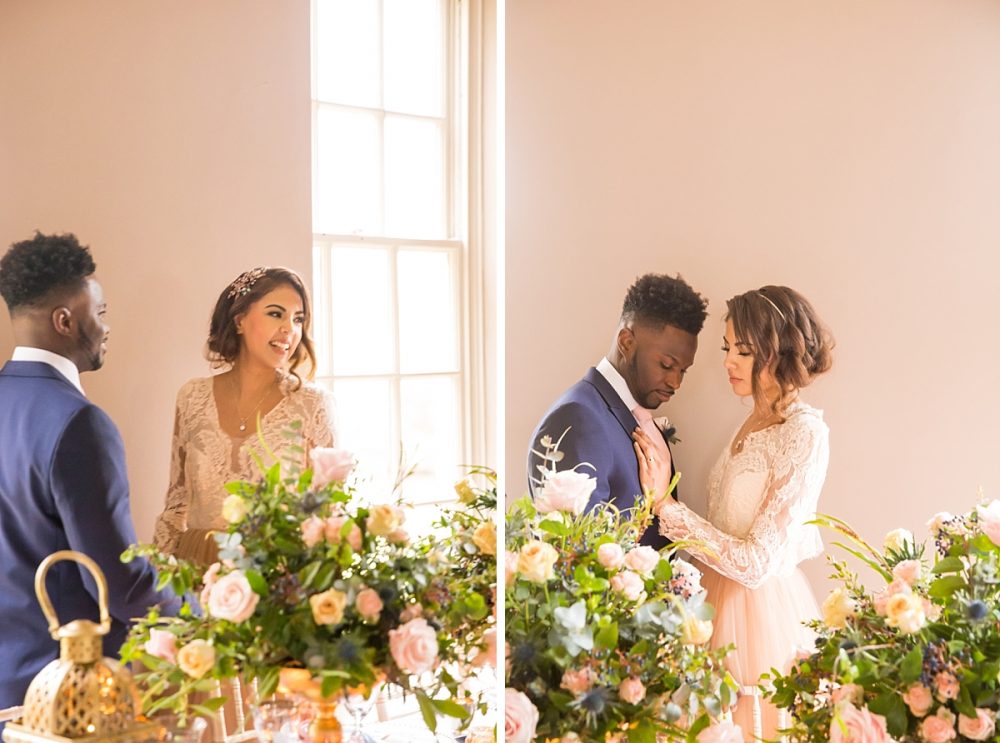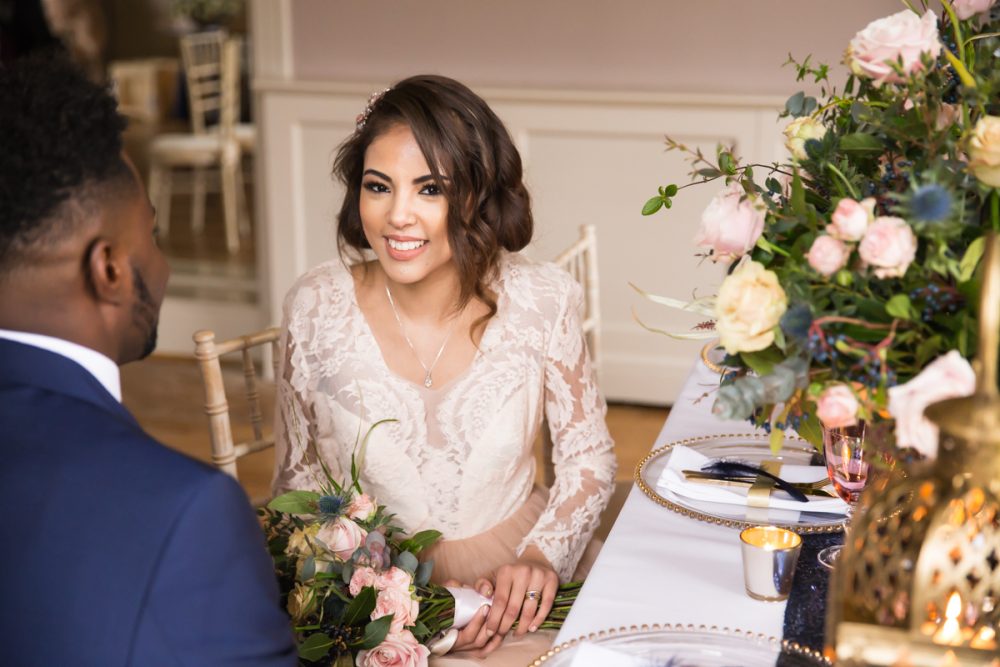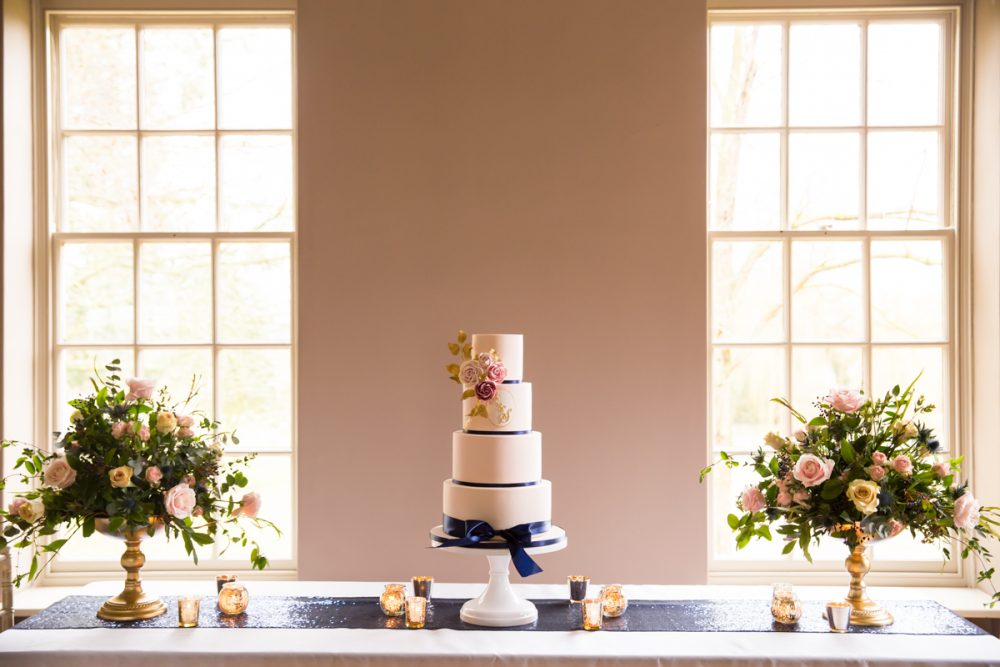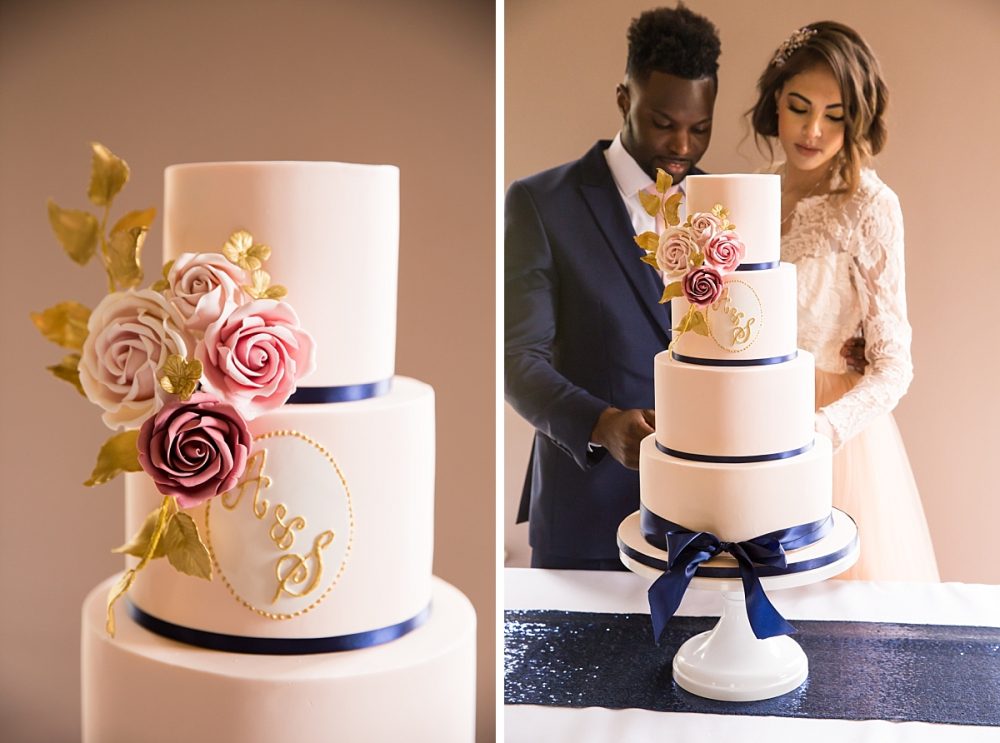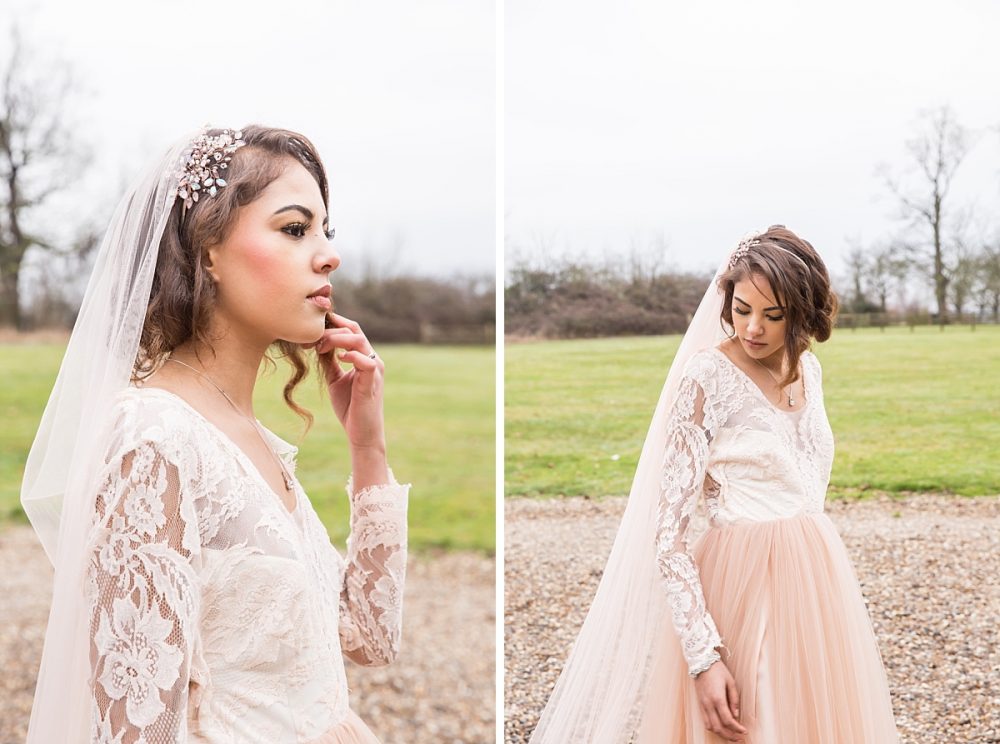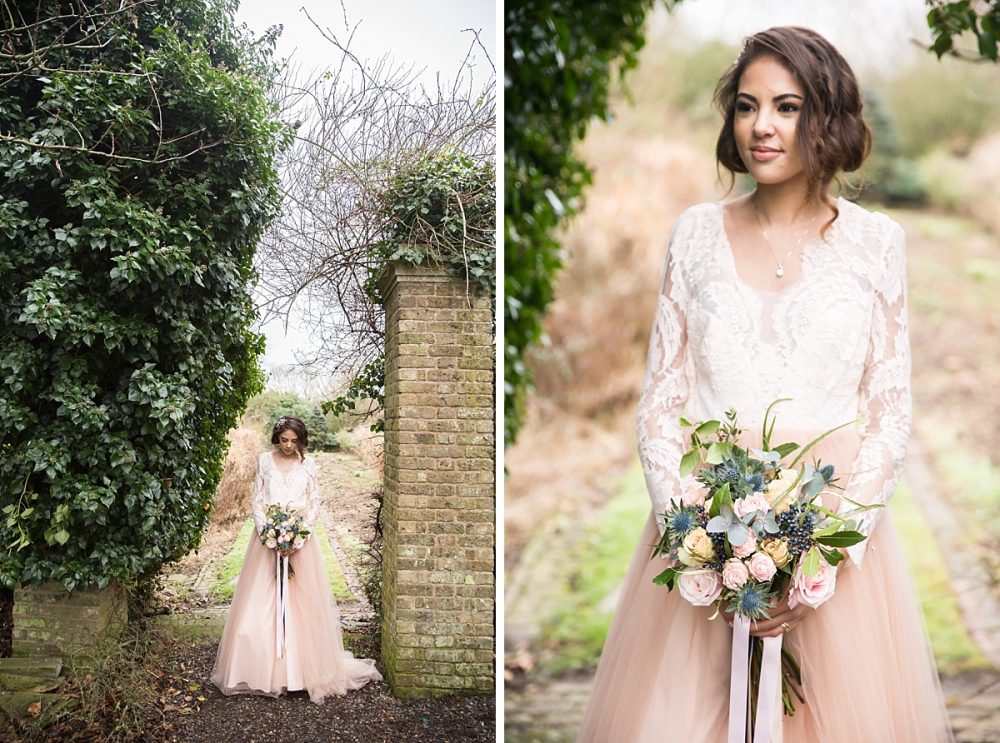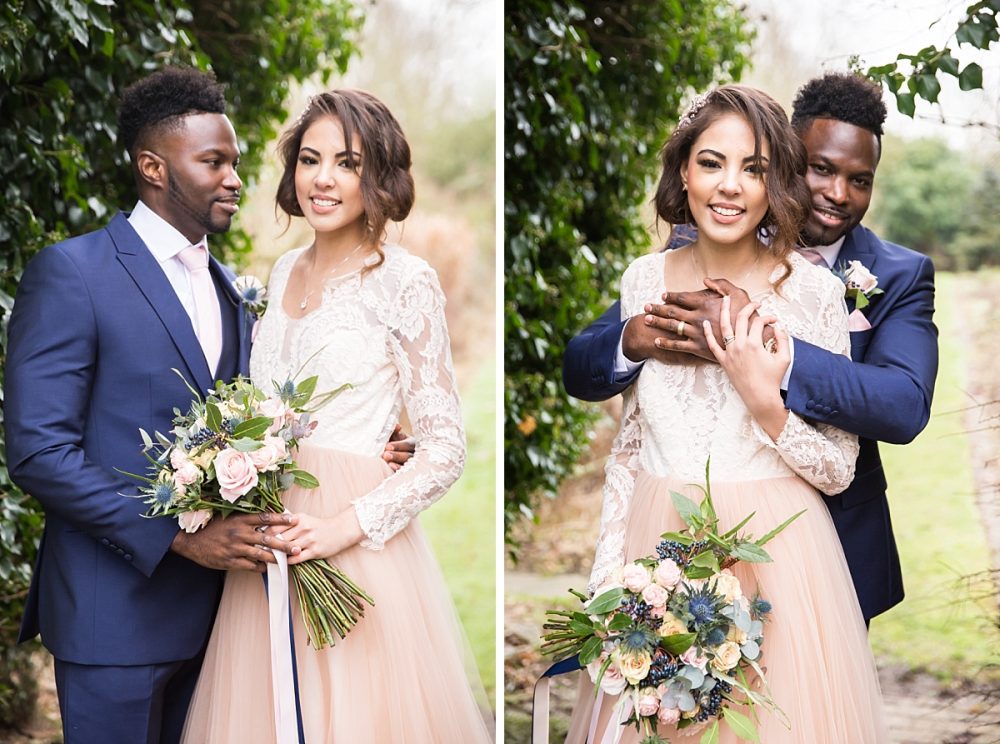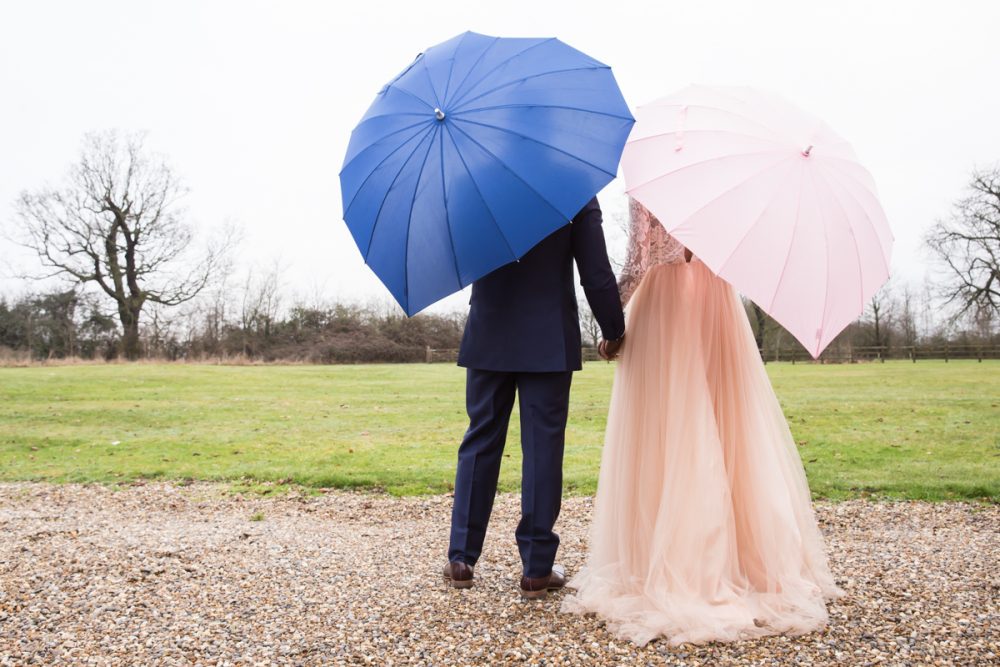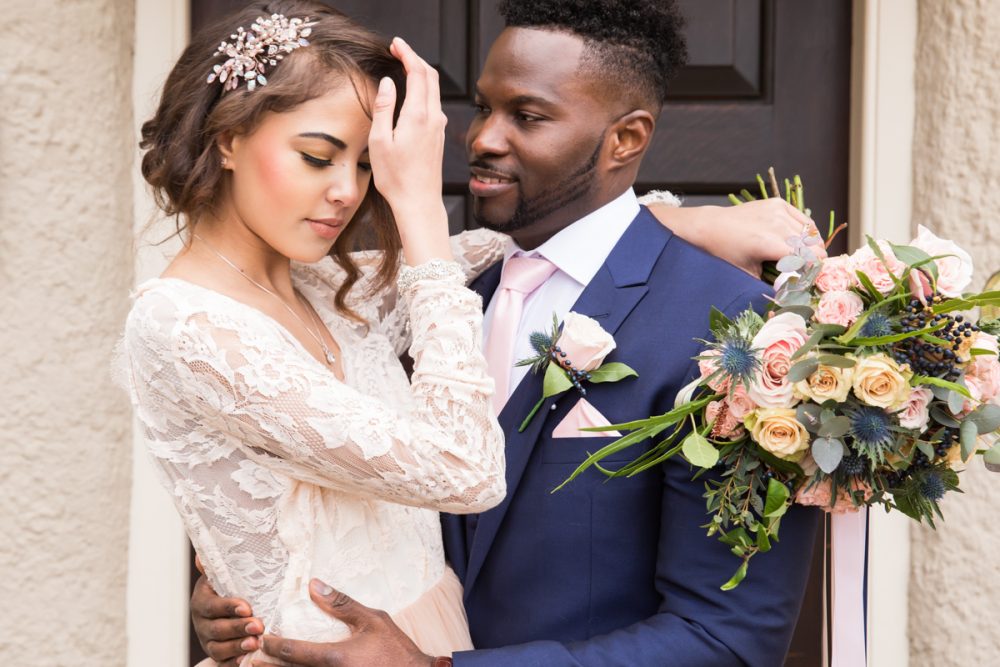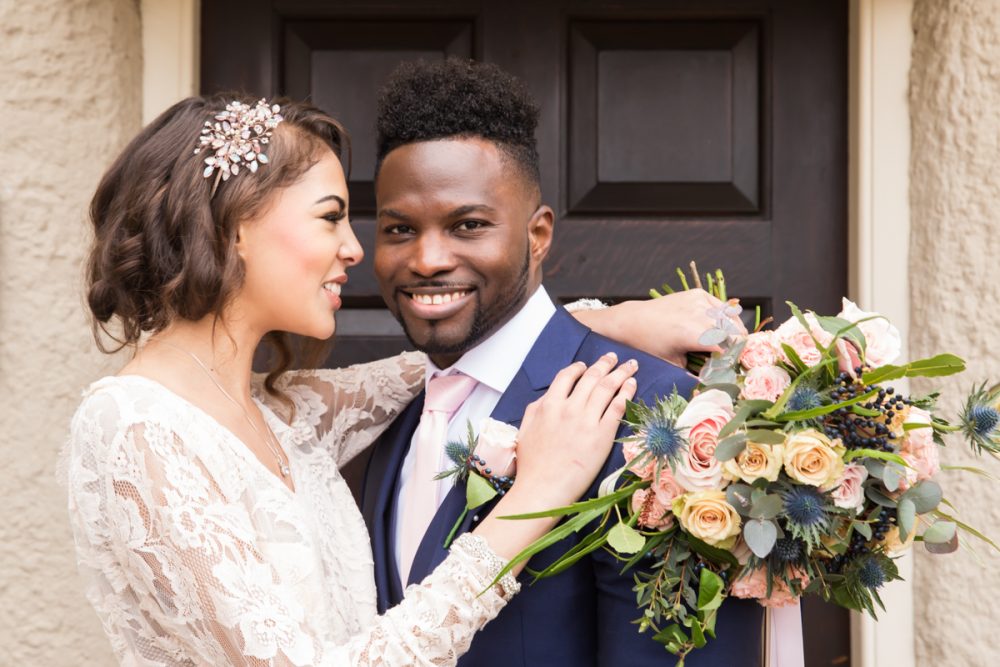 Featured on luxury wedding blog B.Loved, I was also thrilled to see this wedding inspiration on the cover of An Essex Wedding Magazine.
Thanks to the super talented team involved in this luxury wedding inspiration shoot:
Conceived by Hannah Larkin Photography & Gilly Keat of Amore Star Events
• Stylist: Gilly Keat, Amore Star Events with assistant Jenni Payne
• Photography: Hannah Larkin Photography – That Amazing Place Wedding Photographer
• Videography: Jay Anderson
• Essex wedding venue: That Amazing Place
• Essex wedding florist: Browns, Blooms & Balloons
• Wedding cake: Sugared Saffron
• Wedding stationery: Suzanne Oddy Design
• Tablewear: Couvert Bespoke Event Hire
• MUA: Makeupology
• Wedding hair: Brides Personified 
• Nails: Got Nails Got Beauty
• Bridal lingerie: Ailsa Munro
• Wedding dress: Dress Elizabeth Dye from Heart Aflutter
• Coloured veil: Sash and Veil
• Shoes: Emmy London 
• Suit: Hire 5 
• Rings & cufflinks: Justin Duance Jewellery 
• Headpiece, bracelet & necklace: Donna Crain 
• Umbrellas: Love Umbrellas
• Models: Nadia Allen & Allan McSween
I hope this That Amazing Place wedding shoot inspires you to include a luxurious finishing touch for your wedding – or encourages you to use a mix of contrasting colours. If you're just starting to plan your wedding I've put together the first five things to do and if you'd like to see more of That Amazing Place you might like this intimate outdoor wedding inspiration in shades of grey. You can see more of my storytelling wedding photography here and I'd love to talk to you about capturing your special day – please send me a message.