Meera and Raj's beautiful Hindu wedding took place at De Vere Wokefield Estate in Berkshire in November. I loved learning about the traditions in a Hindu wedding, and seeing how both families are so involved in the ceremony. After the ceremony we were able to enjoy some magical golden light for portraits in the gorgeous grounds, before they changed for a masked ball evening reception – which featured an incredible first dance including a re-enactment of Raj's proposal!
The wedding started with the Baraat – the groom's procession. Raj and his family danced to the beat of a traditional drum to join Meera's family who welcomed them with a Swagatam ceremony at the entrance of Wokefield Estate. Raj stamped on a 'Samput' a clay pot and garlands and gifts were exchanged as part of the Milani ceremony, the traditional introduction of the members of the families.  
The wedding party then moved to the mandap, the wedding pavilion set up for the ceremony itself. Starting without the bride, prayers and offerings of flowers and rice were made to Ganesh by Raj and the two families before Meera's entrance. A large scarf was held up to prevent Raj from seeing Meera until he had paid for the privilege! Meera and Raj exchanged garlands (the Jaimala ceremony) which symbolises their acceptance of each other as life partners. 
The Hindu wedding ceremony embraces the five elements of nature: fire, earth, water, air and light. The sacred fire or havan is lit as part of the Agni Puja ceremony. An offering of a honey and yogurt is made as the Madhu Parka. Then, to symbolise the joining of their hearts and the binding of the two families, a nuptial knot is tied – Meera's veil tied to a cloth on Raj's shoulder (Granthi Bandhan). With this knot in place, they performed the Parikrama – walking around the fire several times while chanting mantras. Following this, vermilion powder was placed in Meera's hairline to symbolise her married status (Sindoor ceremony). 
One of my favourite parts of the ceremony was the Saptapadi or Seven Steps. Hindu teaching says that if people walk seven steps together they become lifelong friends – and so Meera and Raj took seven symbolic steps together, each representing vows and promises they made. They placed their toes together on each of seven balls as they said their vows. There were final blessings (Aashirwaad) and then the ceremony was complete – giving time for Raj to find his name hidden in Meera's intricate bridal henna.
Meera & Raj said goodbye to their guests with a vidai ritual where Meera cried, as is traditional to mourn leaving her family. Once they reached their car, Raj's brother had to bribe the female guests so Raj was allowed to leave with Meera! The sun was beautiful at this point, late autumn or winter weddings often have beautiful early sunsets with low golden light that is perfect for portraits. 
After portraits Meera changed into a stunning purple ballgown and Raj into a white tux for their masked ball themed evening reception. Speeches were full of laughter – including one of the groomsmen dressing up as Raj with a bald cap and glasses! Their first dance was the most unique I've ever seen! Choosing to show off some amazing moves, they re-enacted their relationship including Raj going down on one knee to propose, before finishing with spins under a colourful confetti canon.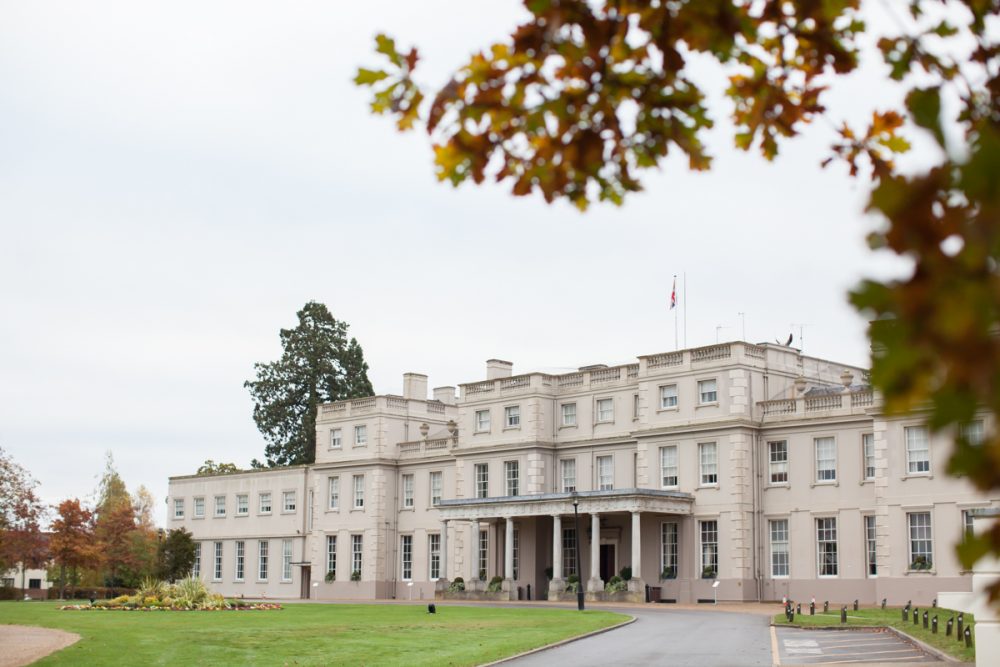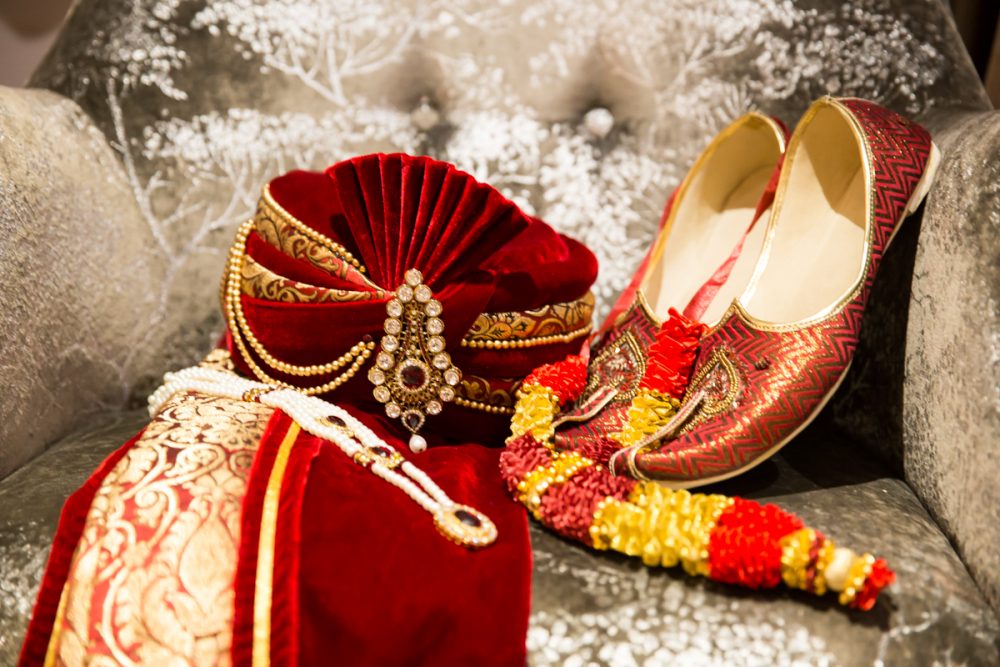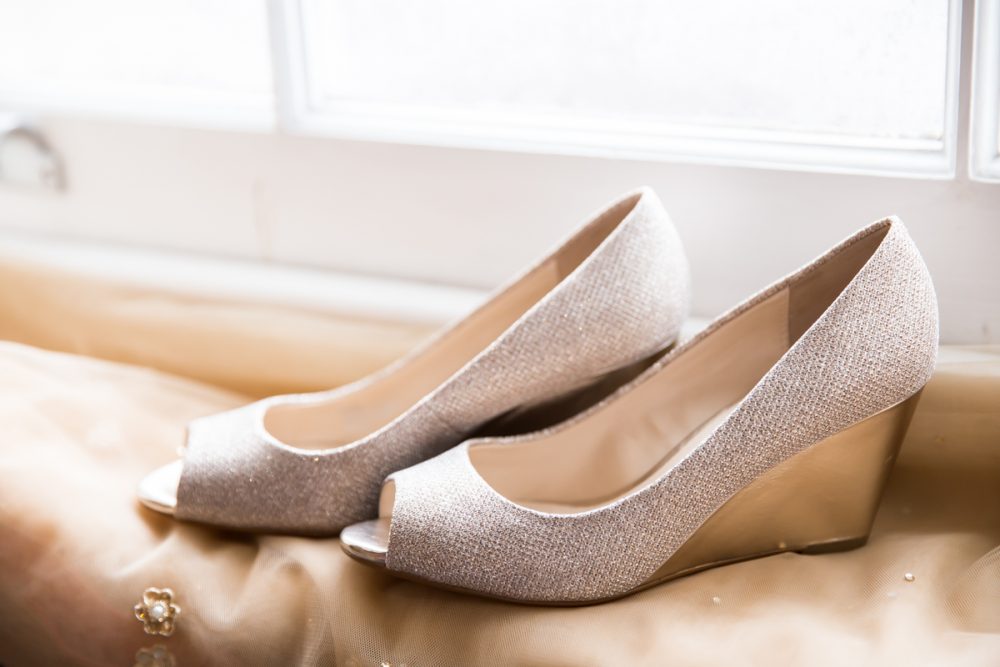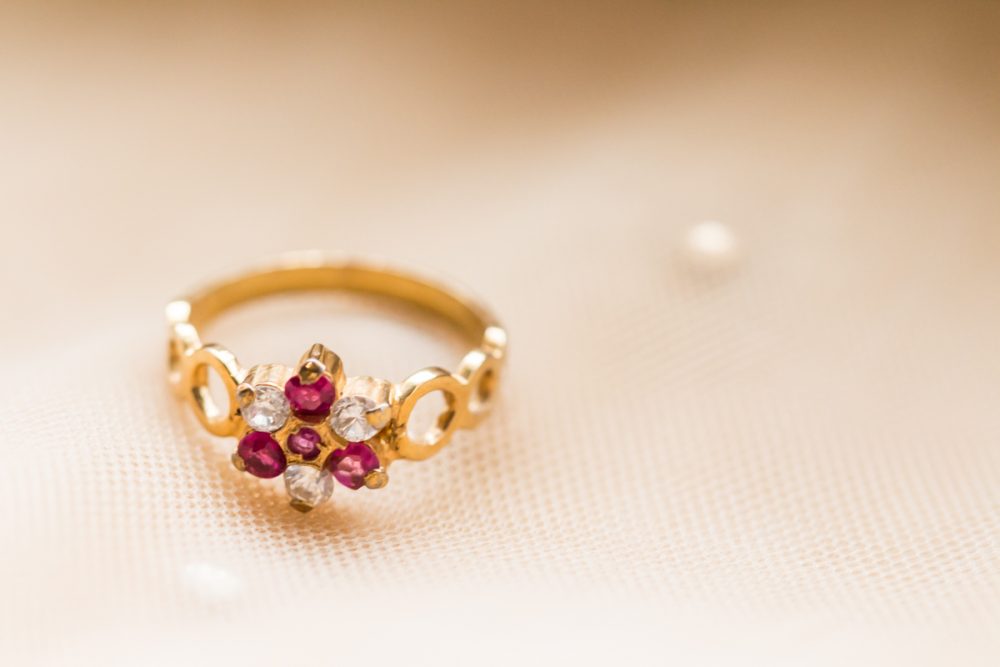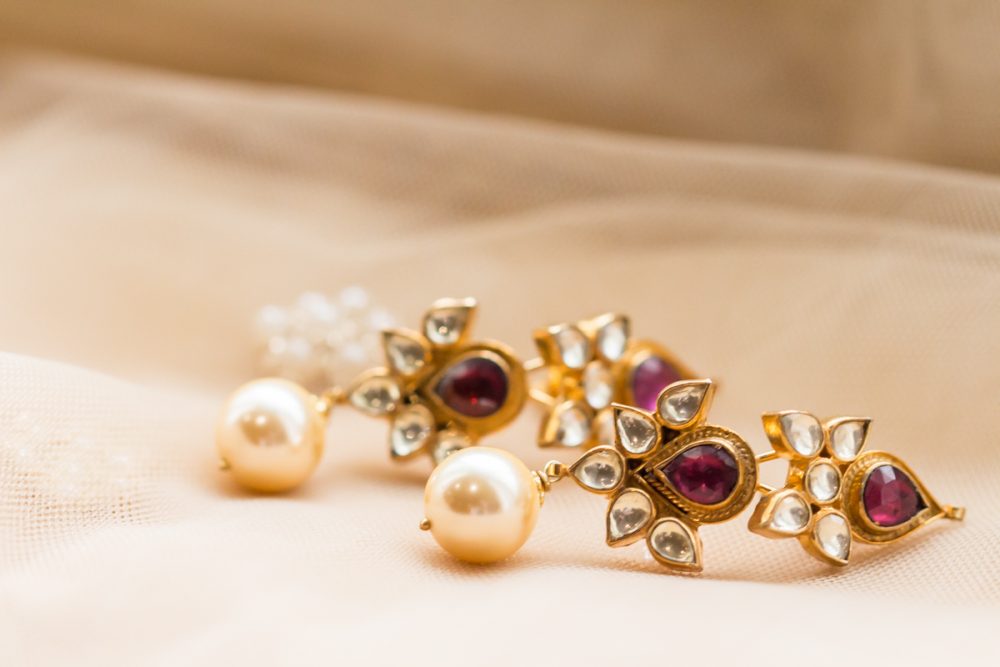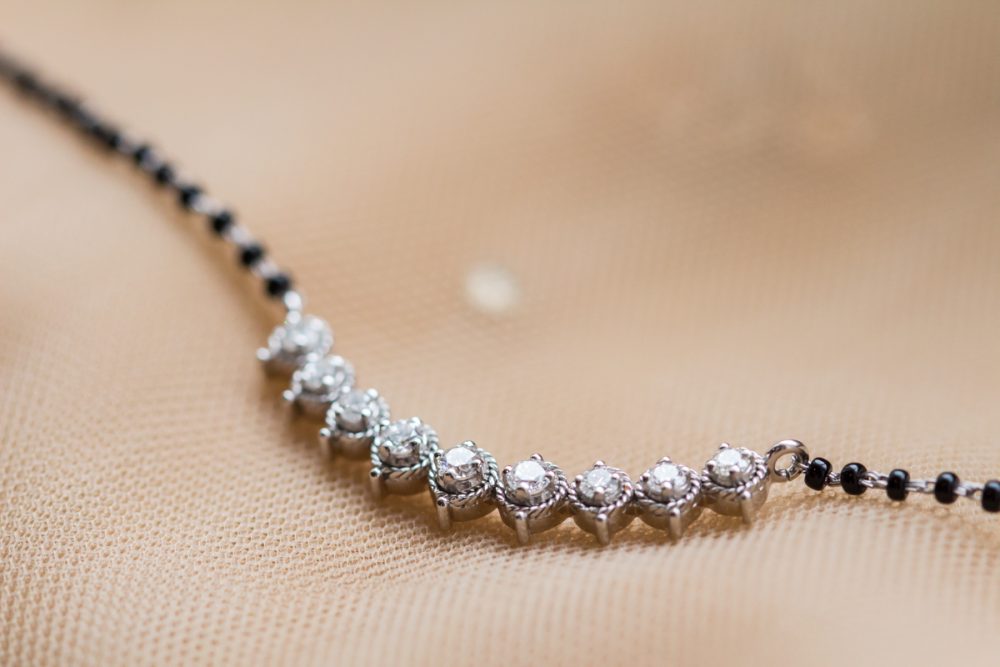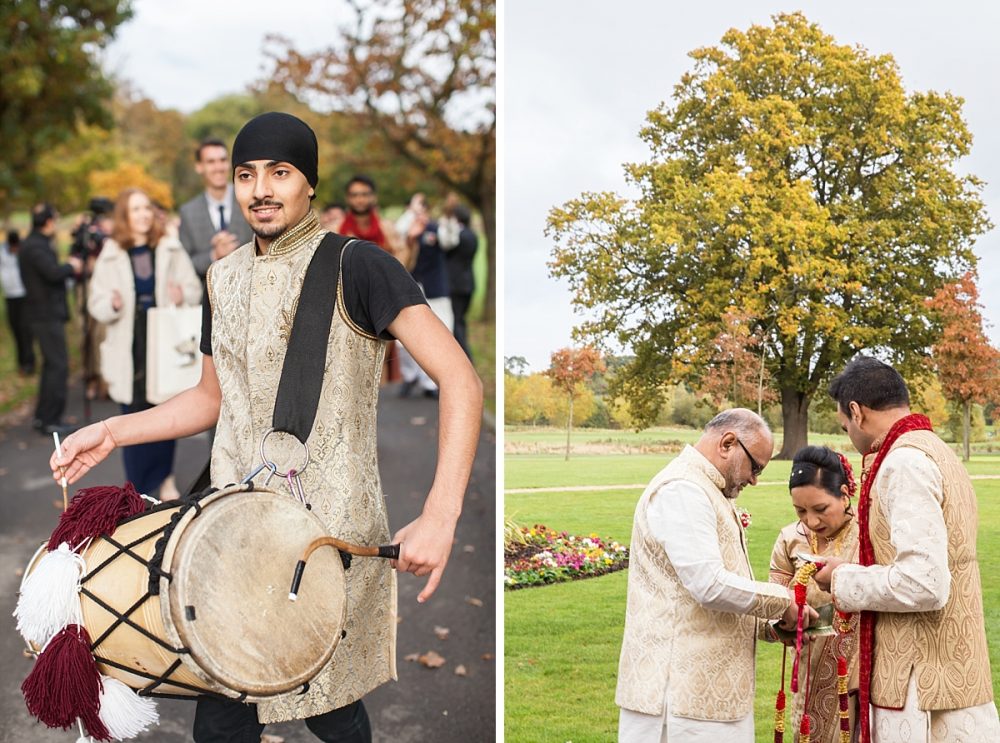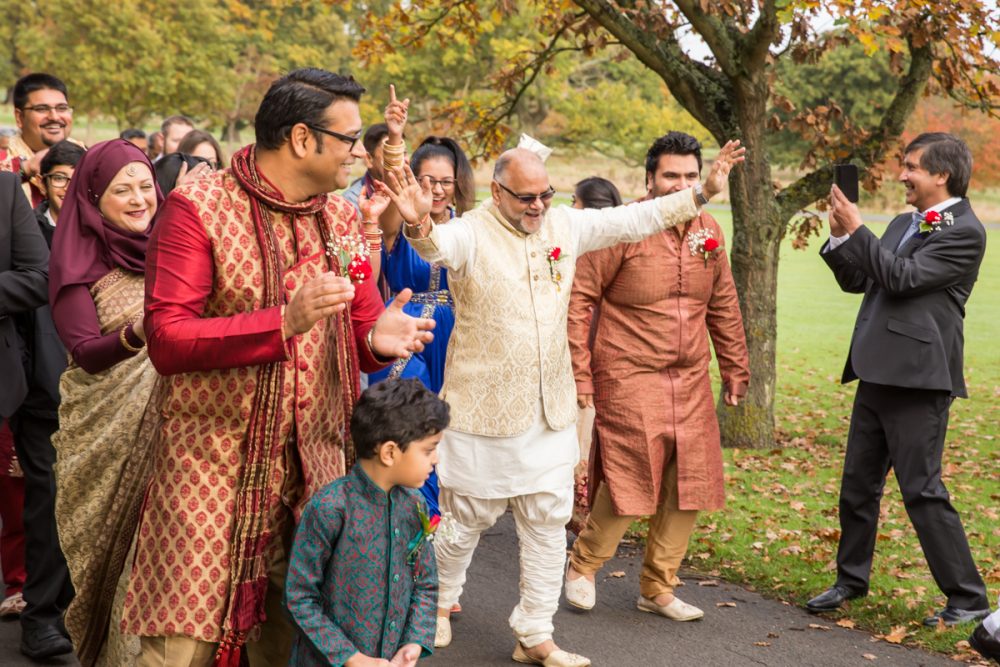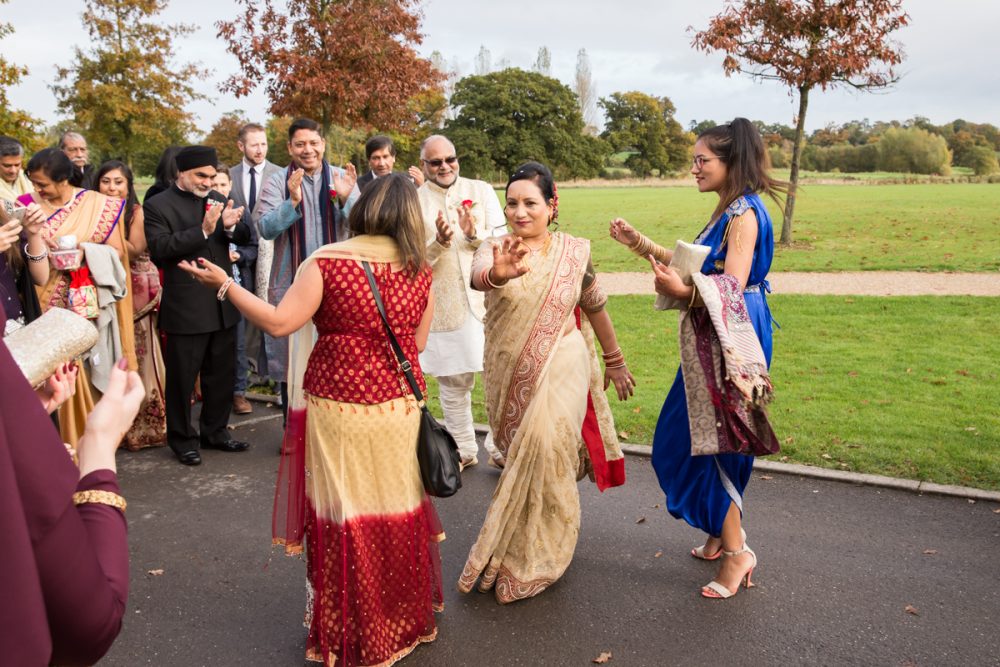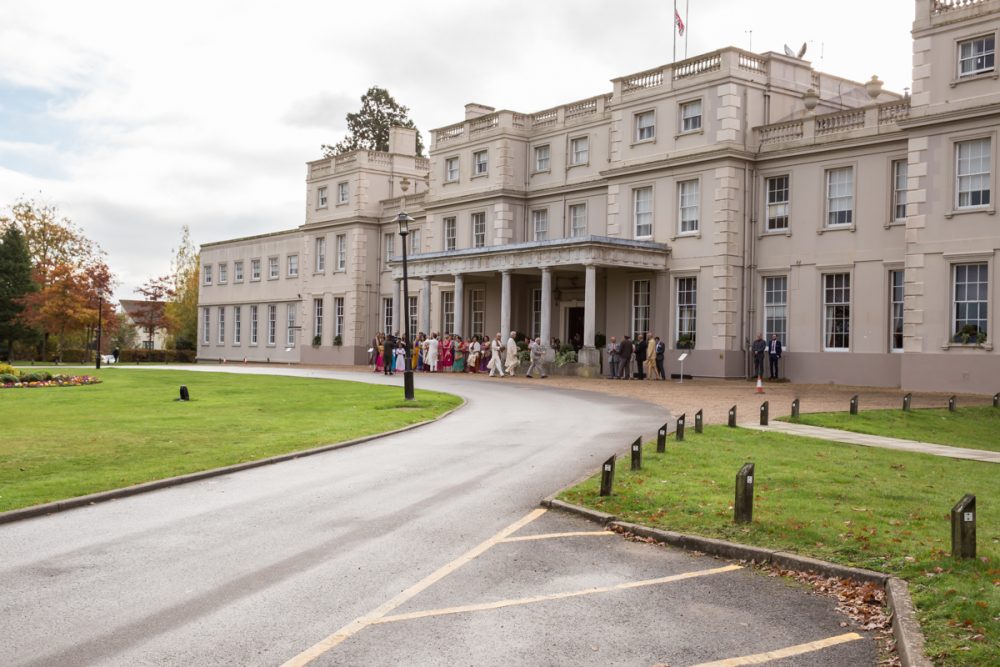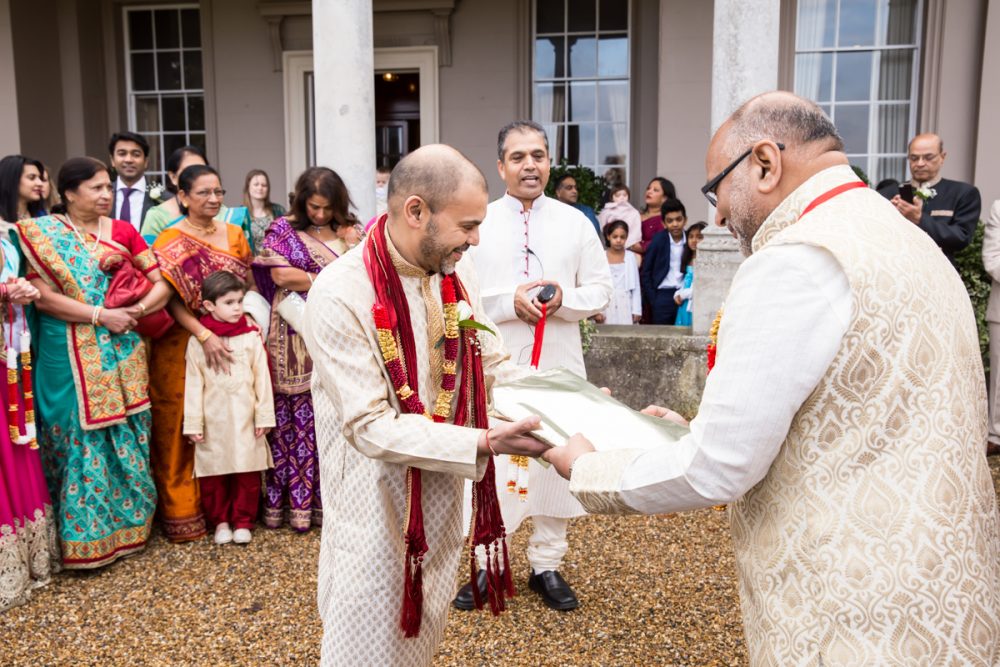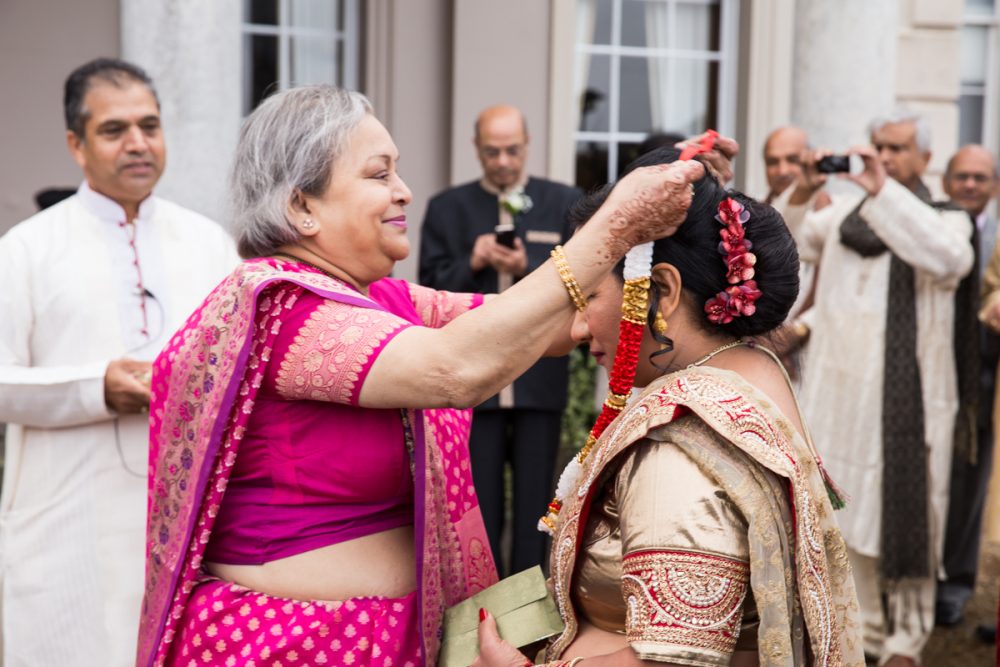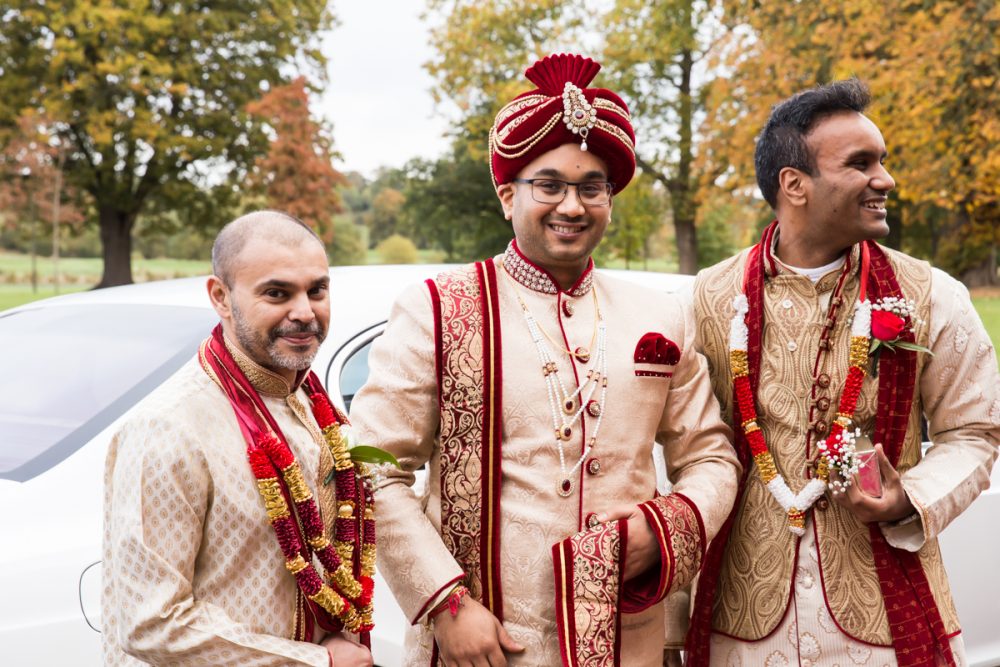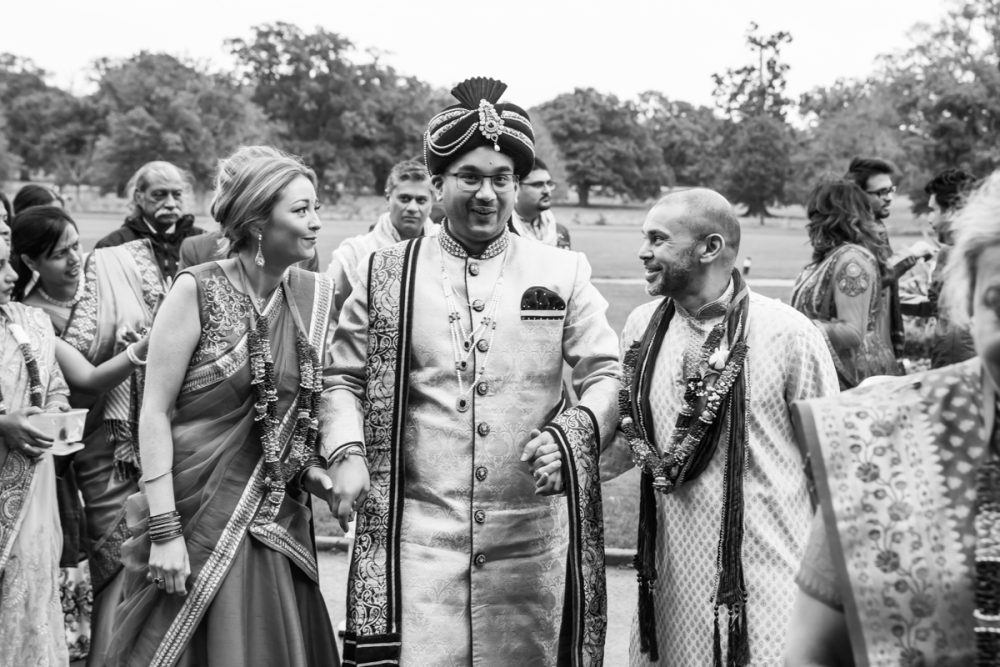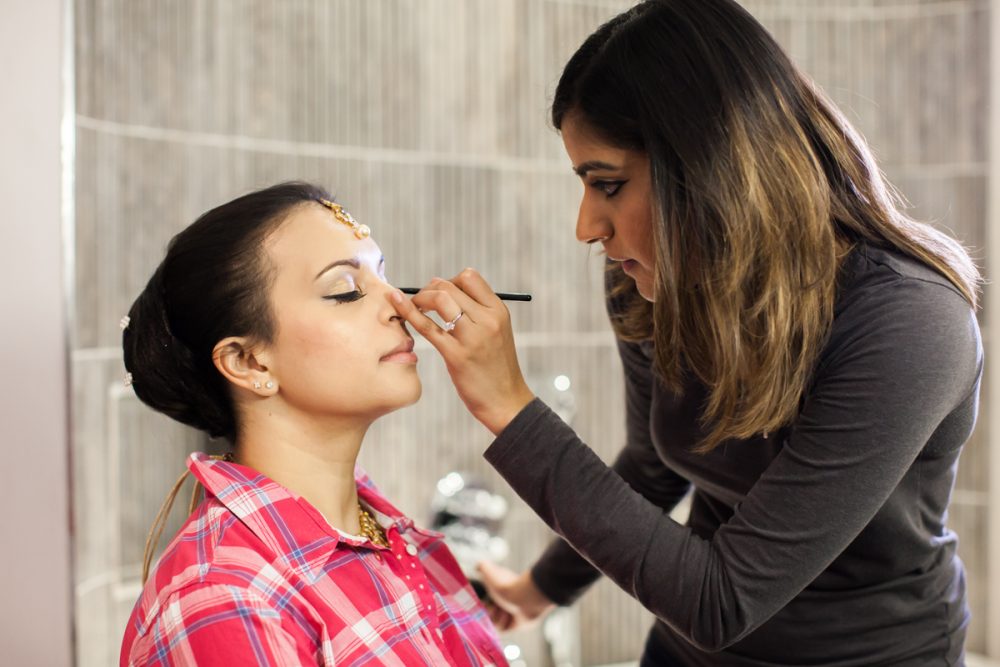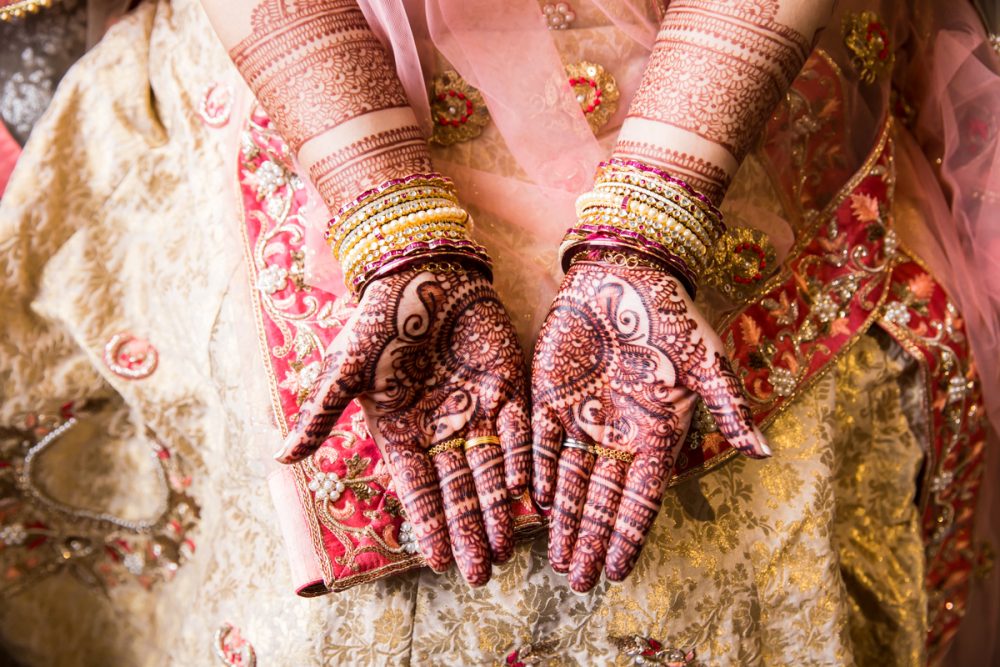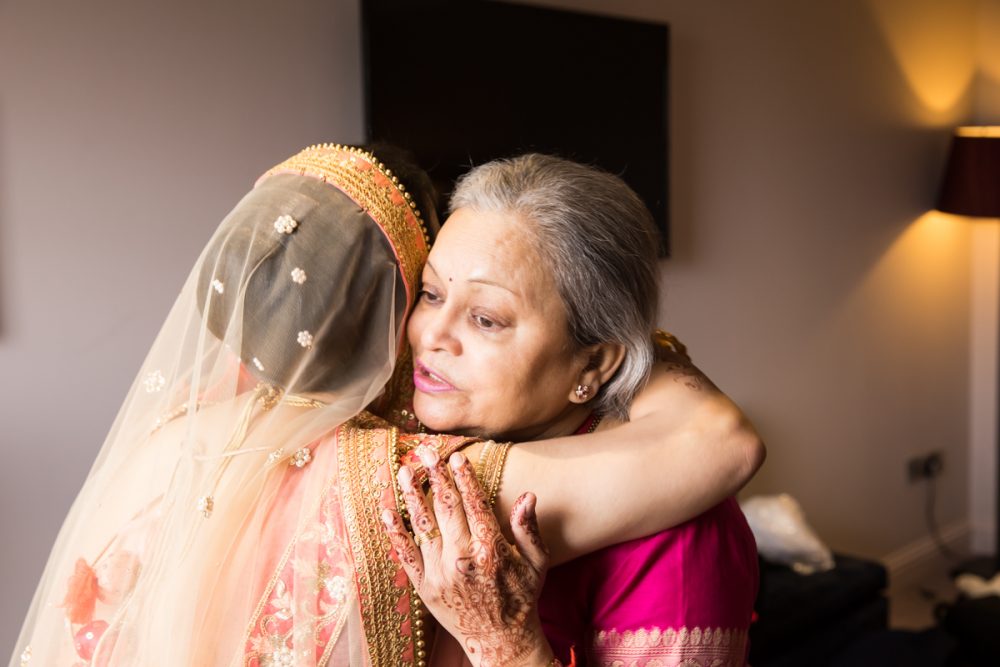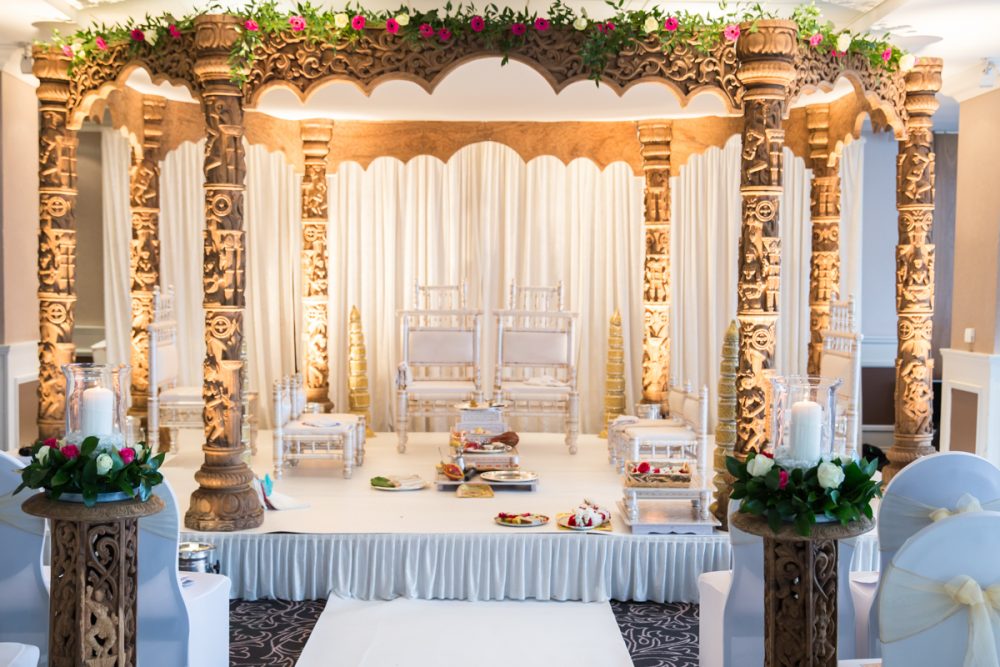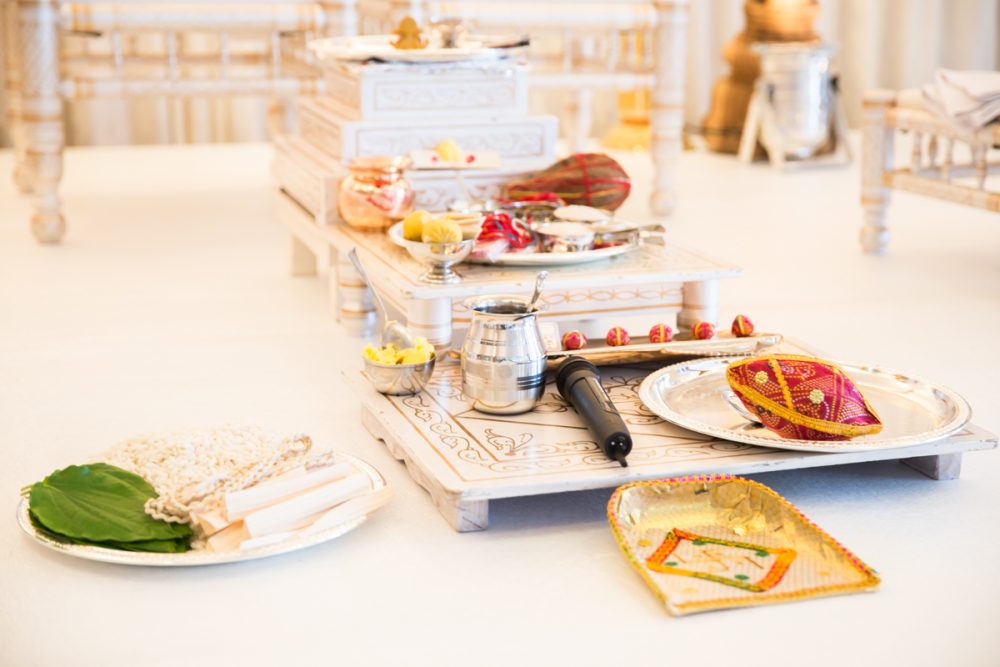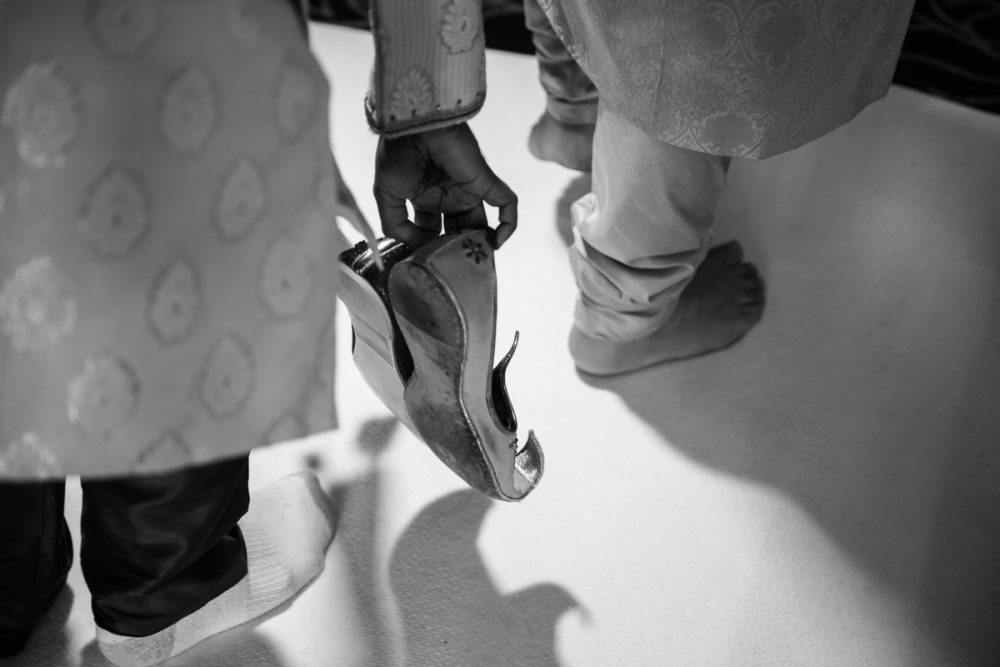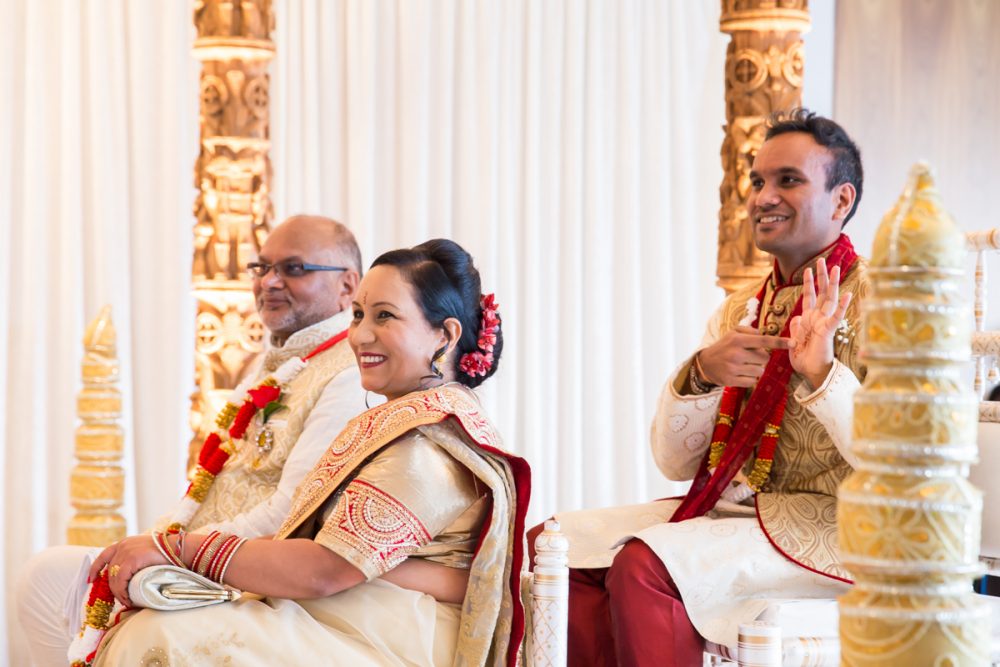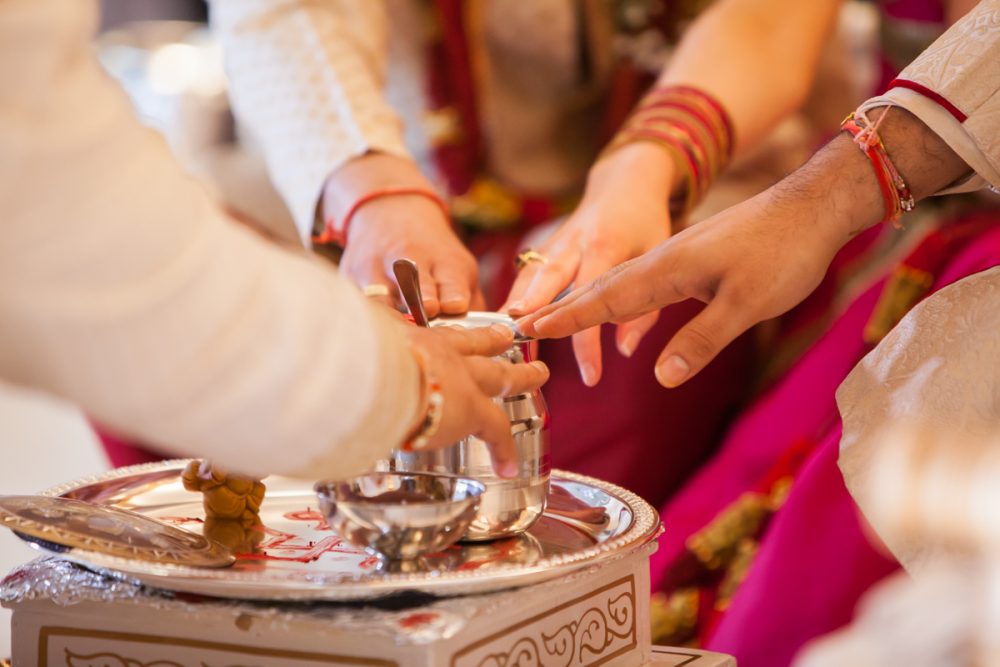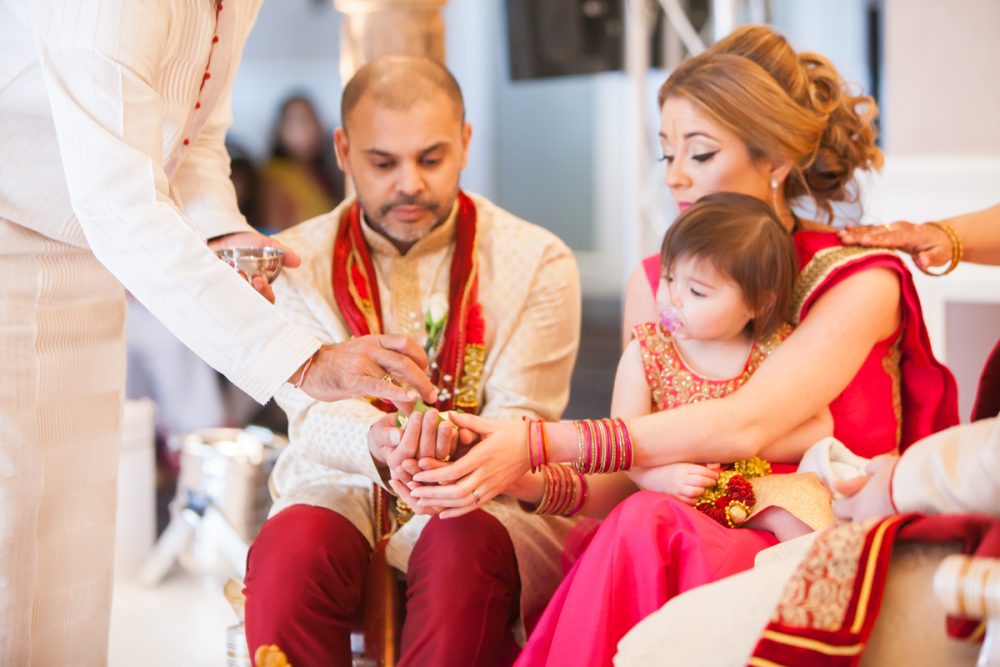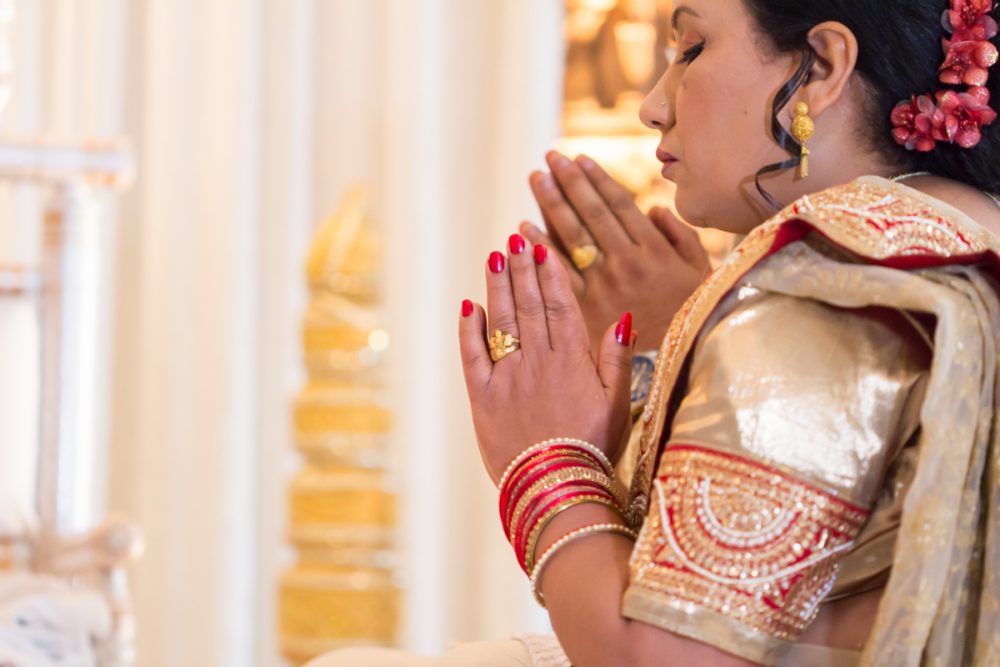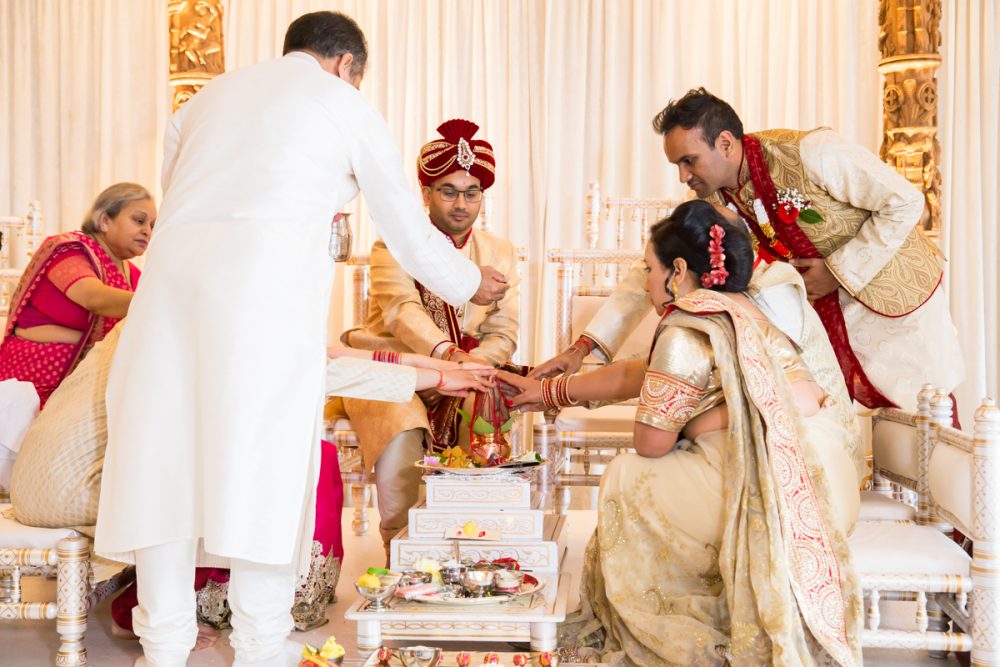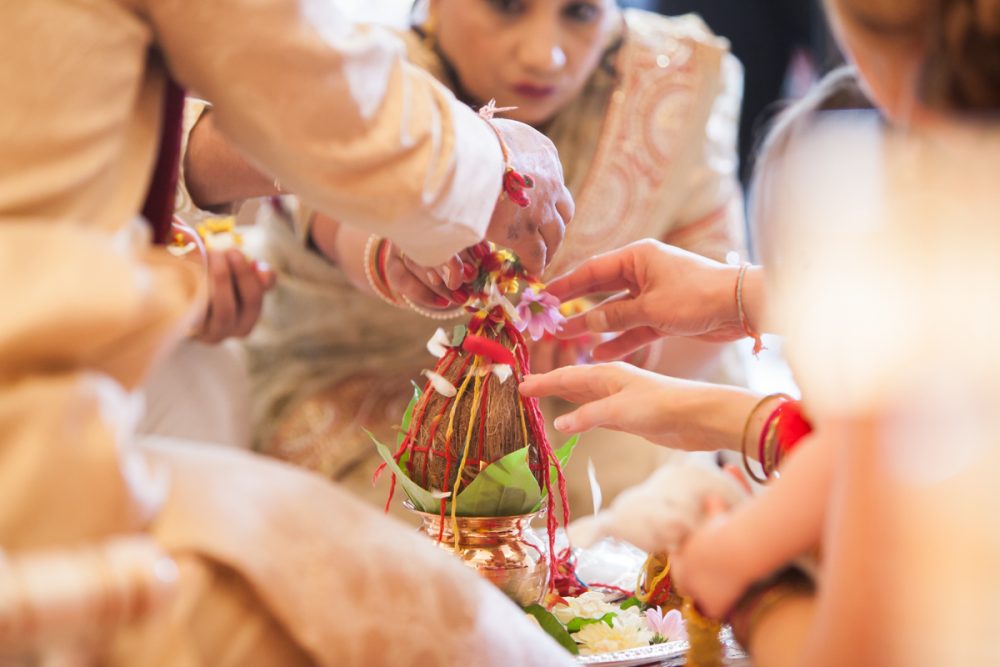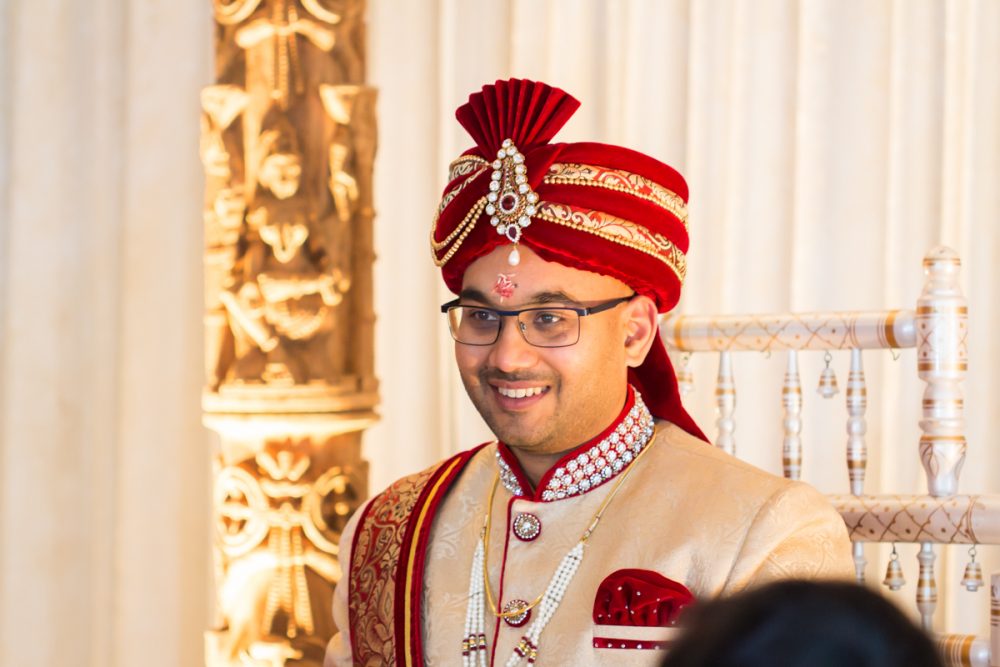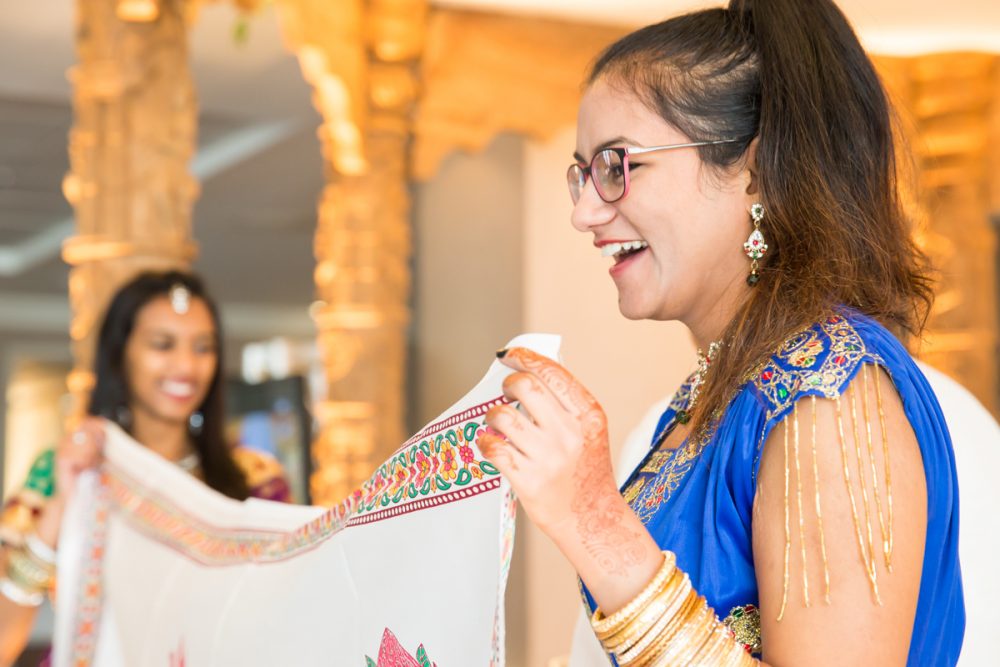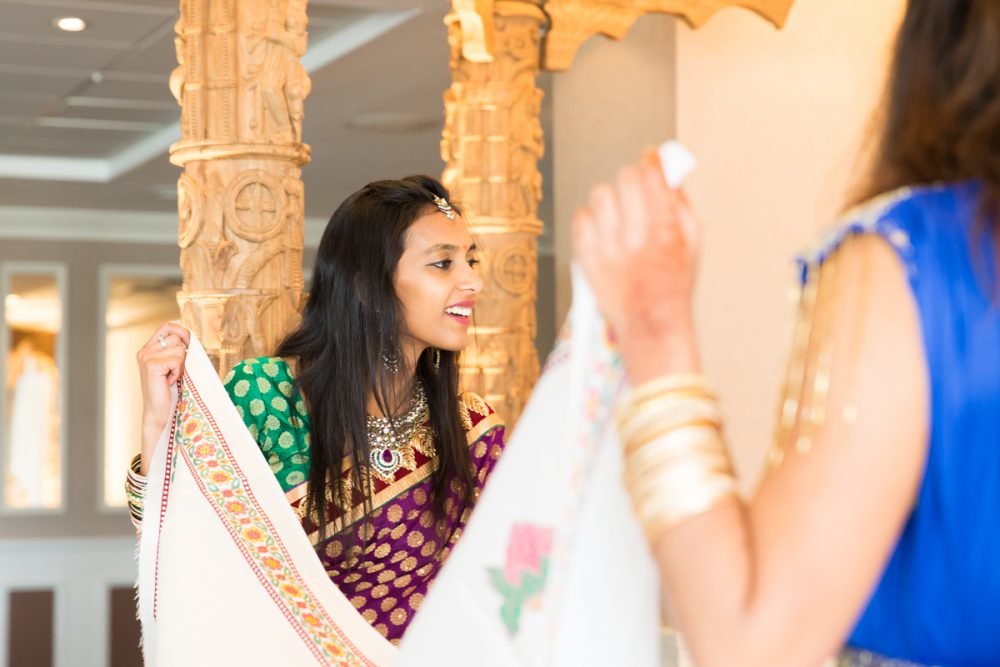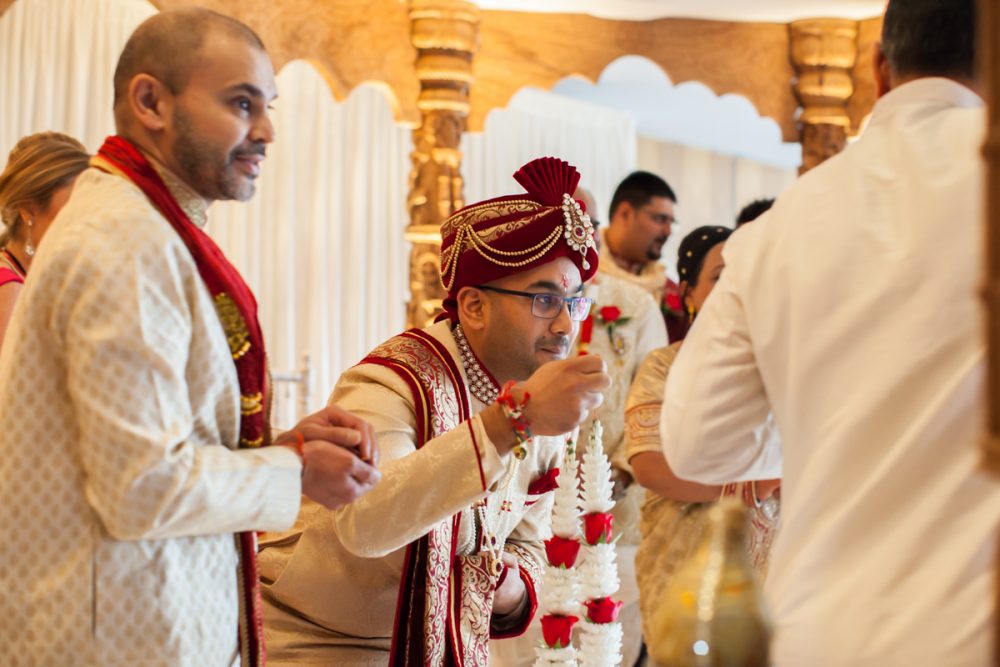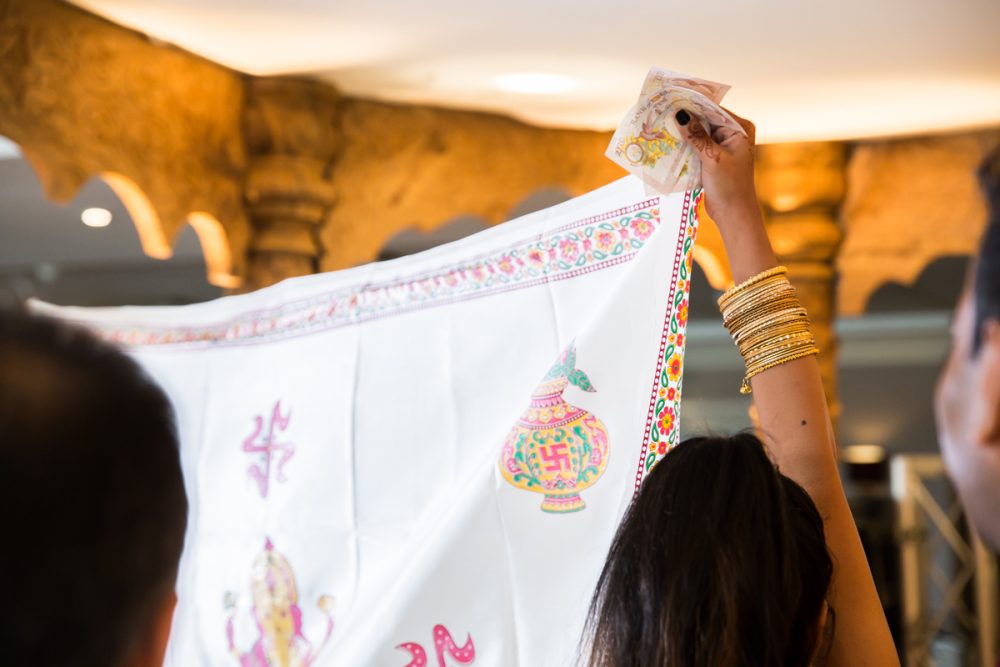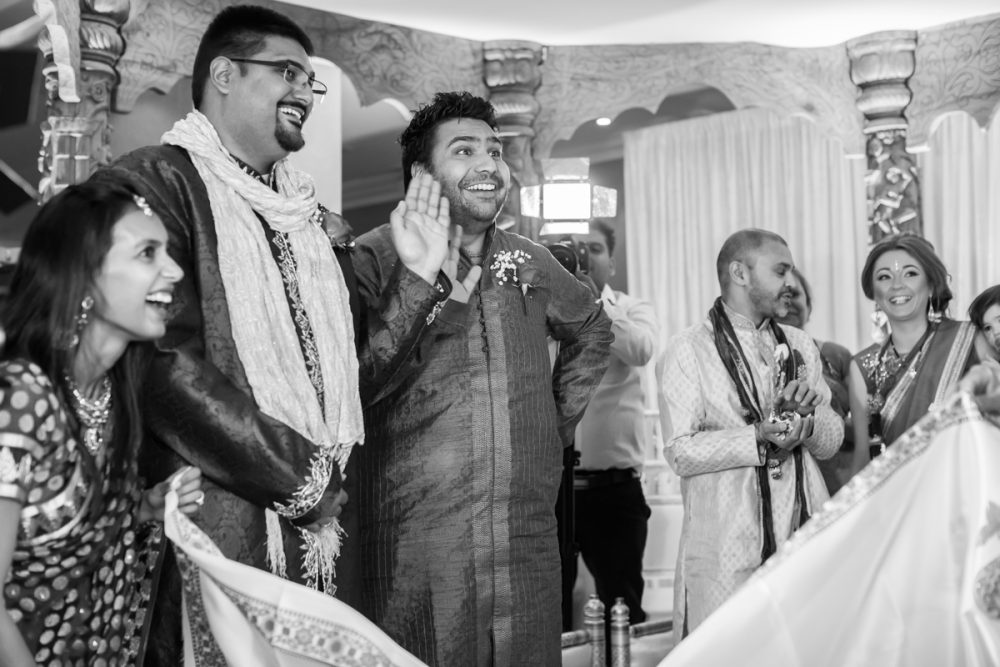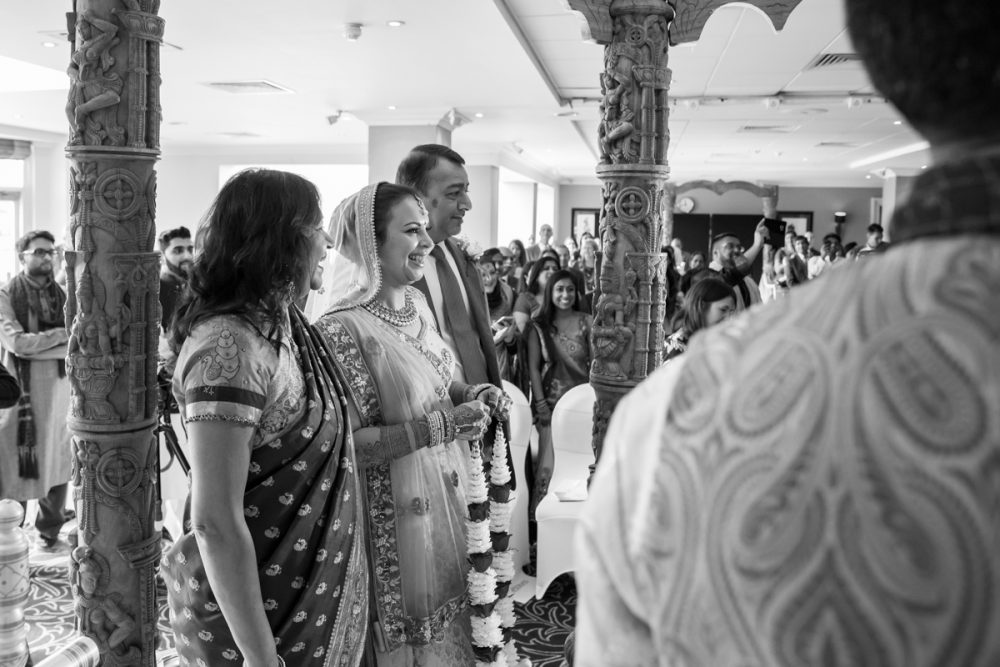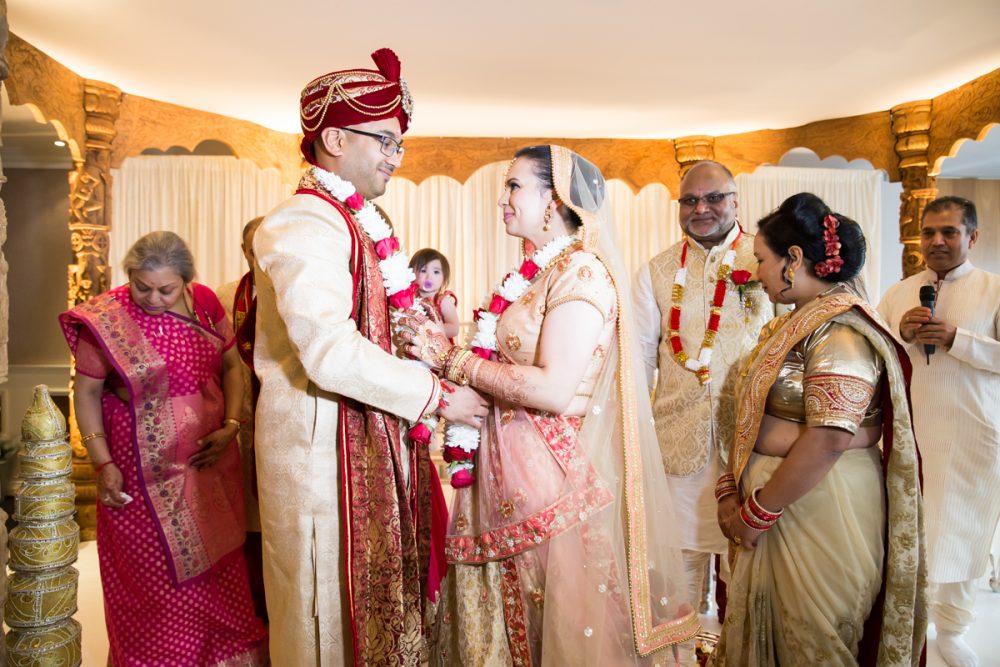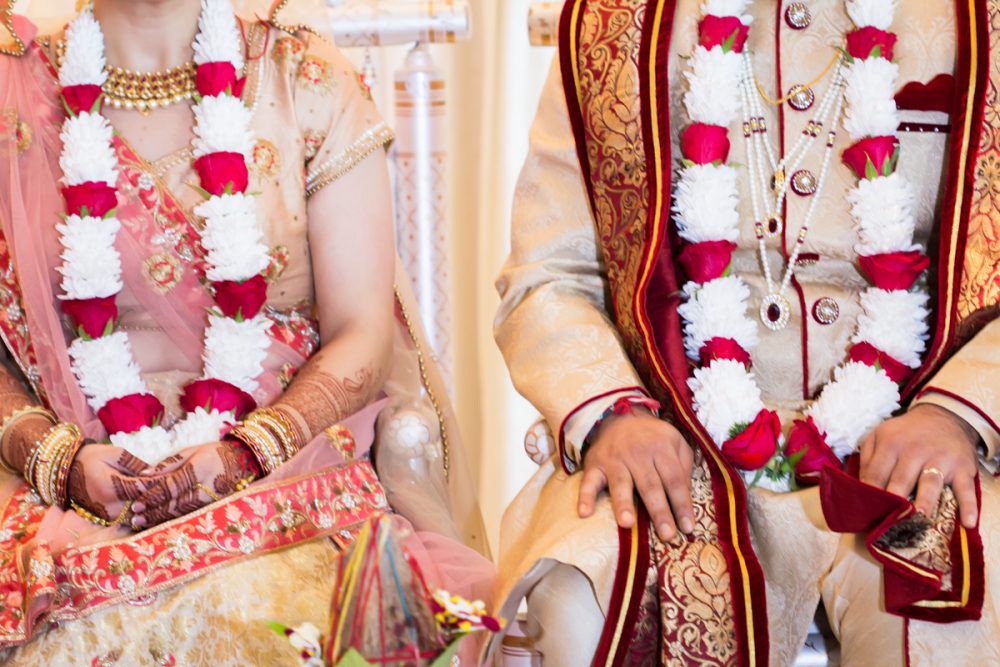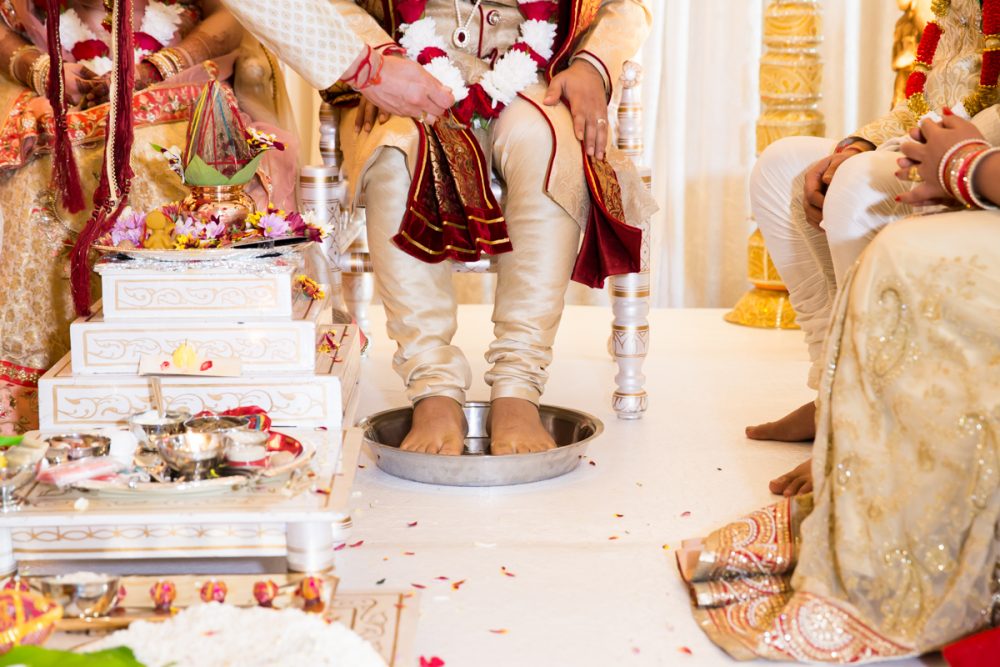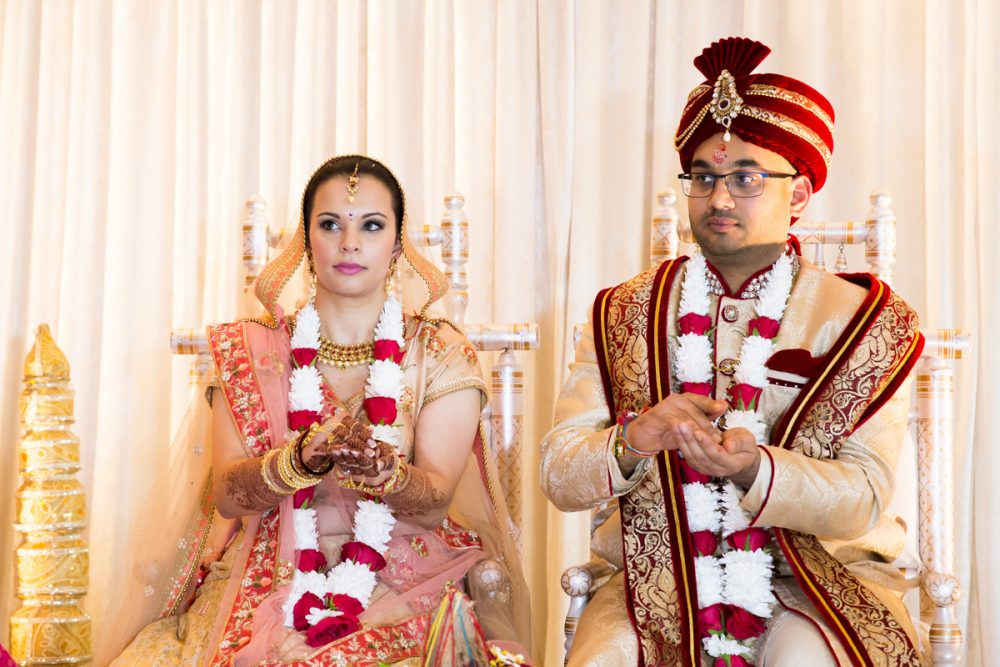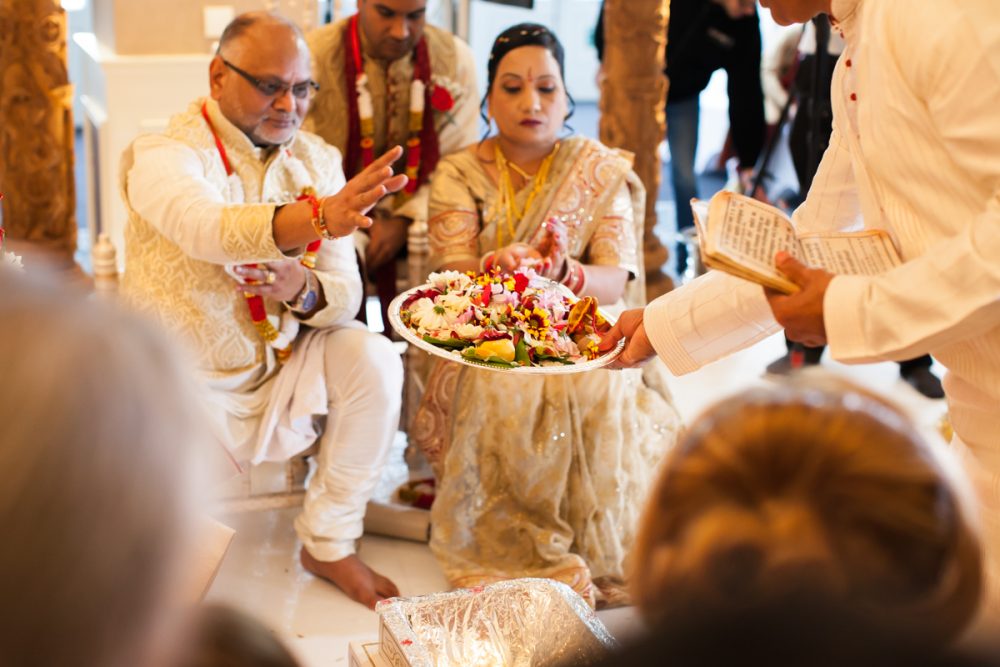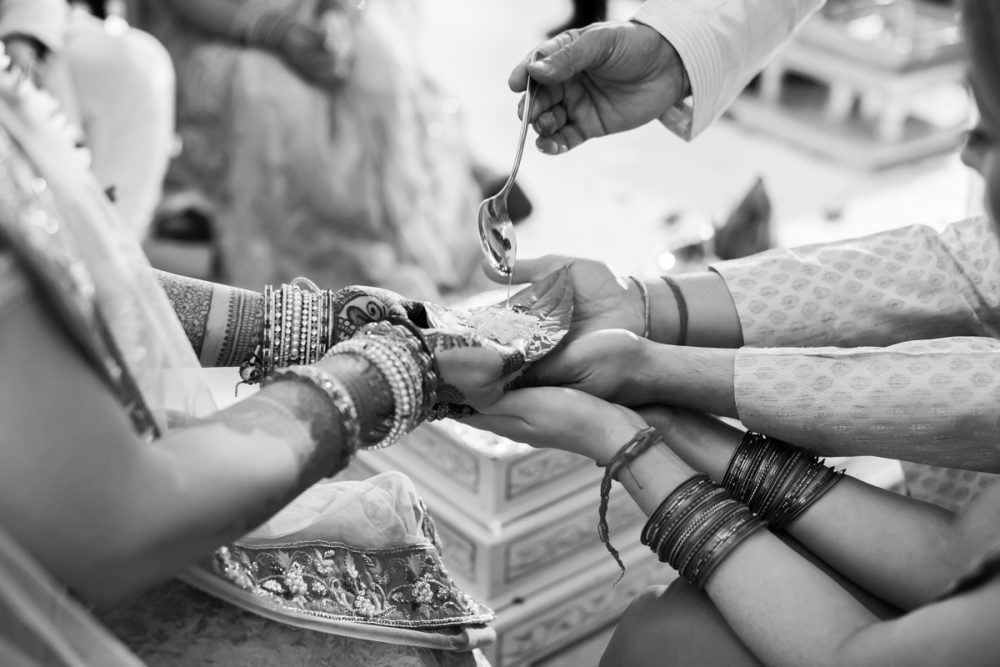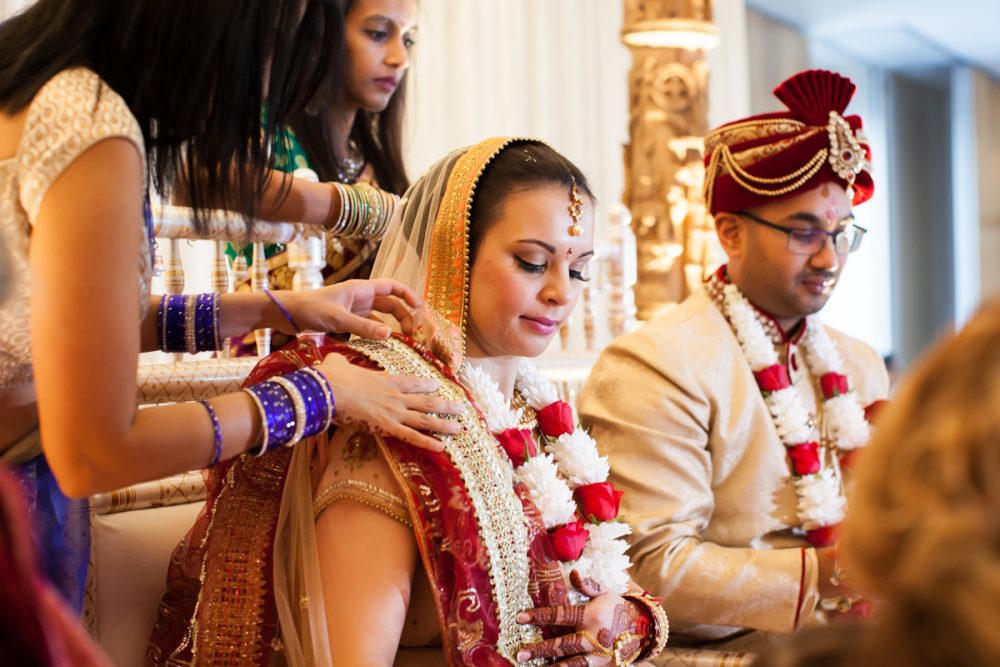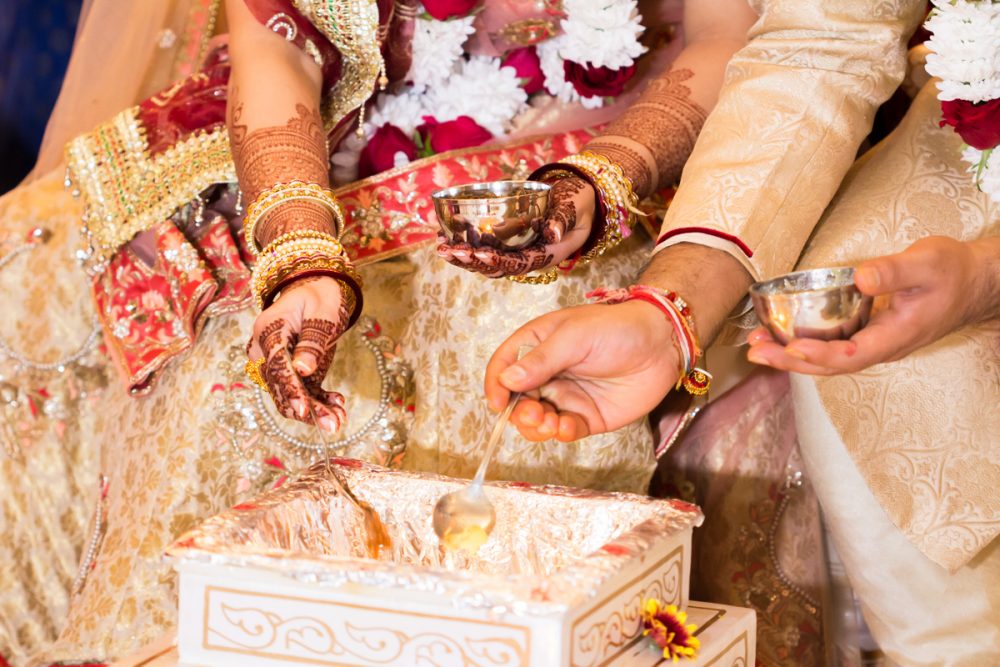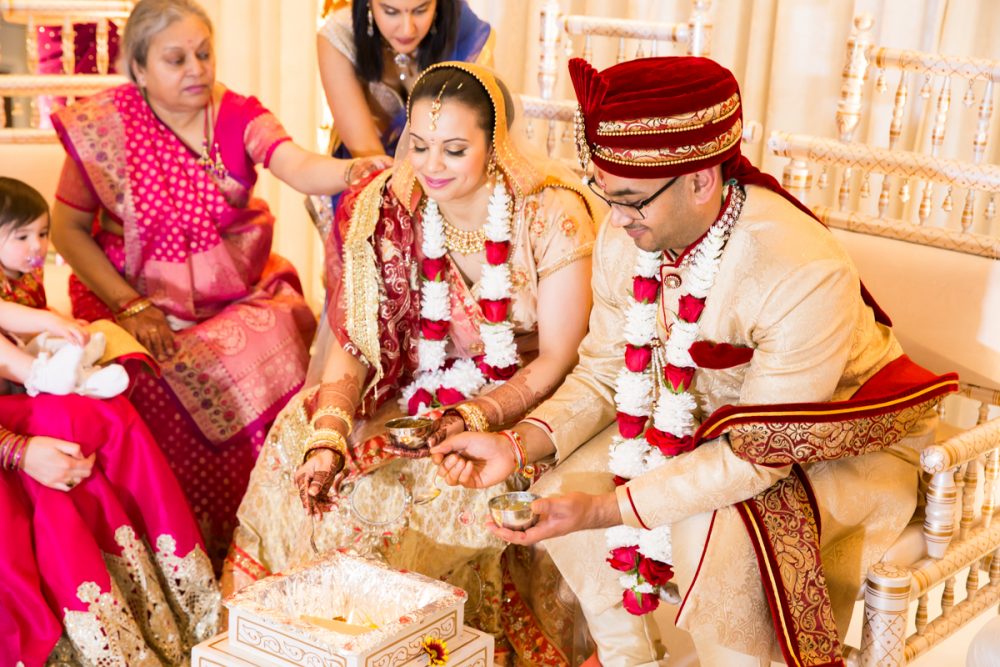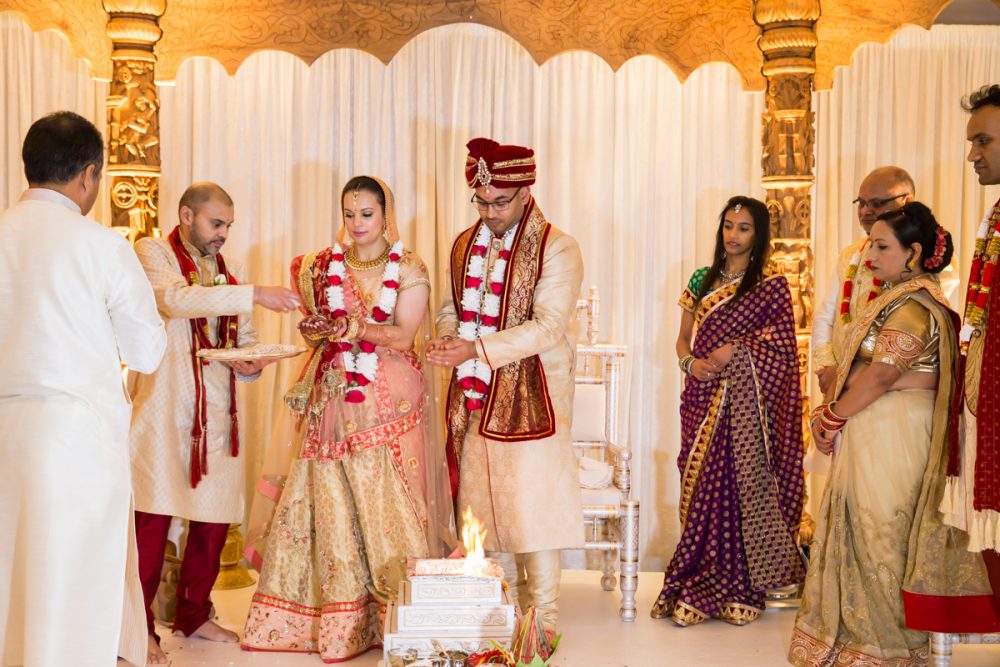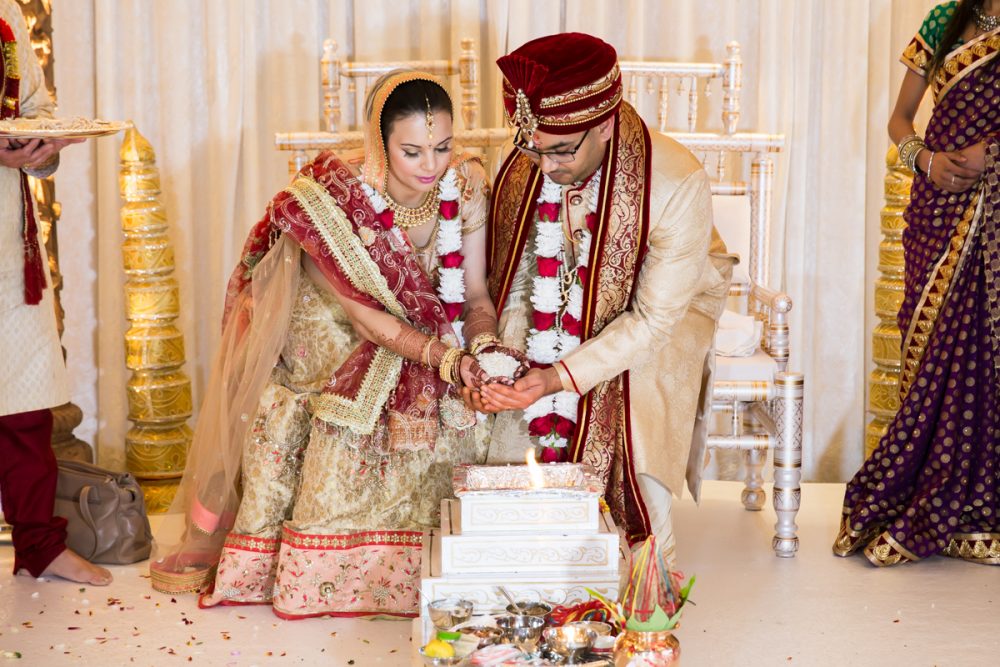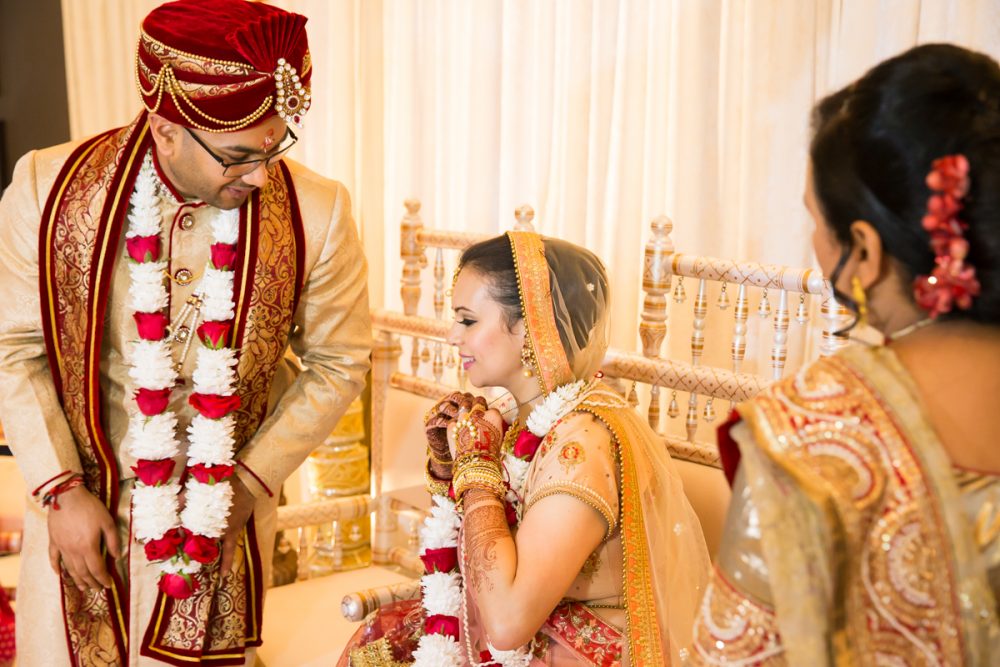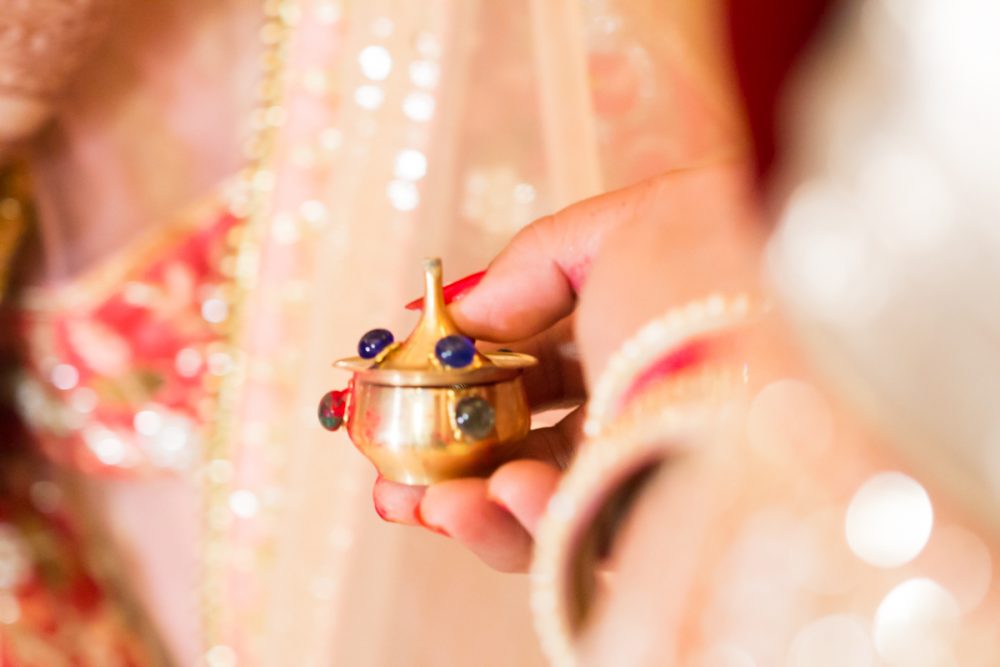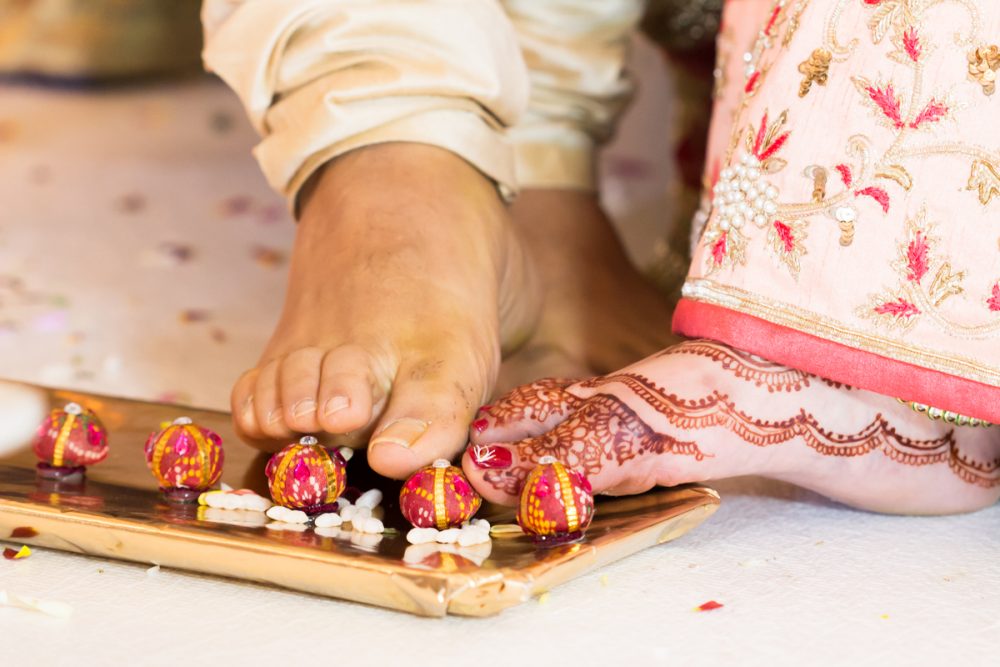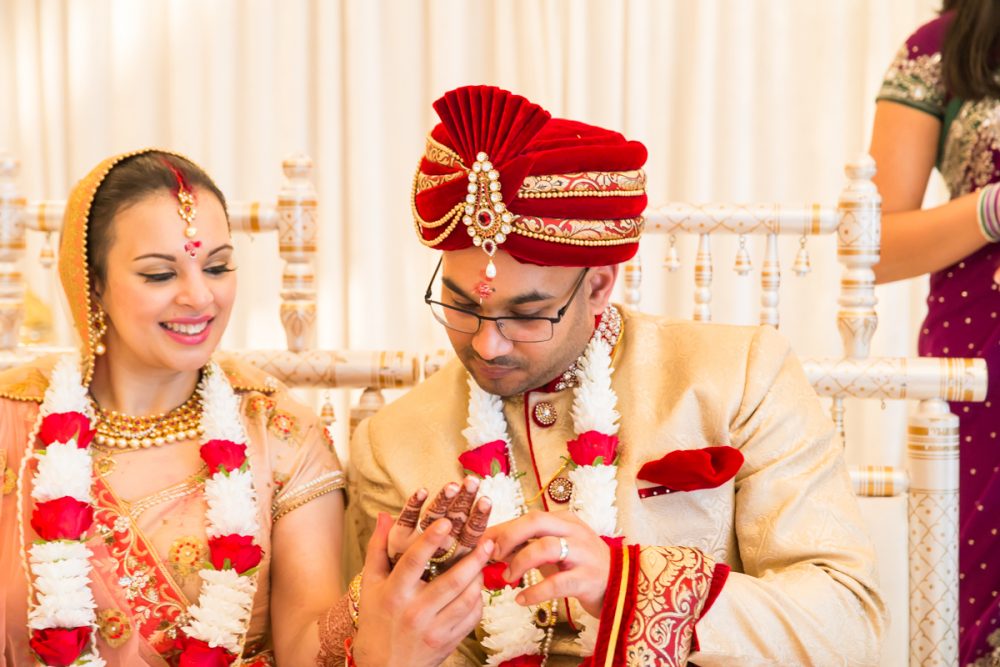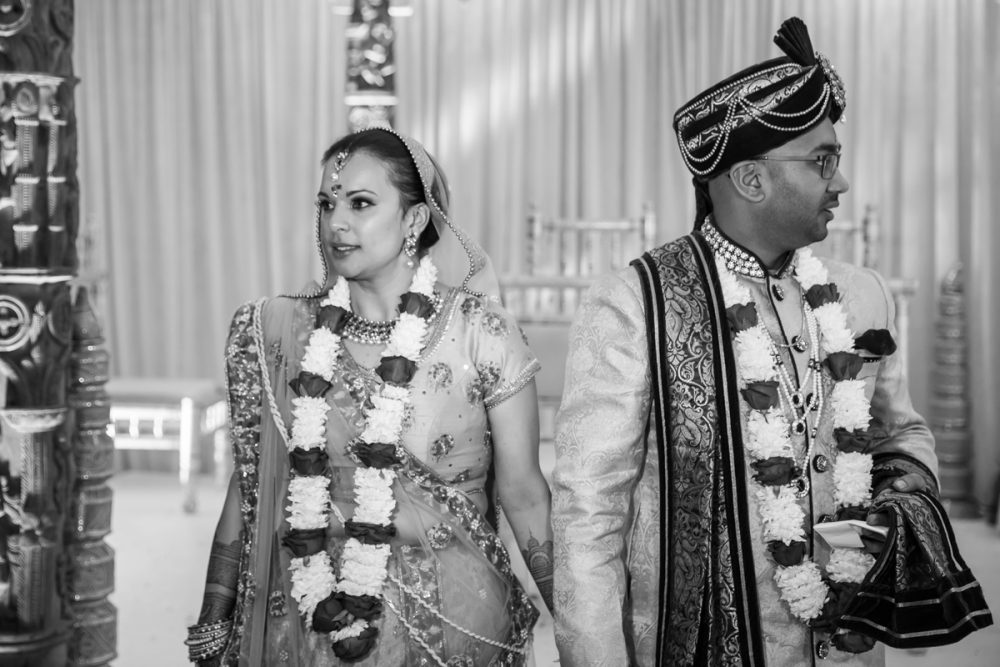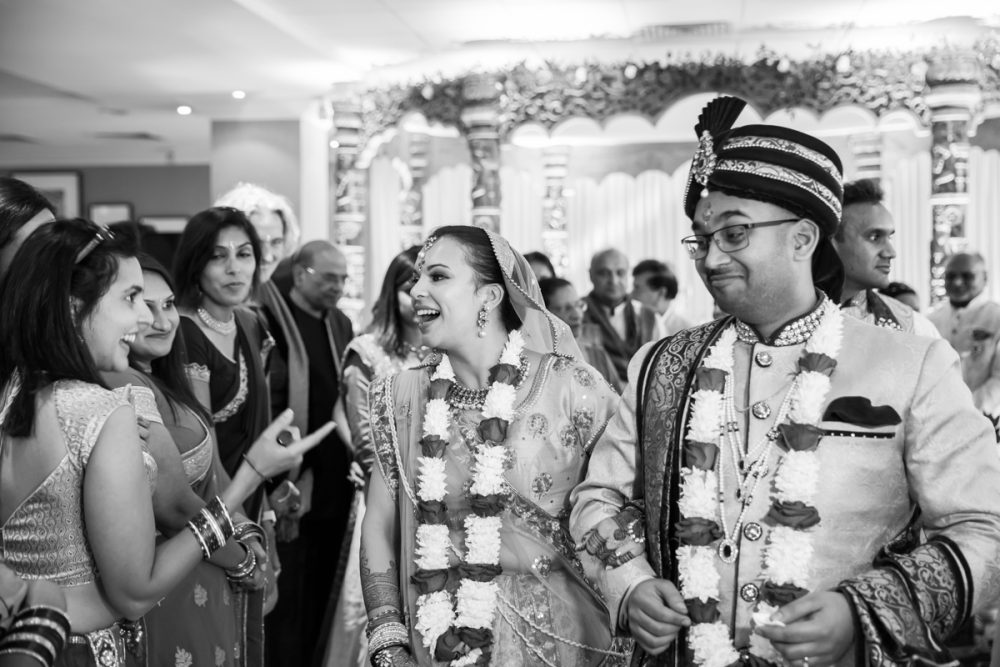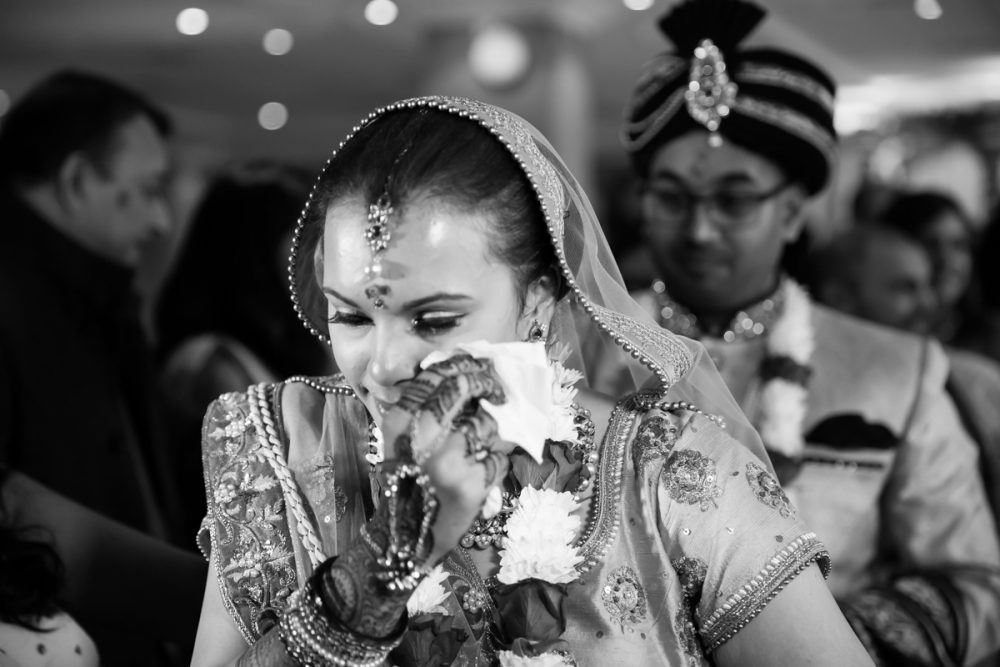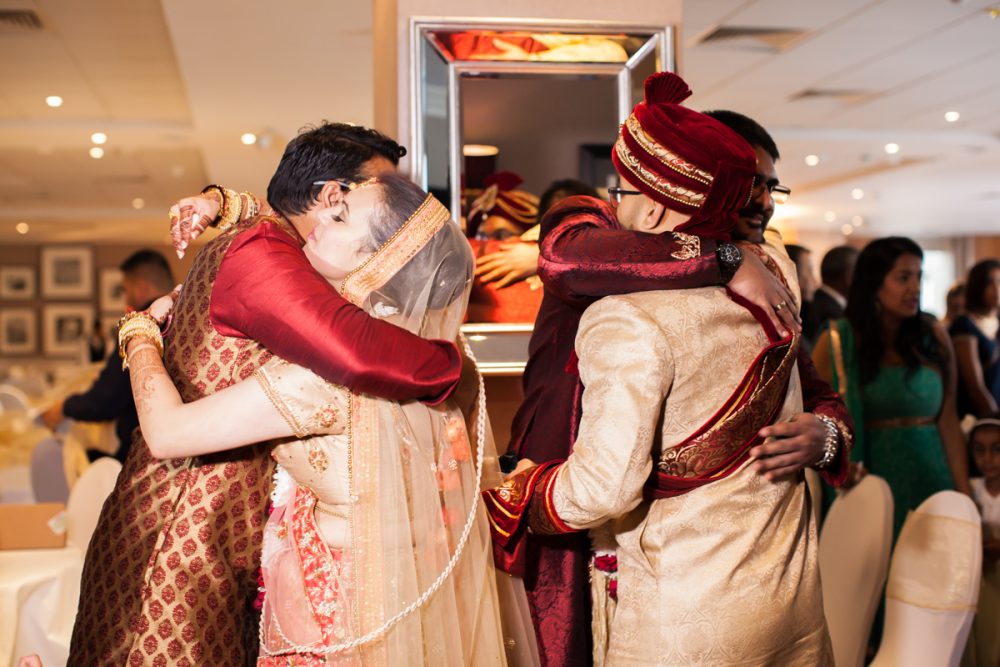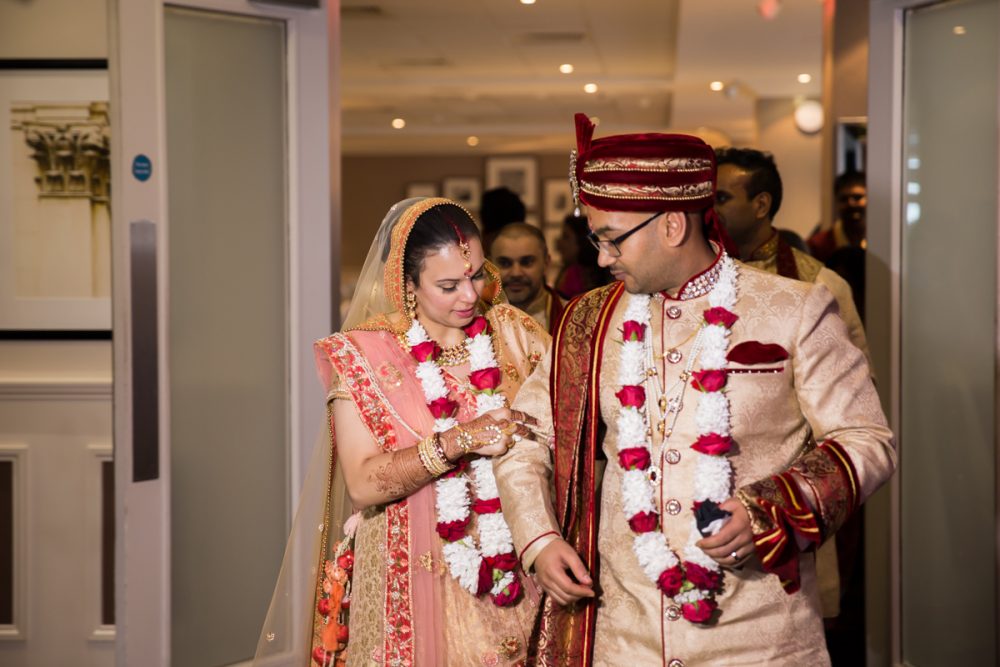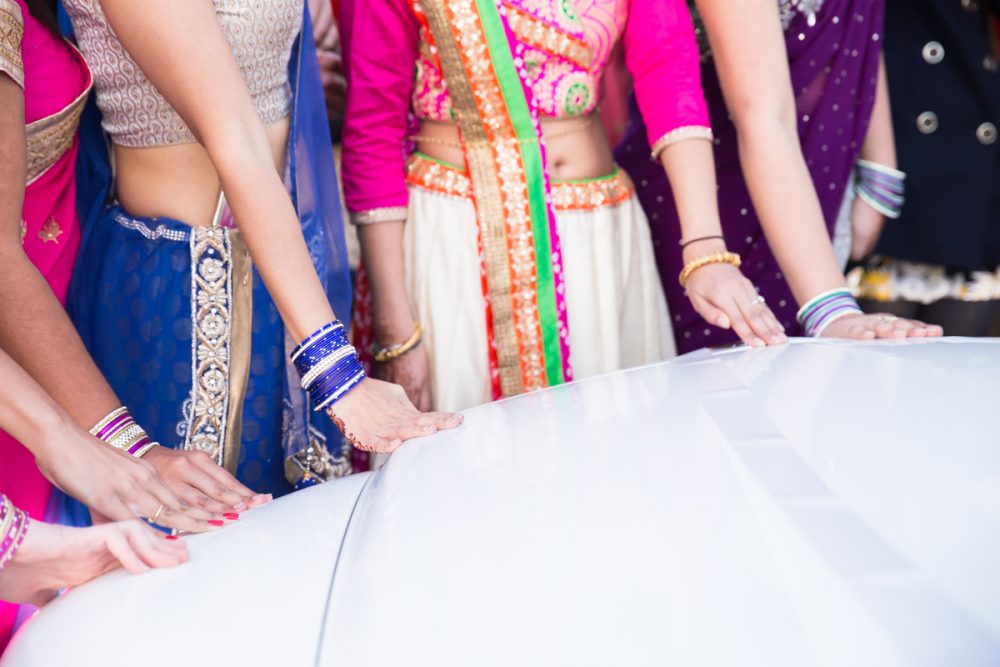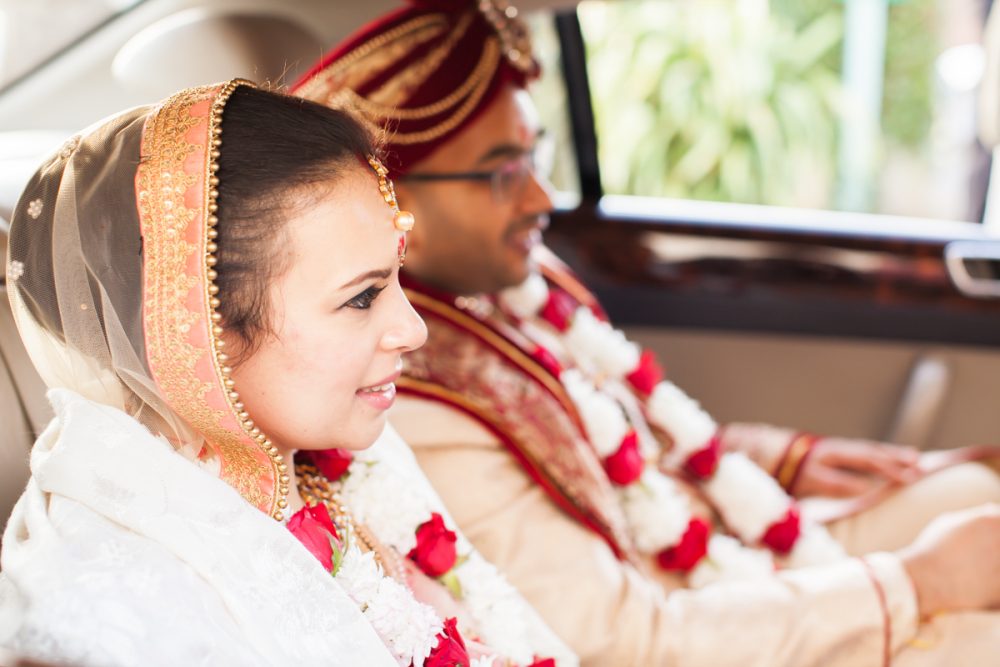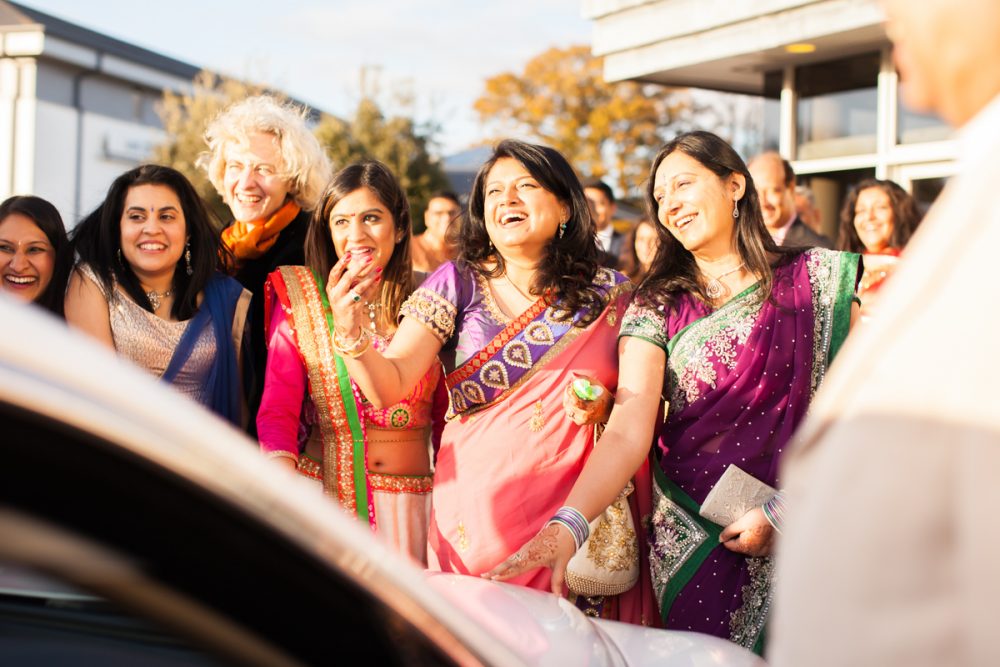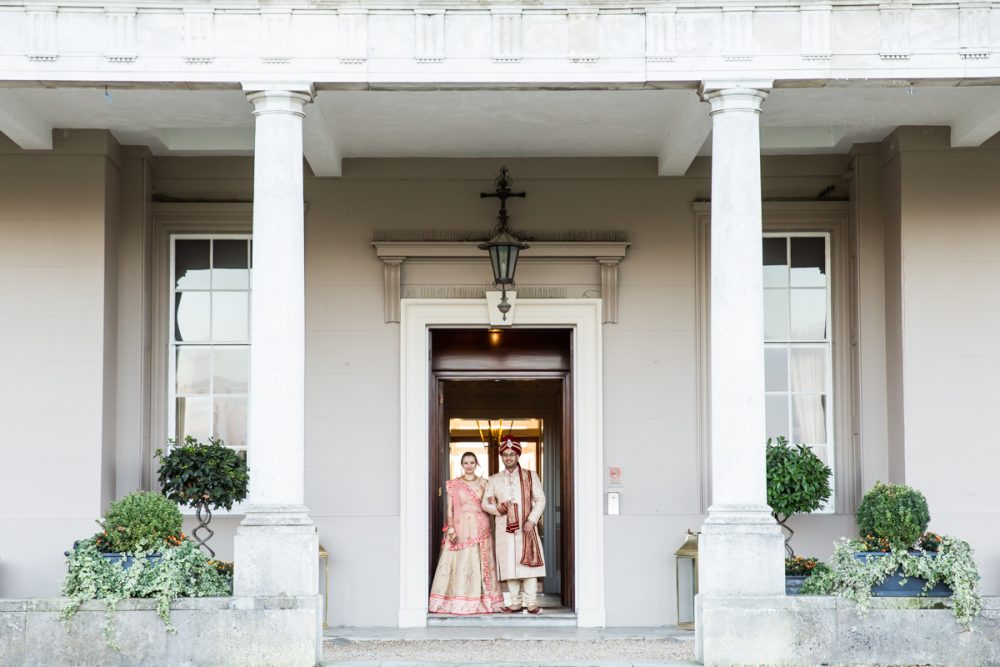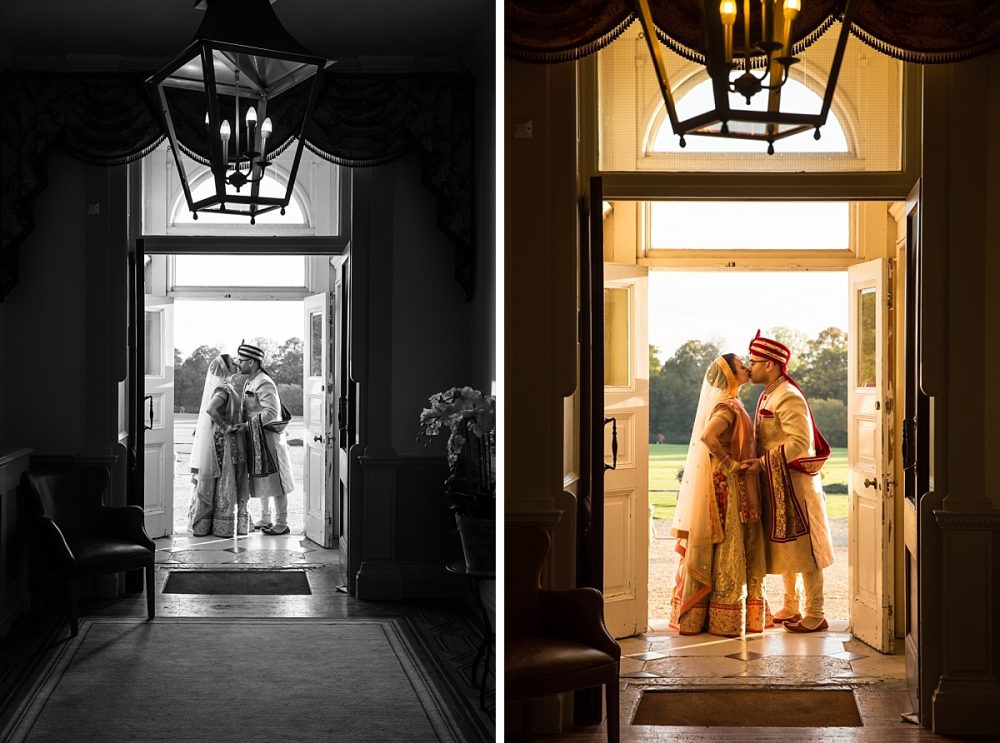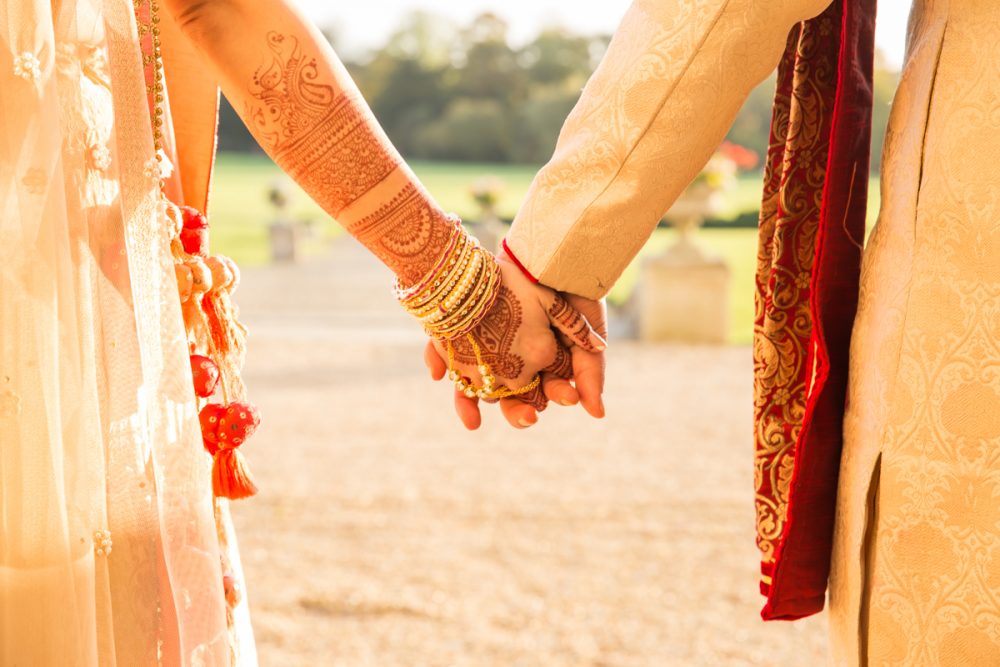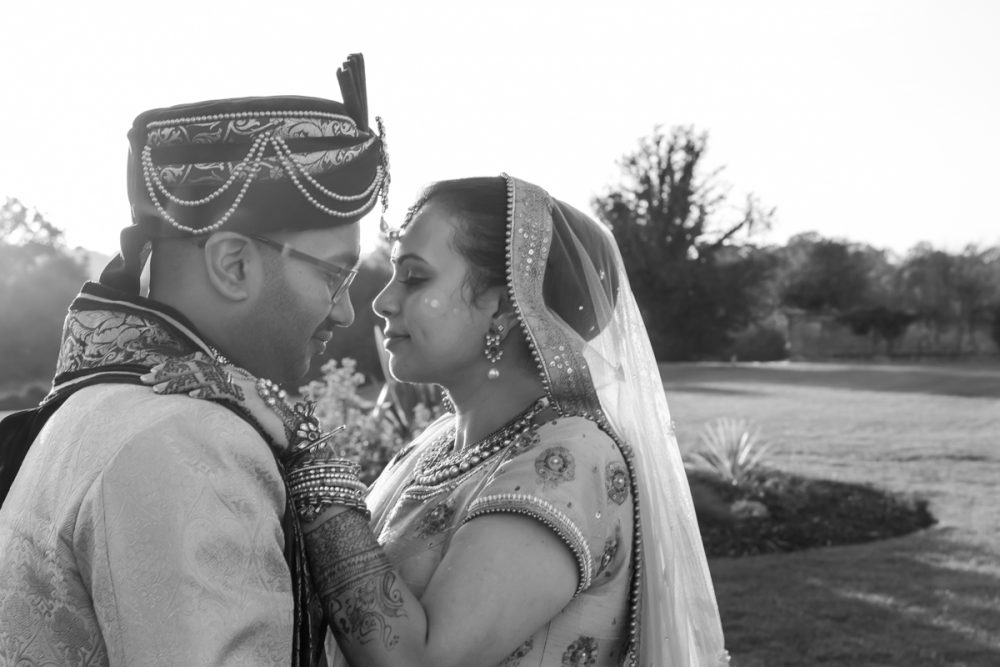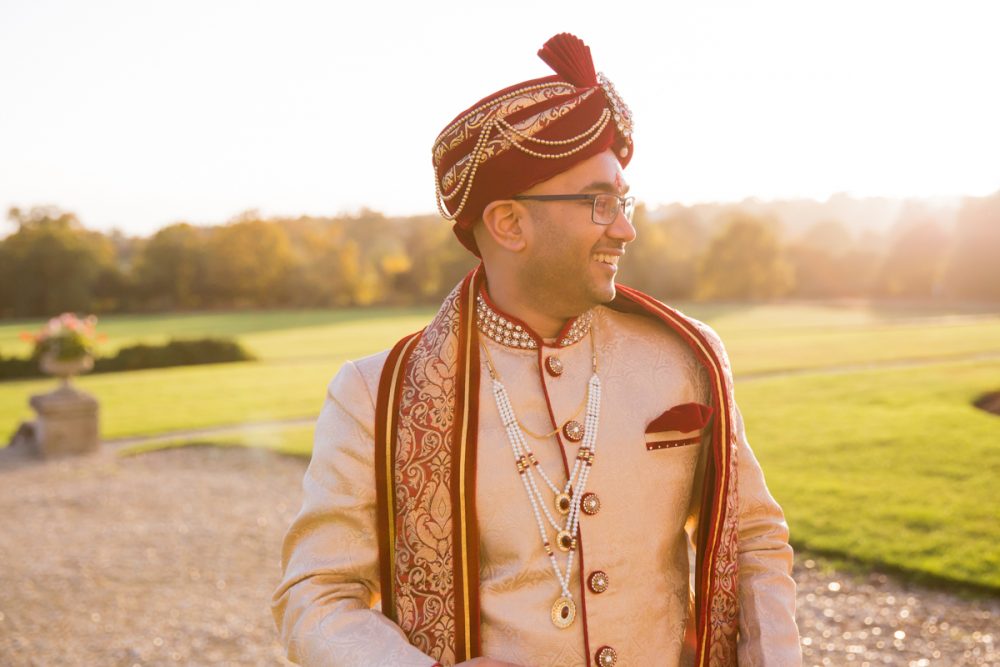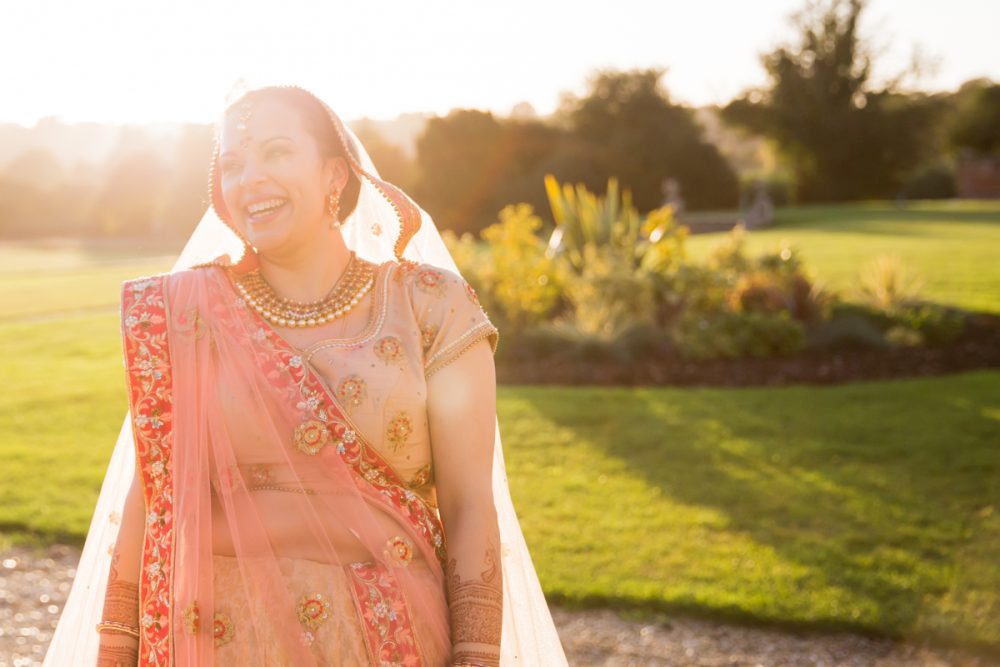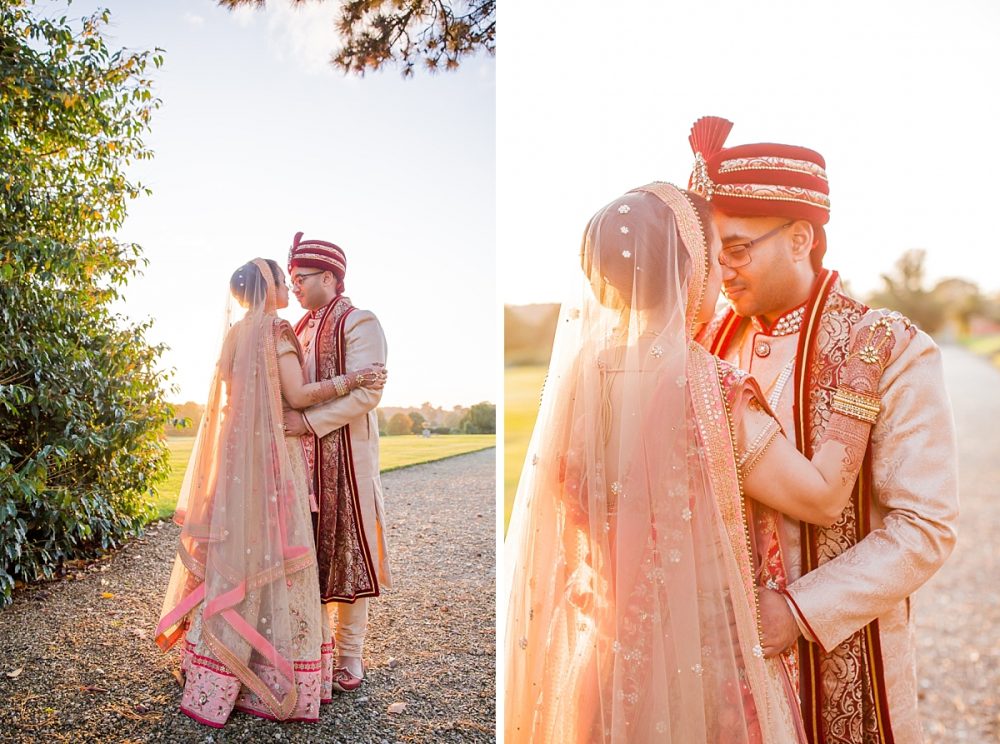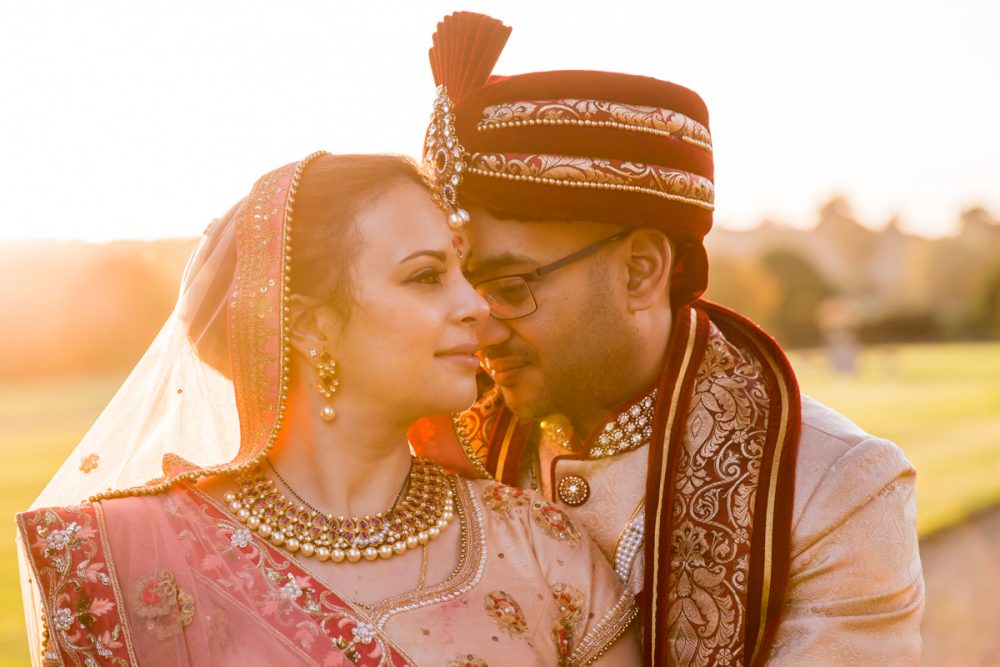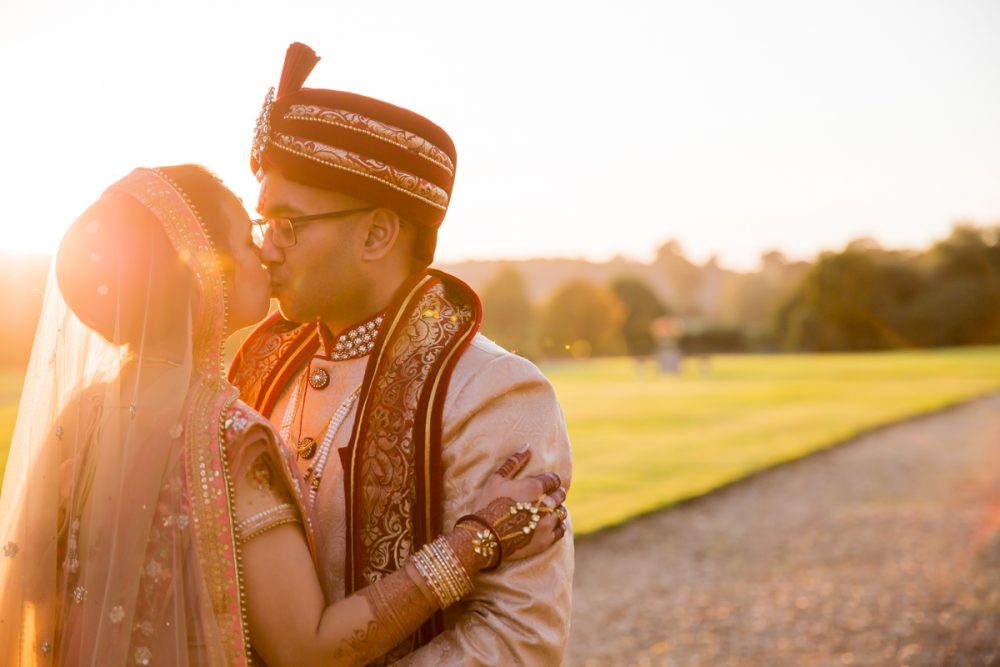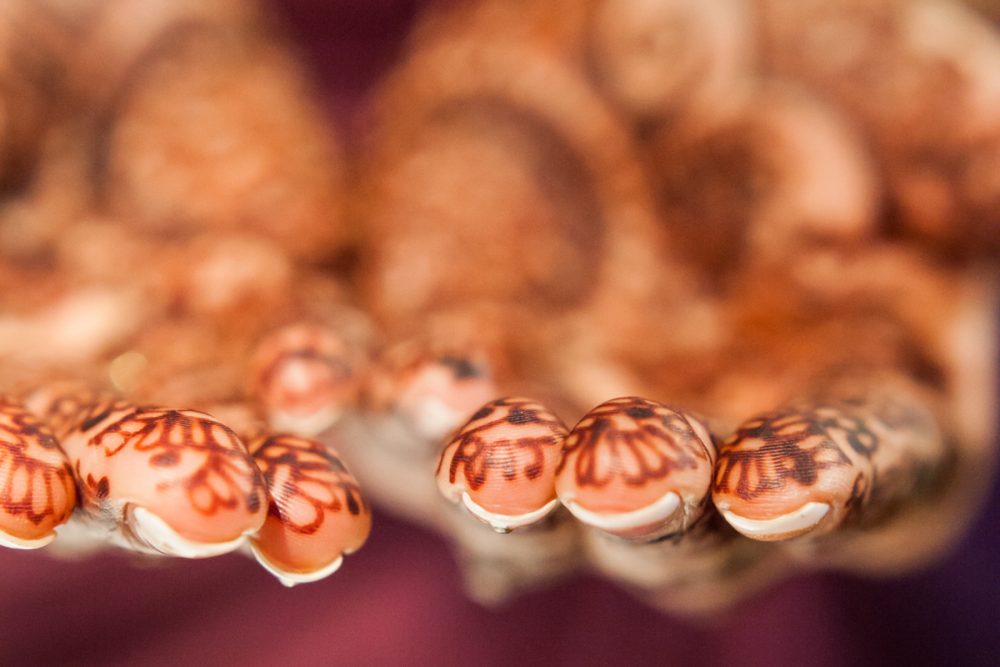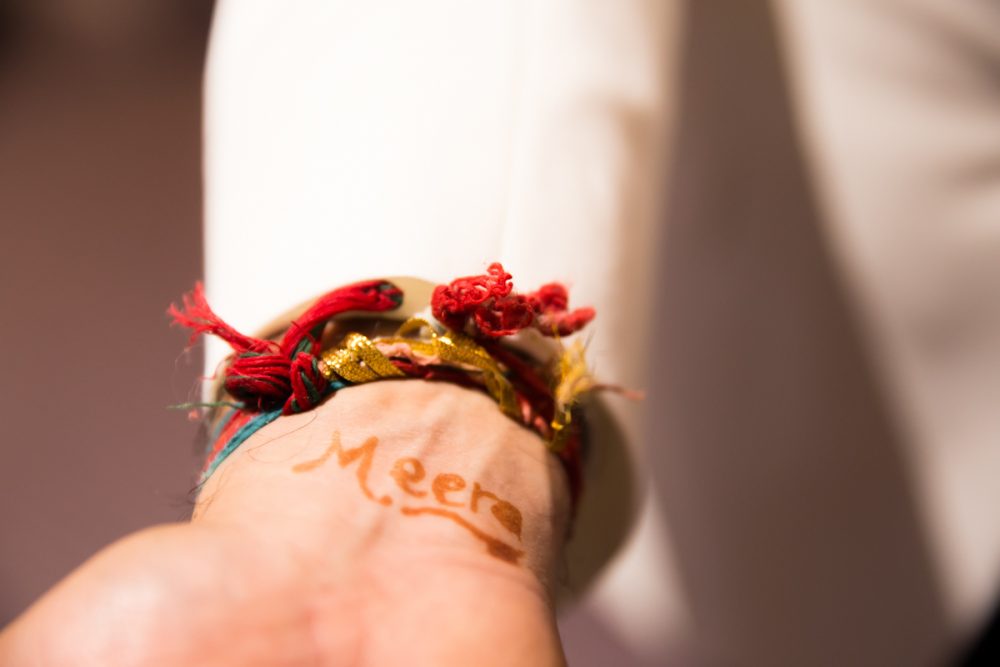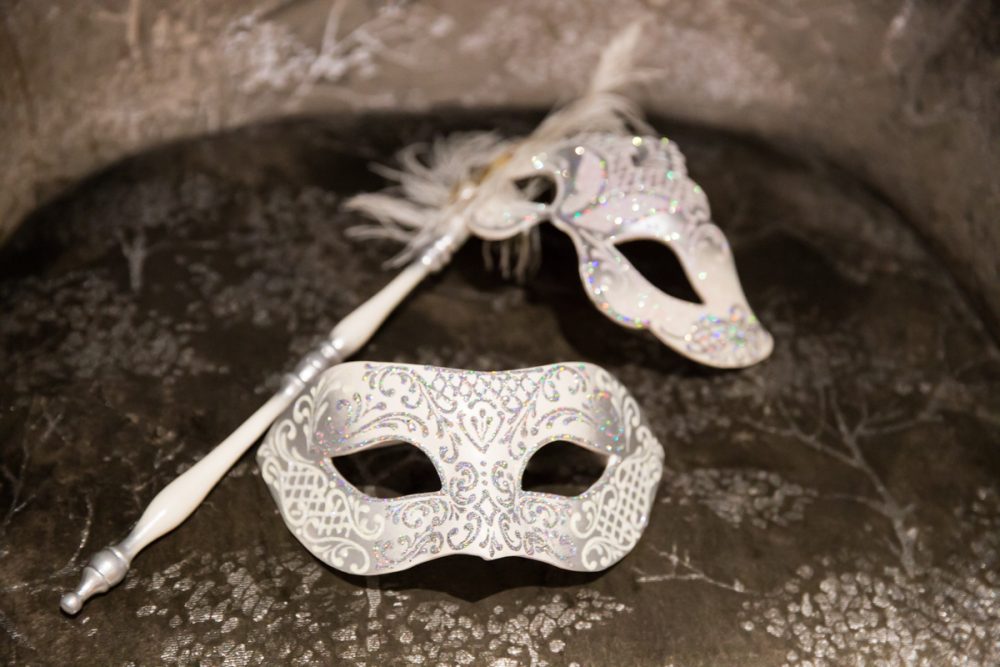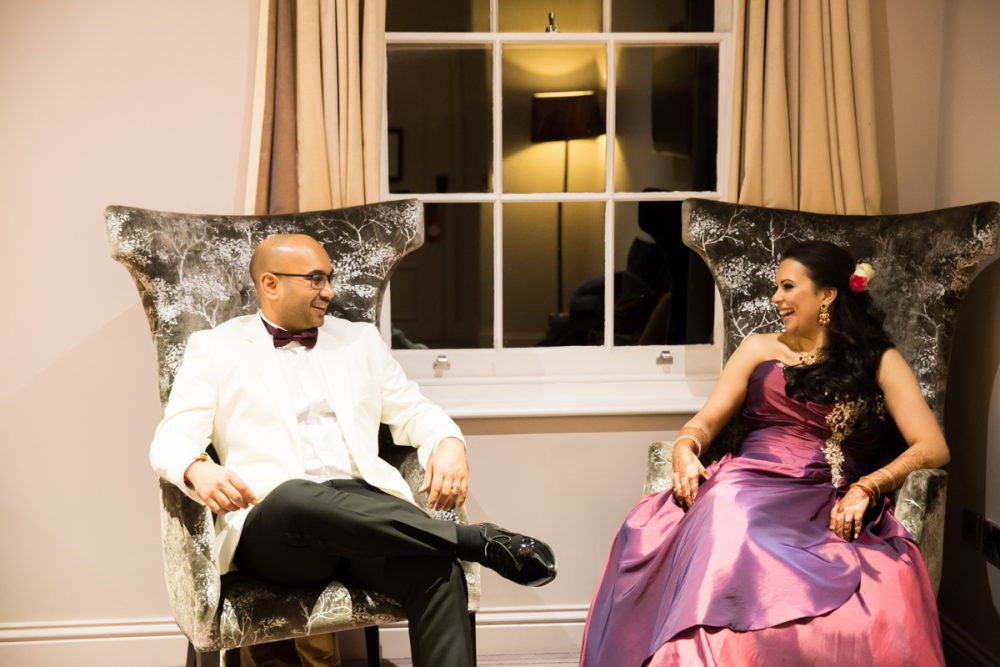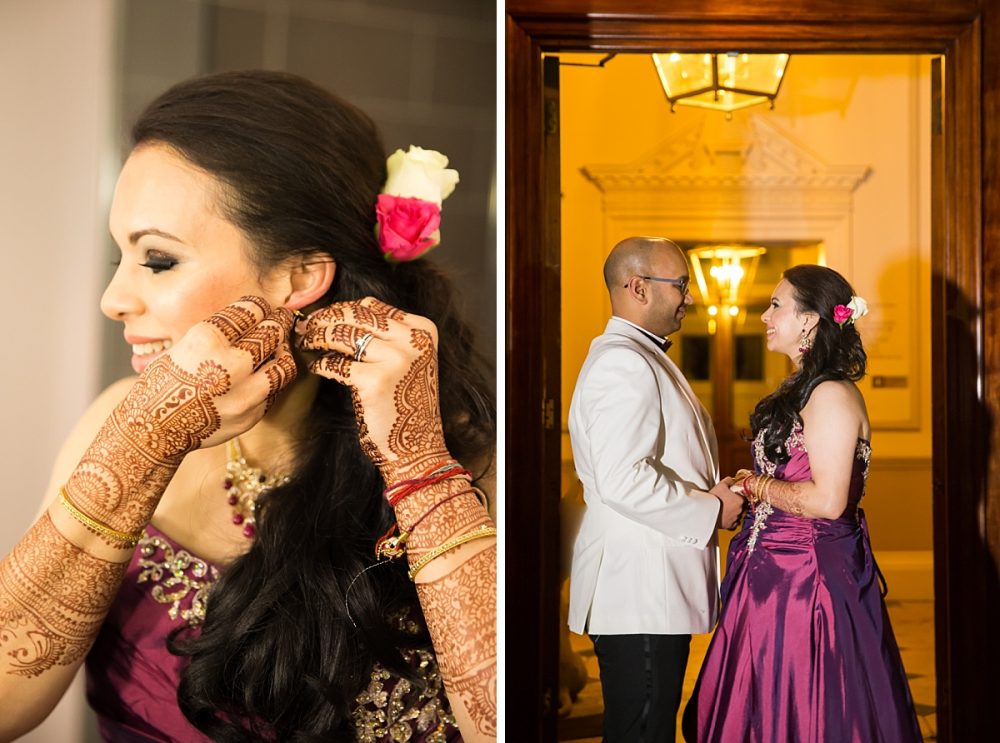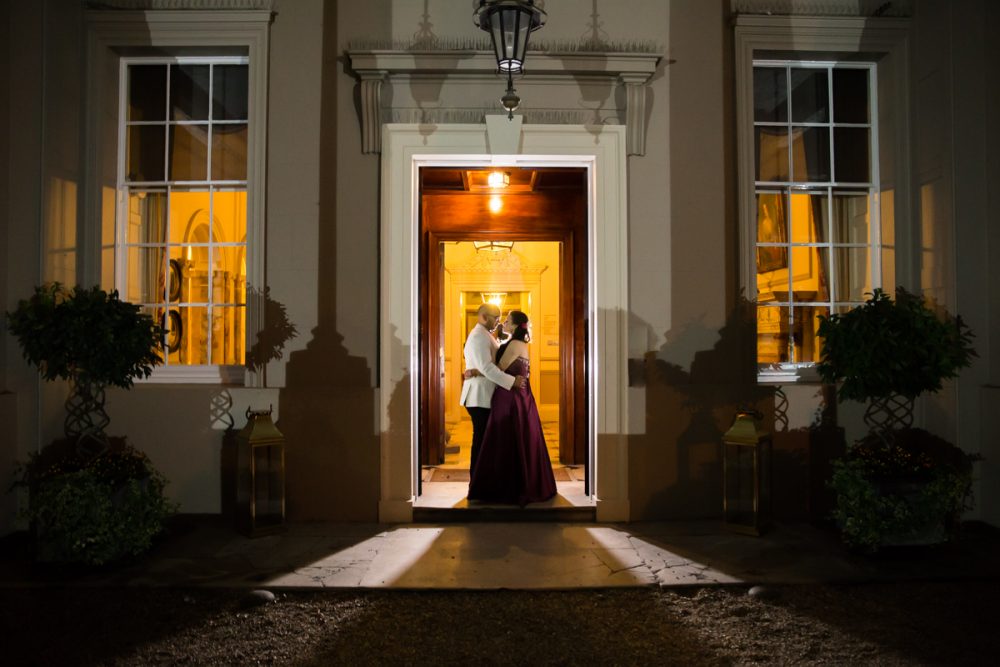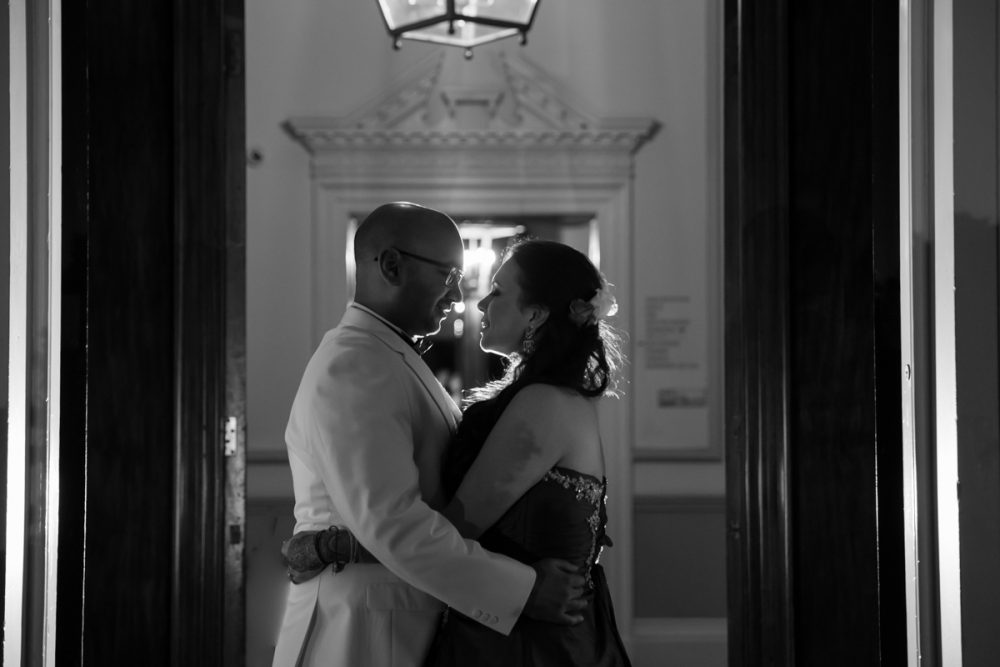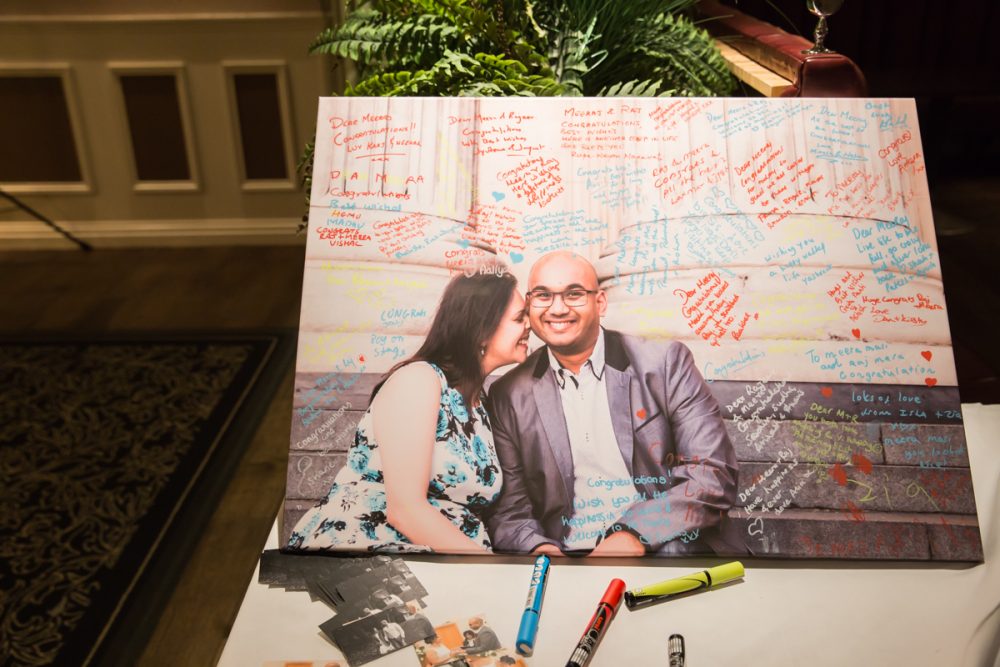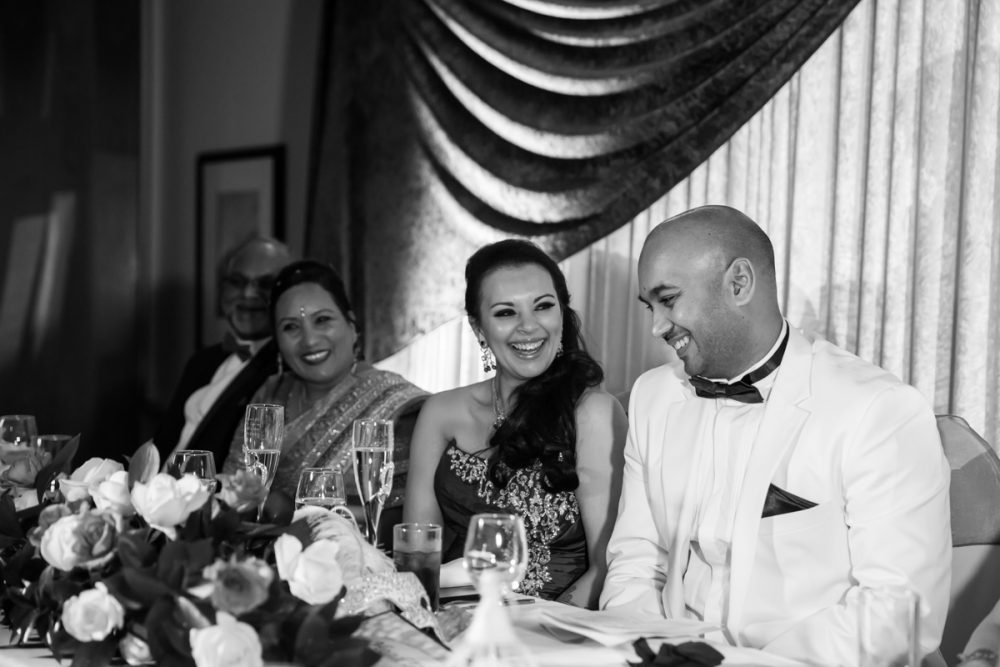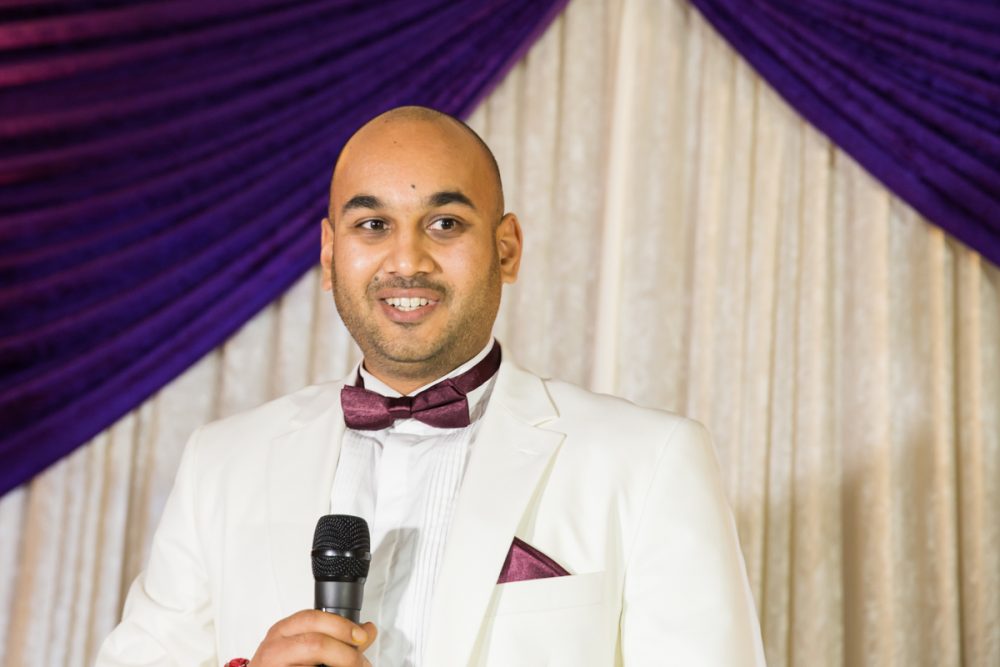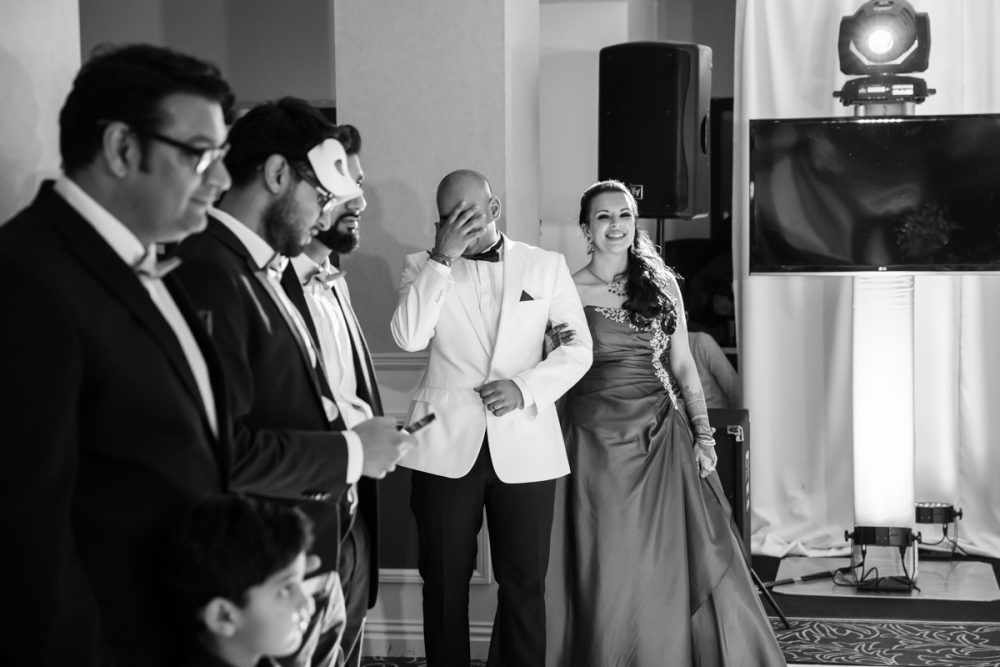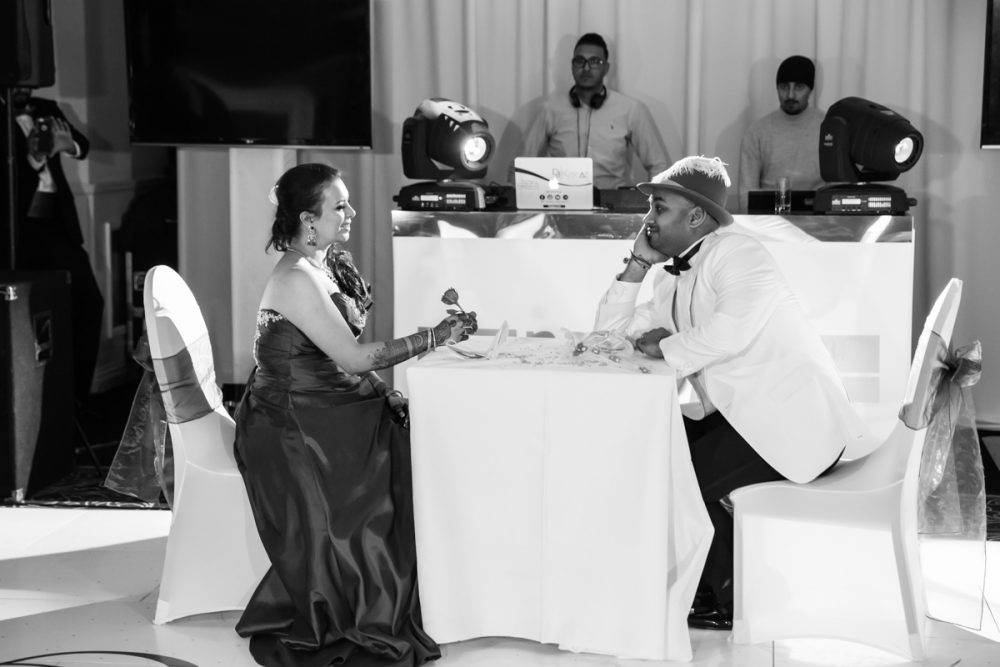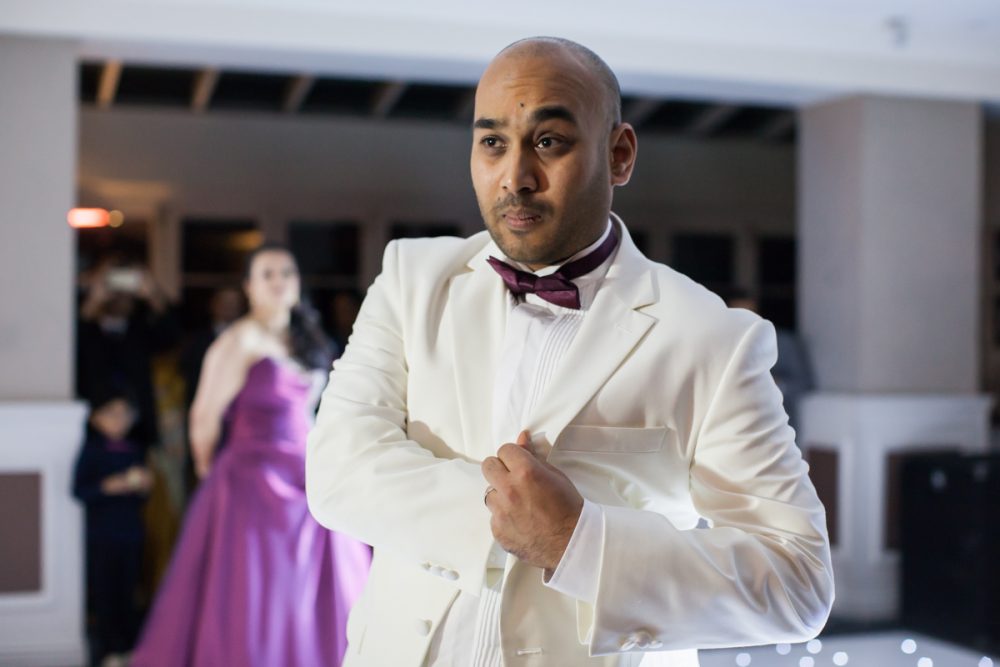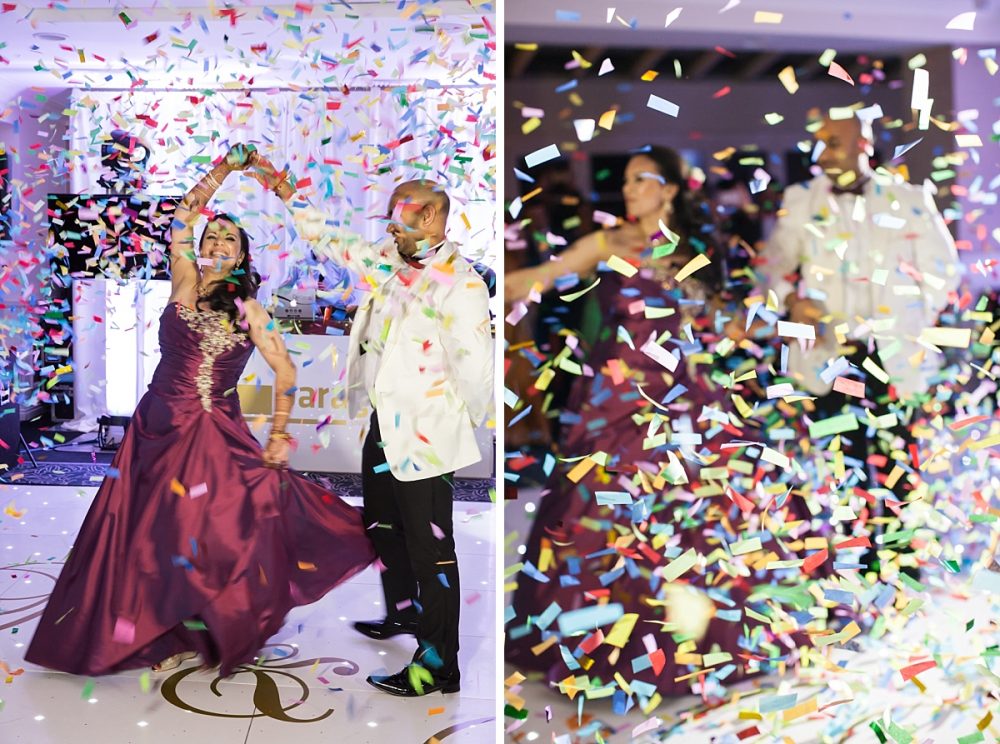 Meera & Raj kindly wrote about the experience of working with me:
"My husband and I were looking for a photographer who could provide us with timeless photographs which would give us good memories of our big day – Hannah successfully achieved just this. During the wedding we developed a very good friendship, which is reflected in the images she has captured. We would strongly recommend Hannah to any couple looking to tie the knot. She works extremely hard and we are proud to have her images on our walls. Hannah is a friendly, well organised and professional photographer. She is very passionate about capturing a couple's happiness on their special day – which is well reflected in all of the photographs she has taken for us.

This was Hannah's first opportunity to photograph a Hindu wedding, but we had a lot of confidence in her ability and her work. She took time out to read and understand the various steps of the Hindu ceremony and asked plenty of questions to ensure she would capture all the important stages in the wedding and also key moments for us. 

On the day of the wedding, her amazing personality helped us to relax during the more tense times of the day. All the organising and preparations Hannah had conducted prior to the day became fruitful, which allowed us to capture all the photographs we wanted to… One of the key attributes which made Hannah stand out in comparison to our other suppliers, was the promptness in her replies and the invaluable advice and support she provided before and on the day of the wedding. Thank you!"
If you'd like to see more from Meera & Raj's Hindu wedding you might enjoy their wedding slideshow:
You might have spotted one of their engagement photos printed on a canvas and used as an alternative guest book with coloured sharpies for guests to sign. To see more of their engagement photos, you'll find their Pergola and Hill Garden engagement here, and their St Paul's Cathedral sunset engagement photos here. 
I love to get to know my couples and understand the rituals and ceremonies that are important to them, so I can capture their wedding day story. Whether you're planning a Hindu wedding or a different kind of meaningful ceremony, I'd love to speak to you about your plans and how I could capture your celebrations – please send me a message so we can arrange a time to talk. 
Thanks to the lovely team involved in this beautiful Hindu wedding:
Venue: De Vere Wokefield Estate
Hair & Makeup: Shreya MUA 
Henna: Lali Creations
Second shooter: Rachel Rose
Wokefield Estate Wedding Photographer: Hannah Larkin Photography