Starting to think about your wedding stationery? From save the dates and invitations, to menu cards, place settings and table plans there are are lots of different things to consider. I chatted with Katherine, wedding stationery expert from Giftast, to find out what you need, how to let your personality shine through with bespoke options ranging from literary options for book lovers to animal portraits for those who want to include their pet in their wedding, as well as eco-friendly options and perfect finishing touches.
Watch the video of our chat or read the transcript below – and if you have any further wedding stationery questions do leave them in the comments and I'll find the answer for you.
As a wedding photographer my own top tip for wedding stationery is to save a wedding invitation for me to capture on the morning of your wedding as a lovely way to start your wedding story.
You can find out more about Katherine's beautiful wedding stationery on the Giftast website or by following her on Instagram.
For more pets at weddings inspiration see my Pinterest board, and if you're thinking about save the dates and invitations you might be interested in my blog with advice about what to consider when choosing your wedding date and these top tips for planning your wedding guest list.
Video transcript:
Hi, I'm Hannah from Hannah Larkin Photography and I'm joined today by Katherine from Giftast. Hi Katherine!
So I'm really excited to hear about all things stationery from you – I wonder can you just start by telling me a little bit about Giftast?
Yes no worries – yes I create wedding and event stationery, so everything from save the dates to RSVPs, and on the day items as well so orders of service, menus, seating plans and things like that. We offer a bespoke service and have a lot of range items so it's all completely personalisable for your day.
Great – you've already mentioned a few of the different items you produce, but when couples are starting to think about their wedding stationery what are the kinds of different things that they might consider?
Yes that's very personal to your ceremony and the timings of your engagement and things like that. Say you're having a very long engagement and you've got your venue sorted well in advance or you're going abroad for your wedding – then save the dates might be something you'll want to do. But if you've got a shorter engagement then you can just go straight to invitations so you're not sending people loads of stuff you don't really need to. A lot of couples include information cards with their invitations: hotel information and taxis, things like that. And then of course RSVPs – not necessarily needed these days if you want to just have people reply by text – but sometimes if you want to ask about song choices or anything like that that you'd like to include on your RSVP that's a nice place to put it.
In terms of wedding stationery that's kind of the main four bits, but then on the day there are so many possibilities. We have standard range items that we do which are orders of services, table numbers, place cards and seating plans. But within that you can then change up anything so you can include a menu that matches everything else, or special words, quiz sheets things like that. We do have a range of free downloadable quiz sheets on our website that match some of our range items, so you can tie in there. Signs for things, flip flop signs have been popular, sweet carts – it's really having a good think about what you're having at your ceremony and what you want to communicate to your guests. Whenever I go to a wedding I always take my place card – because it's always so nice – so stuff that your guests can take away as well that's really personalised to your ceremony. Loads of options!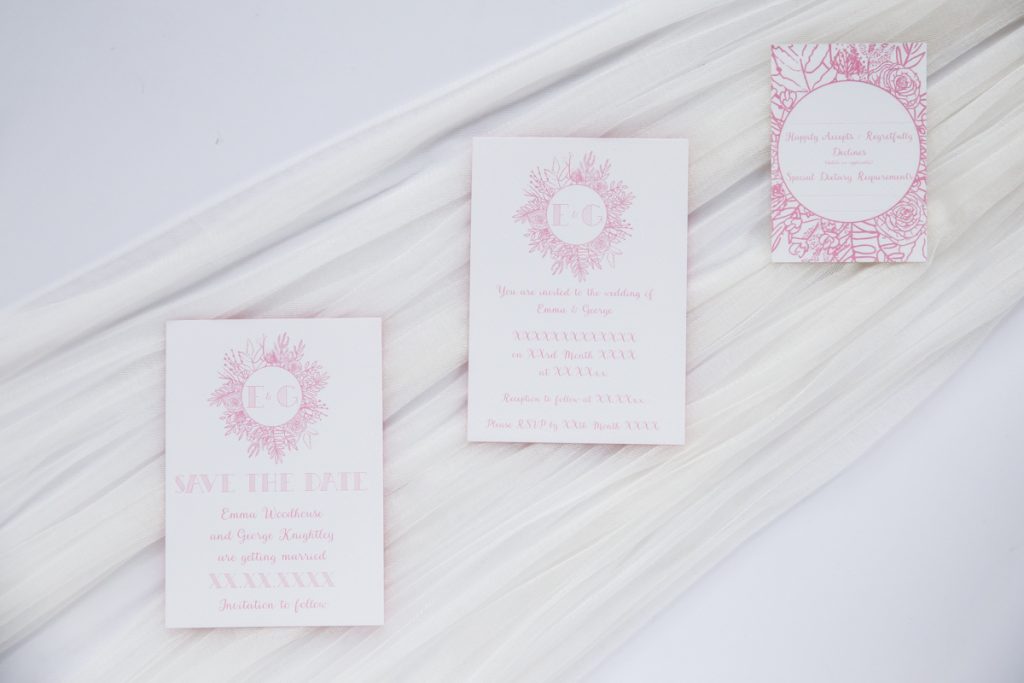 Loads of different options! So if you're trying to plan quite a bespoke wedding – something that really lets your personality shine through a bit – how can you do that right from a save the date if you're starting at that point or from invitations?
We offer a bespoke service and we have range items. So with our range items we do a free colour scheme change – if you've got a strong theme colour you're carrying through to all your decorations, your bridesmaid dresses, your flowers then we can put that in straight from the beginning and that's completely personalisable, so if there is something you really like but it's just not quite right, then we can tweak it. Alternatively, we do offer a bespoke service, so if you've got something in mind that's completely different – I know people have had venue maps, illustrations things like that. Any strong themes, for example if you're having a Christmas wedding then you can do a bespoke Christmas theme. So it's really talking to your stationer about your ideas and how best to portray that. But yeah you can absolutely start that straight away just to really cement your theme and tie everything together really nicely
Great, and if you're going for a more bespoke option – how much time does that take? When would you need to try to start getting that done to get your invitations out in time?
The sooner the better – if you're starting with save the dates then all you need really is your venue booked and then you can start straightaway choosing your stationery. Standard orders take 2-4 weeks and that's generous and just for safety. With bespoke, I try to do that again with the same timescale 2-4 weeks so tend to say 4-8 weeks for the whole turnaround for getting your bespoke items out there. We can do rush orders, but the sooner the better and then you're not getting stressed out about it and you get to take the time to really get it perfect for you.
OK and I know that we're both big book lovers (just my massive bookcase behind me here!) and I know that you're a real fan – how might you incorporate something like a love of books into your wedding stationery?
That's really nice – I'm a big fan of romance books so all of our ranges are named after either romance authors or we have our Jane Austen set where we have a set for each heroine which I designed for what I thought what they would like based on their character. So it's something that you can really tie in. Like if there is a book with strong themes, like something say nautical, then that's something you can really pull in. Quotes in your stationery that's something I really like to do or using the style. One thing that's always stuck with me – Jane Austen's Emma the first version I ever read of that was in this beautiful pink slip case, it was like a pink candy stripe and for me that now really strongly represents that book so my Emma range is pink and white. So if you have a very strong attachment to a cover or something like that then we can pick themes and colours out of that will then be brought to your stationery. So it's whatever chimes with you from the book – so that's a really nice idea, that's something I love to do.
So a bride could not only have a specific book in mind they might have a specific edition that they like and they could send you pictures and between you, you can then create something that reflects that?
Absolutely – I think that's the thing about books they have such a strong connection with you and with the covers and things like that – and the edition you first discovered it in, it really does chime with you and what you associate with the book.
Great. I know that another thing that we have in common is our love for seeing pets at weddings! And as much as I'm keen for pets to actually be there at weddings for me to photograph – if that's not possible is that something that you could try to incorporate in your day through your stationery and through the designs you choose?
Absolutely we do pet portraits separately, but that's certainly something that would be really nice to incorporate, particularly if you've got multiple pets because pets are part of your family you want them involved. I have cats and they can't be there at a wedding necessarily, (that's probably one of the more difficult animals to take to your wedding) so yeah having them in your stationery is definitely something that can be done. I love pet portraits absolutely – so that's a wonderful thing to try to bring in.
Do you have a lot of experience of shooting with animals then? For weddings and things like that?
I've photographed horses with brides which has been great and also some very cute dogs with little bowtie collars at weddings, but I'm desperate for more pets at weddings. I'm looking for brides who want to carry kittens down the aisle or have guinea pigs there! I think pets are family they should be included – so hopefully we'll see some more!
And I know also more and more brides these days are thinking about making sure their wedding is eco-friendly or wanting to consider that when they are making their plans – what would be your recommendations for that for when thinking about your stationery?
There's a couple of different things you can do for that. We outsource all our printing to a printer which has a really strong recycling policy and only uses vegetable inks so that's a lot more environmentally friendly. We also recycle all paper in house – as you can see there's a lot behind me, but when that goes it will go into the recycling. We tend not to carry foil samples because that's quite difficult to recycle and so it's a bit more environmentally friendly – although foiling is something we can do. And also we can offer recycle papers.
As well if you're looking for a more eco wedding then probably doing e-RSVPS – so having a reply to your email or mobile is going to save you a lot of paper as well as I guess airmiles for posting them out as well, so little things like that you can just scale it back to make it a bit more eco.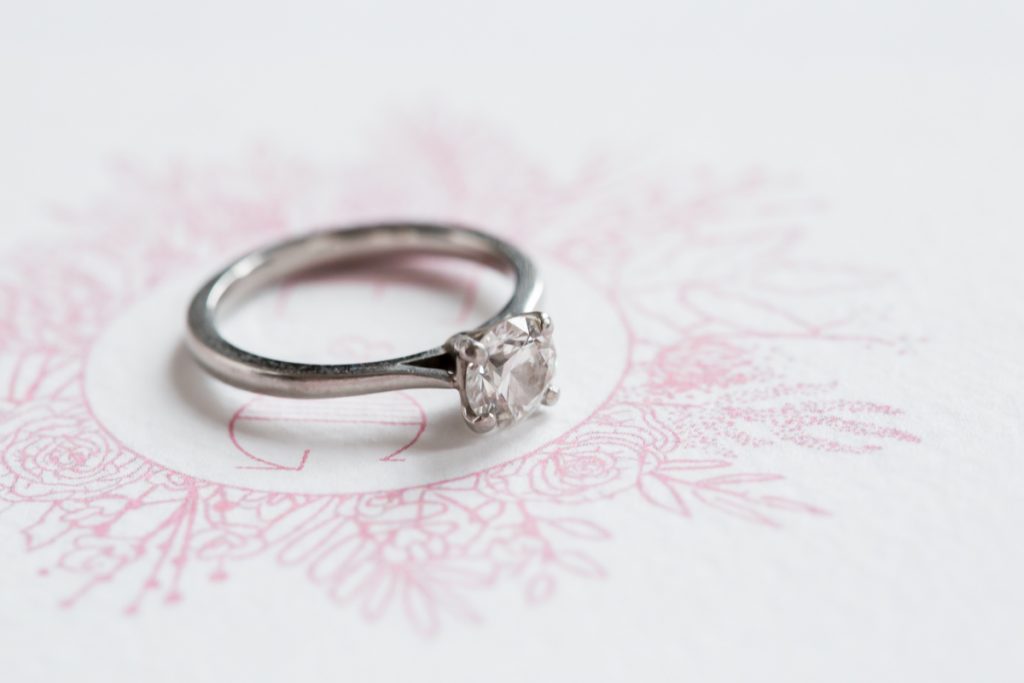 And lastly what's your favourite finishing touch for wedding stationery or invitations?
I love hand finishing – I have a couple of ranges that are highlighted with little dots like gold and silver dots and one with bows on. I just think that this elevates it a little bit – because paper is wonderful, but it just makes it that tiny little bit more special and it's so personalisable with your colours and everything like that and so any hand finishing I do like doing.
Just for that extra level of specialness. Oh thank you so much Katherine, it's been lovely speaking with you
Thank you Hannah, it's been great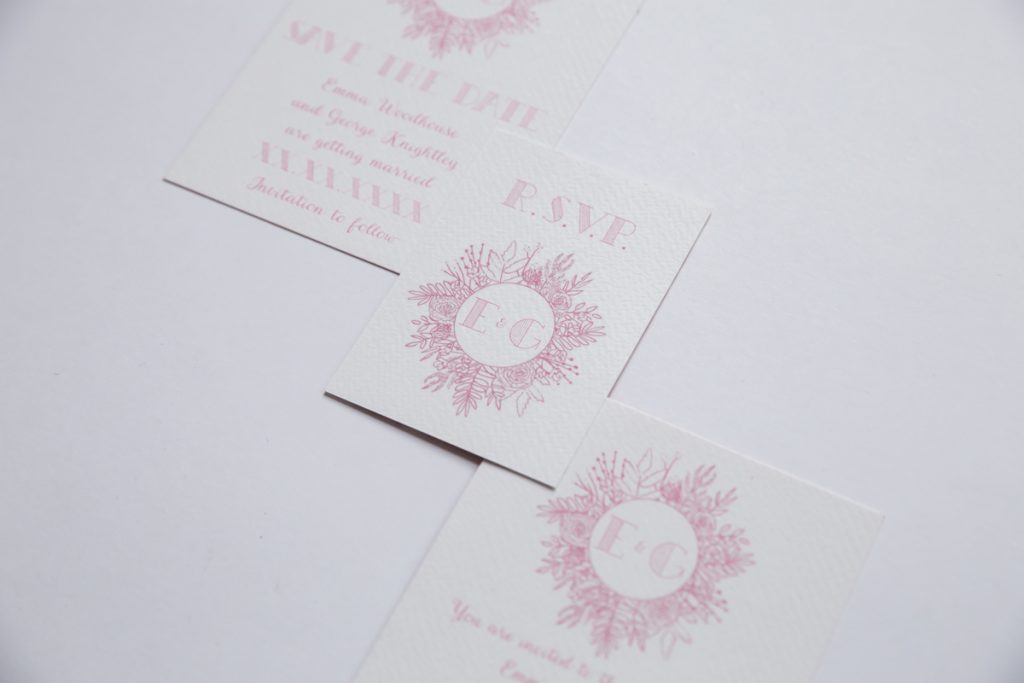 Hannah from Hannah Larkin Photography chatting to Katherine from wedding stationery expert Giftast thanks to Wedding Espresso.