Two grooms, a tweed suit and a kilt, beautiful stationery, guests with fans, a town hall ceremony, finding some shade for some woodland portraits before a vineyard reception, garden games in the sunshine and a marquee full of incredible homegrown flowers, touching speeches, cake cutting with a Hong Kong police sword belonging to Calum's dad, enthusiastic ceilidh dancing before a quiet walk among the vines at dusk. This beautiful wedding was full of relaxed summer vibes and amazing DIY touches including a perfectly styled gin bar! There was so much to love about this gay wedding and their wedding party was my favourite – they chose flower girls, page boys, a best man, a best woman (who handmade their wedding rings) and a best dog – Bjørn their gorgeous golden retriever who gave them both a very enthusiastic waggy tailed welcome to the vineyard! 
I'd met best dog Bjørn before as Richard & Calum chose a dog walk for their engagement photos including some gorgeous golden light to match Bjørn's golden coat! From talking to Richard & Calum at this shoot and during the wedding planning I could tell the whole day would be beautifully designed – Richard is a graphic designer and he worked to create wedding mood boards, designed their wedding stationery and styled the marquee and gin bar.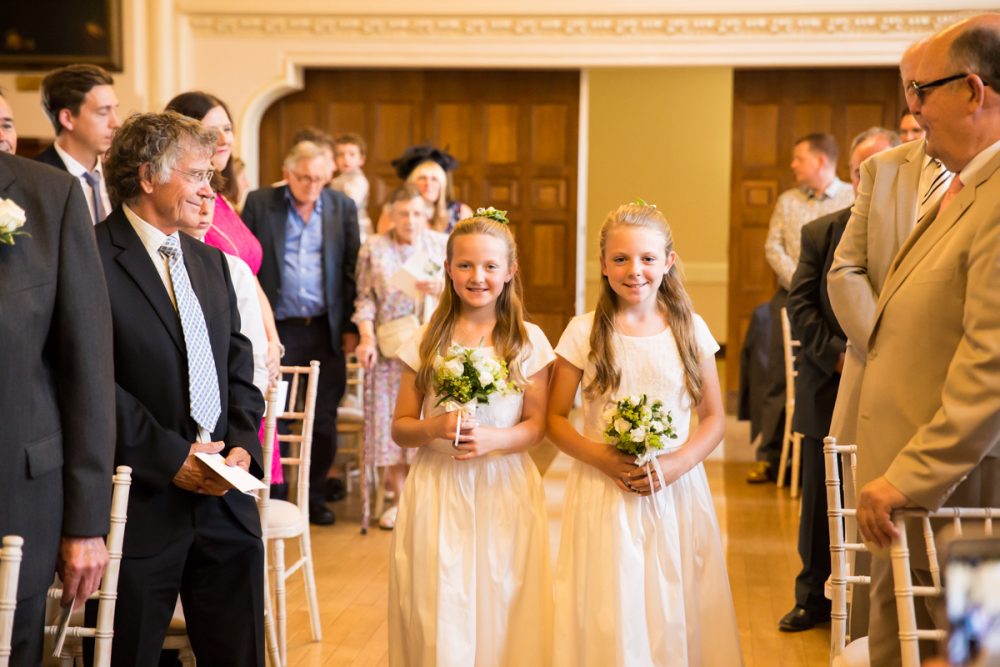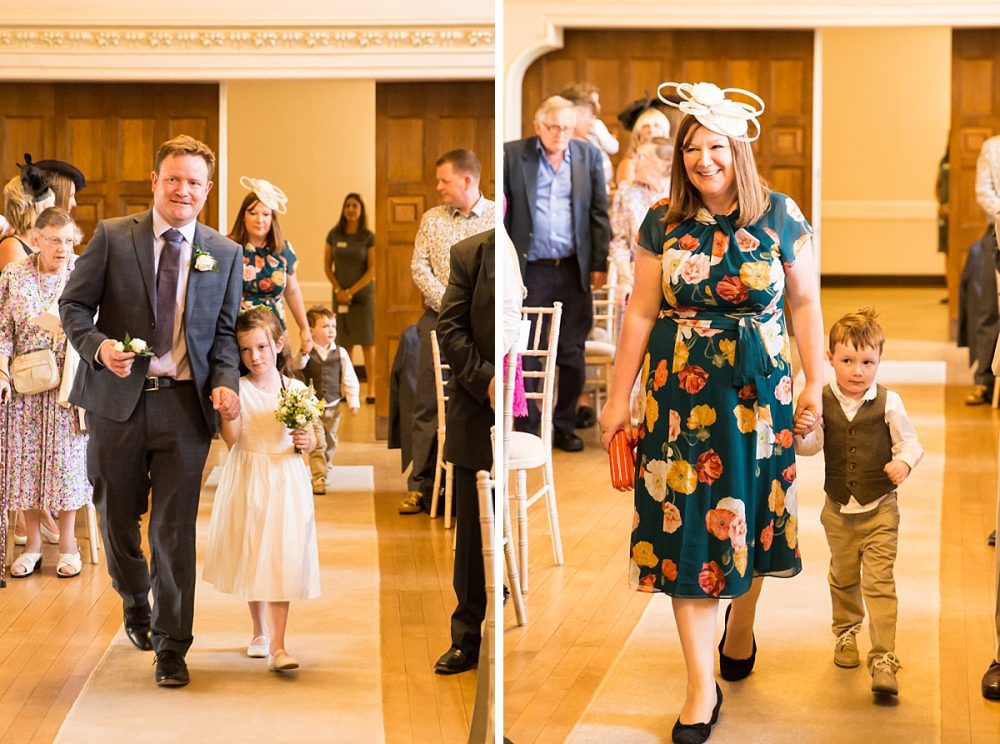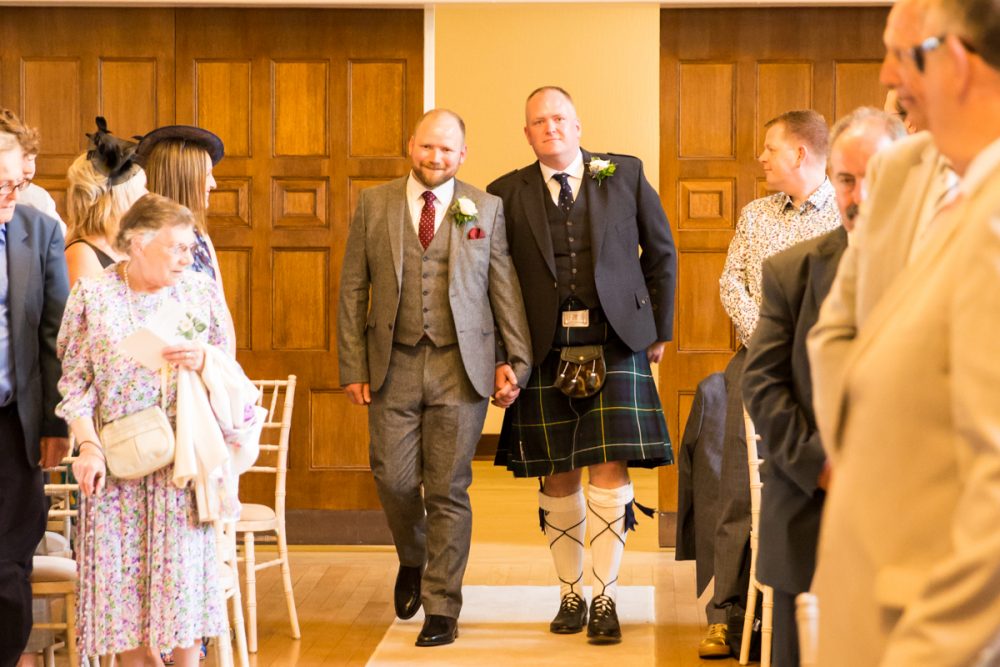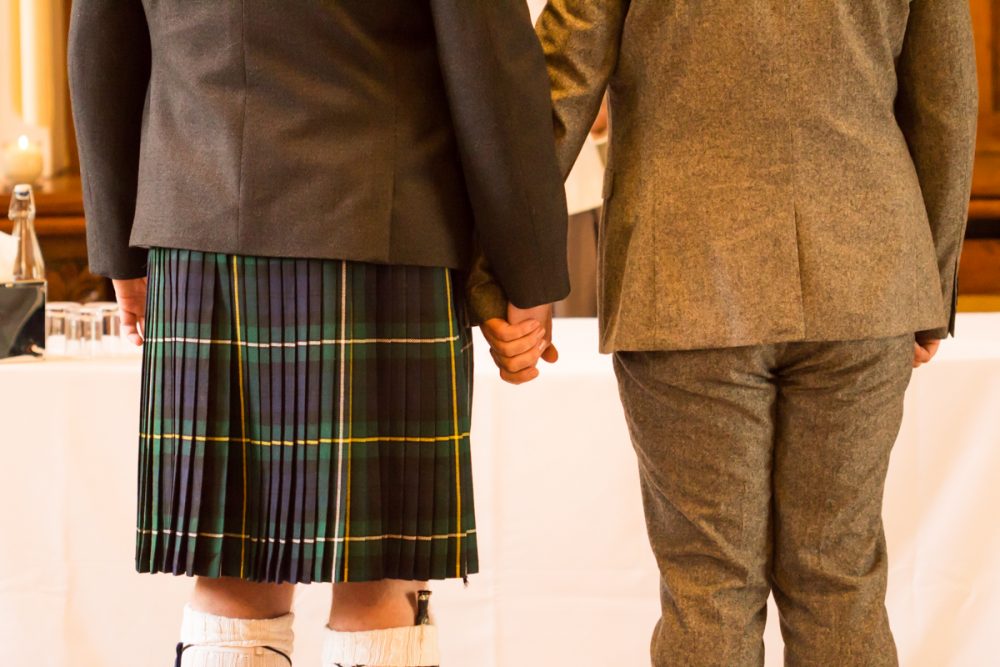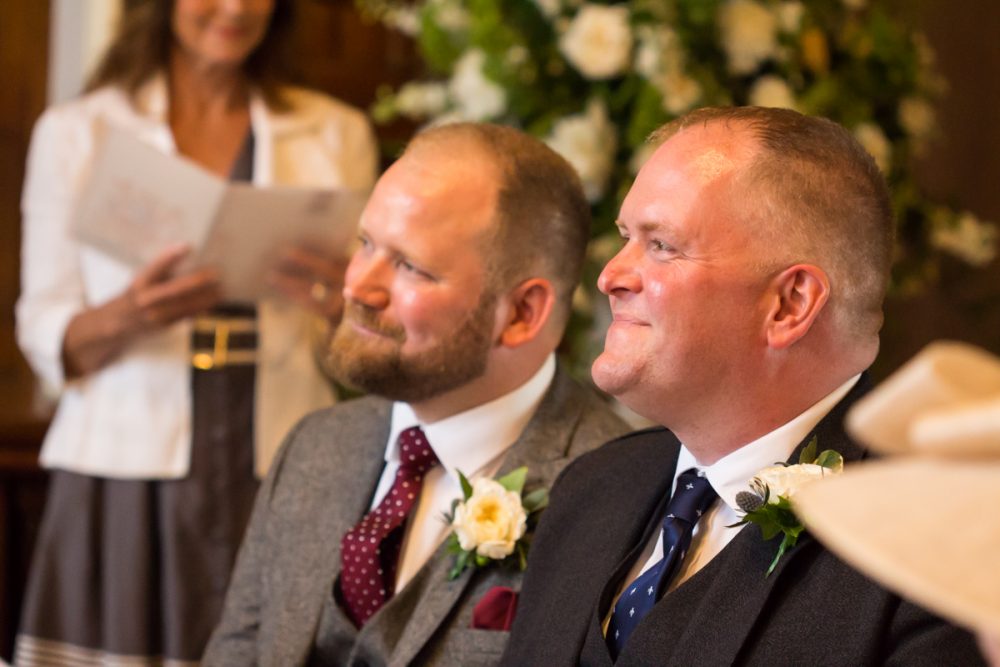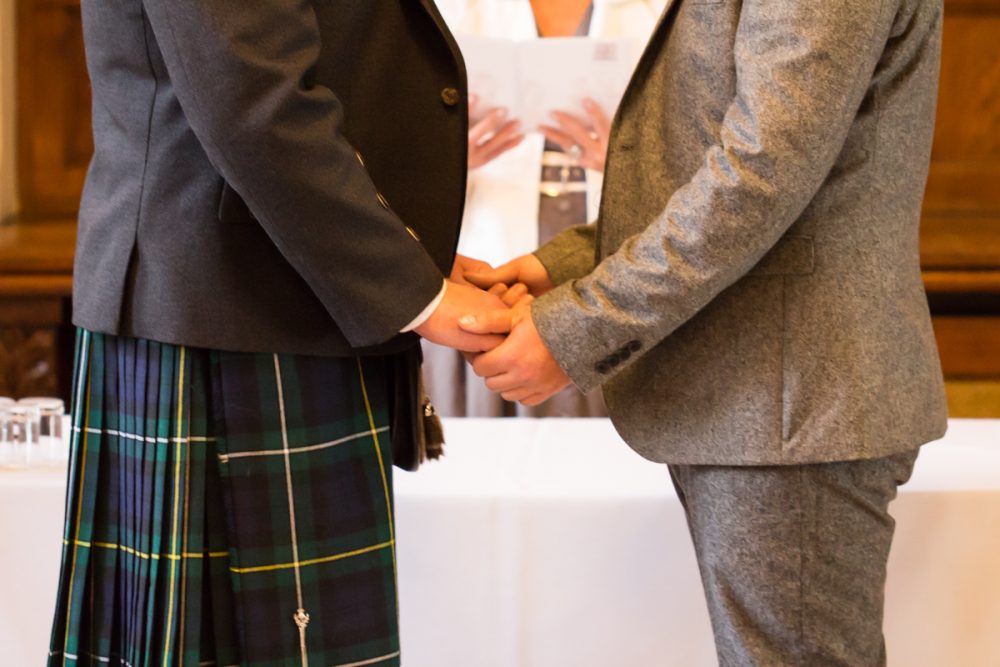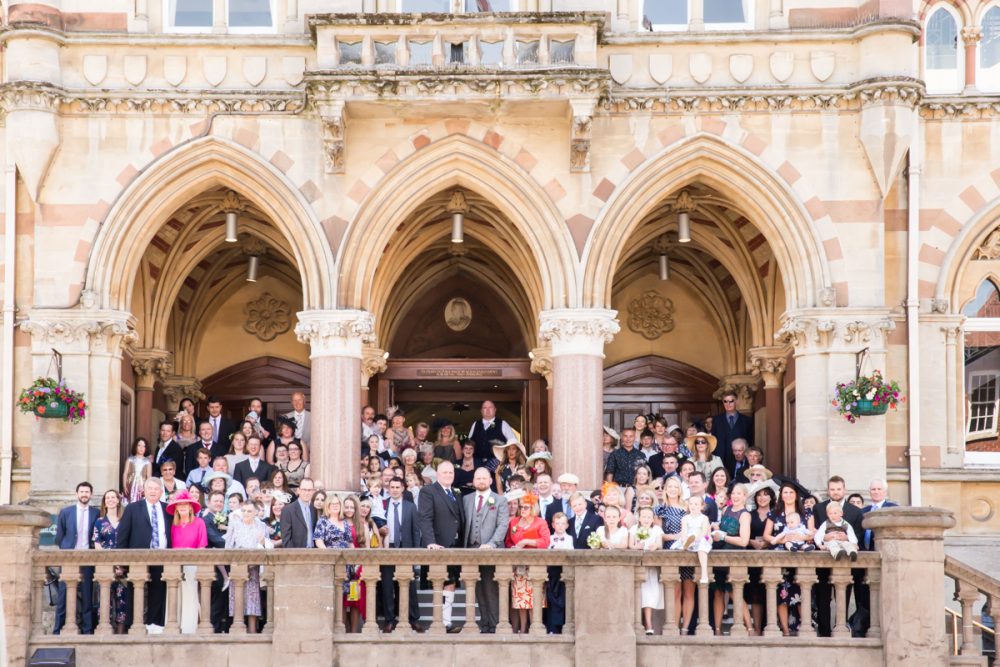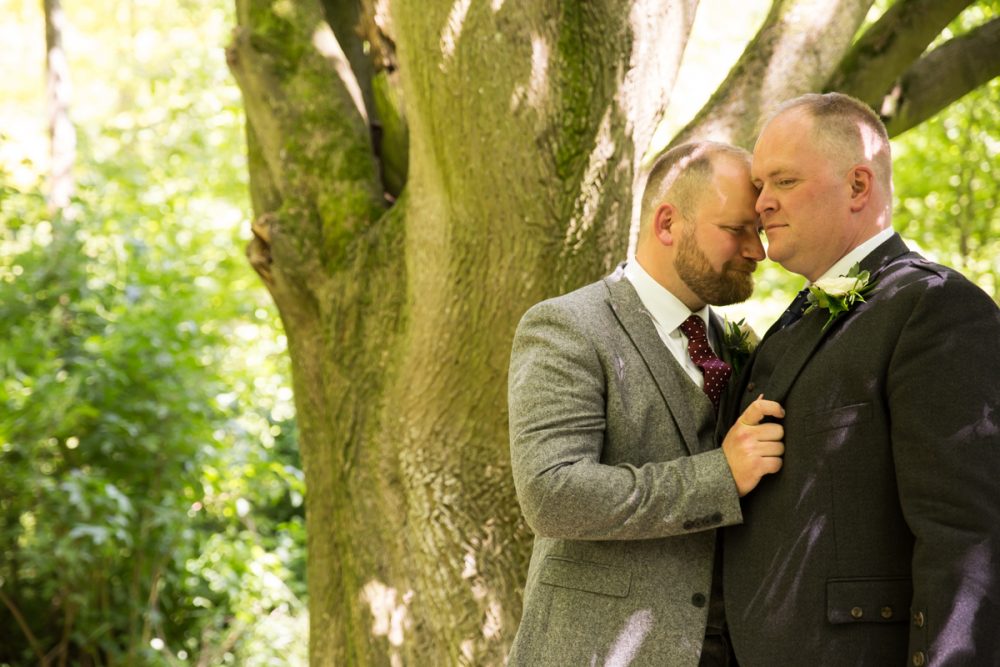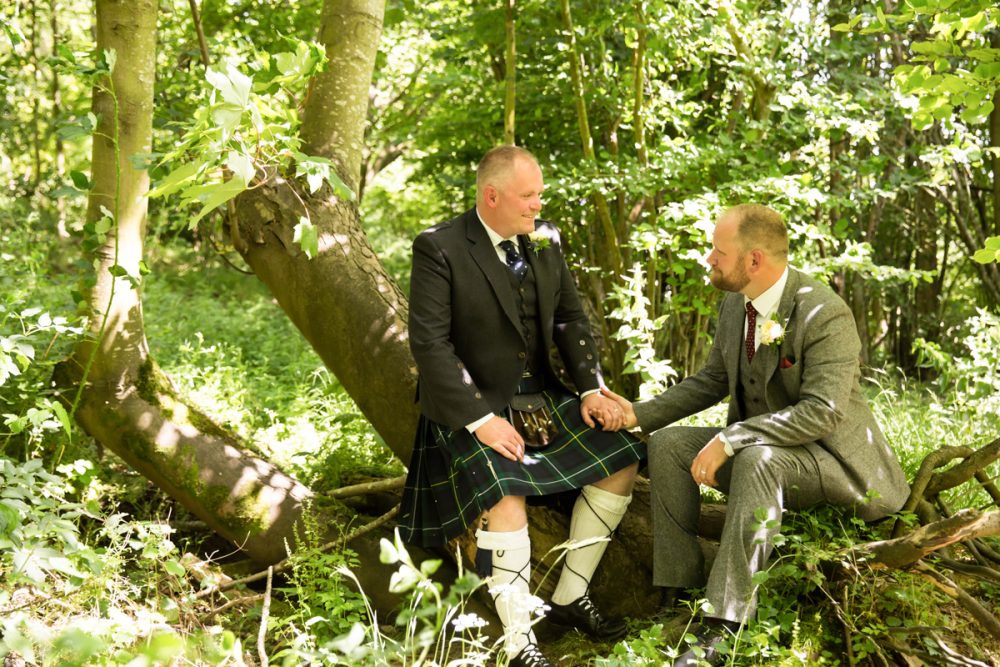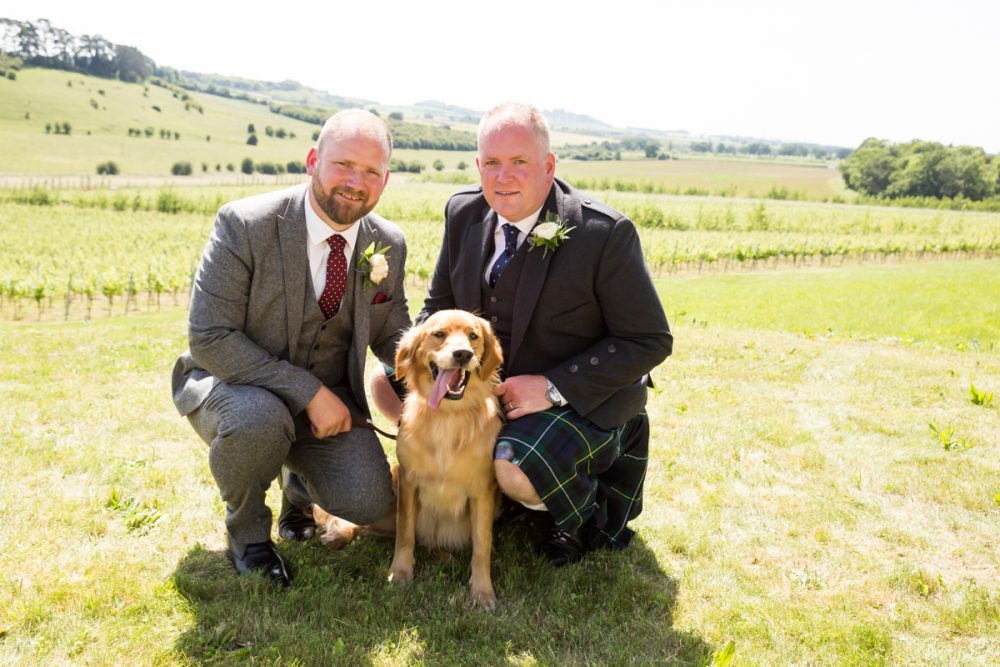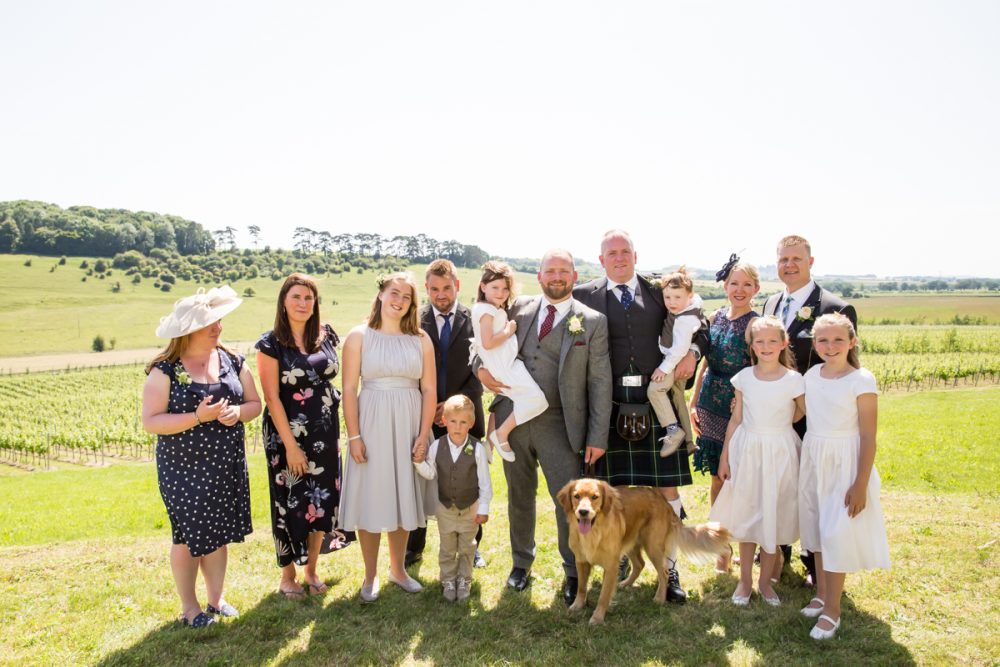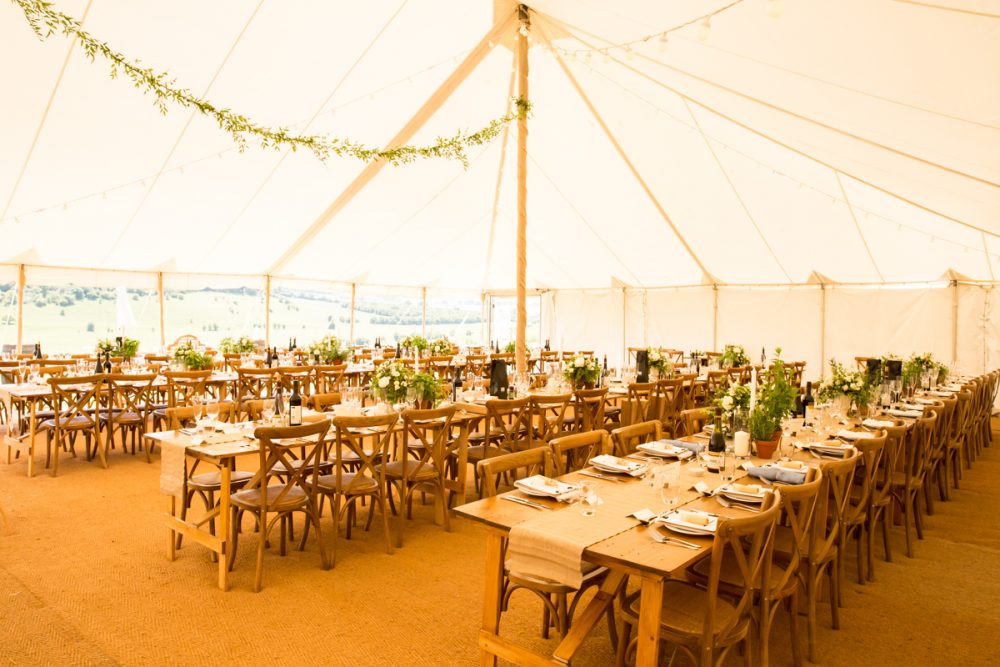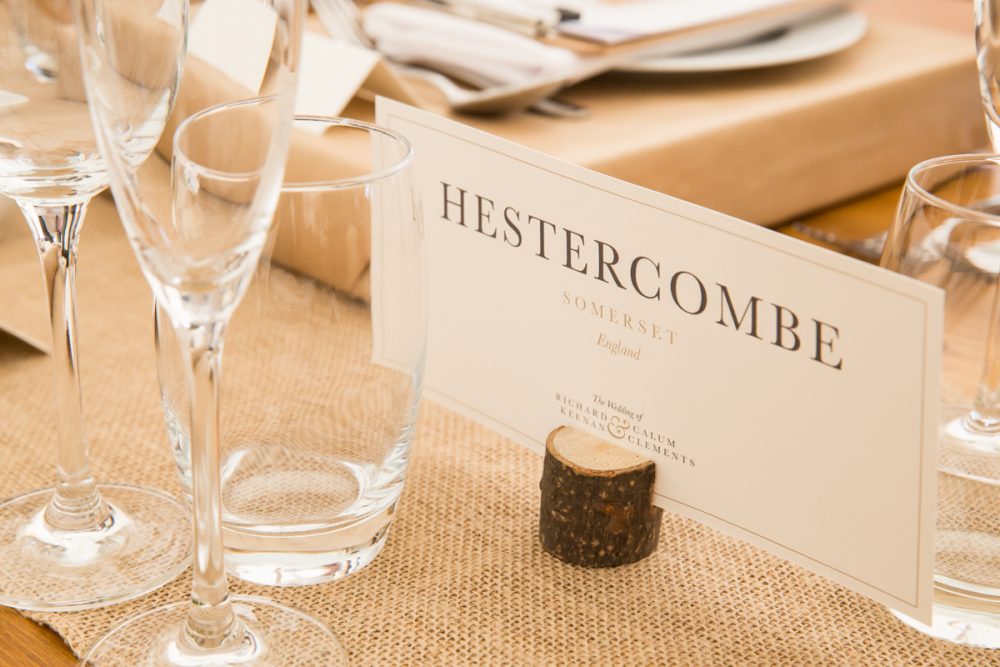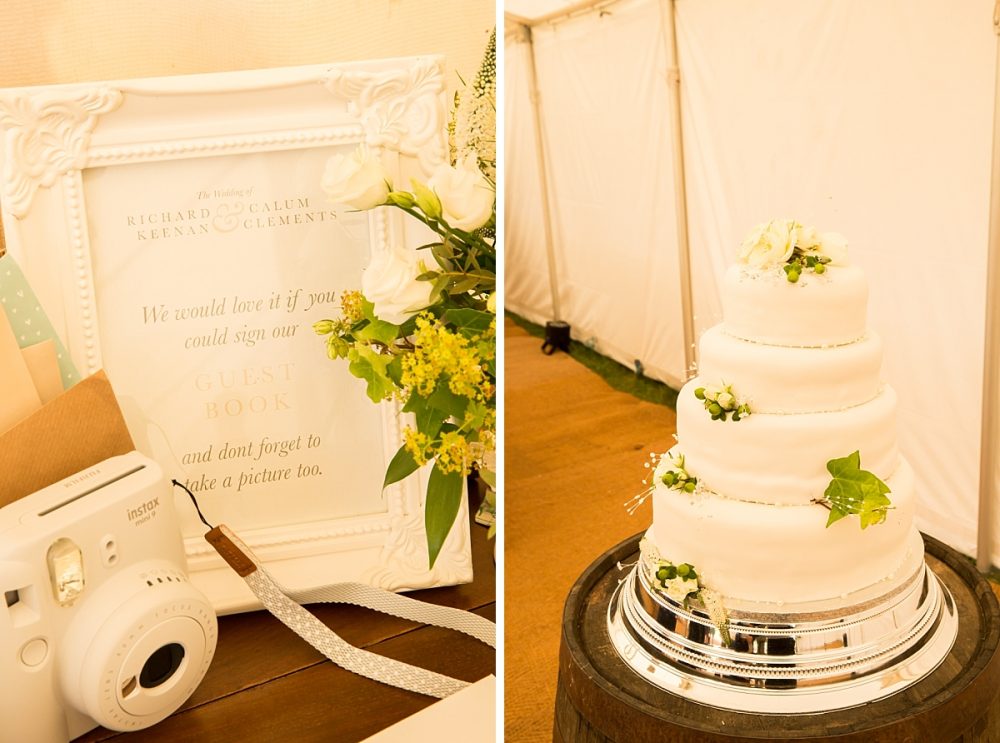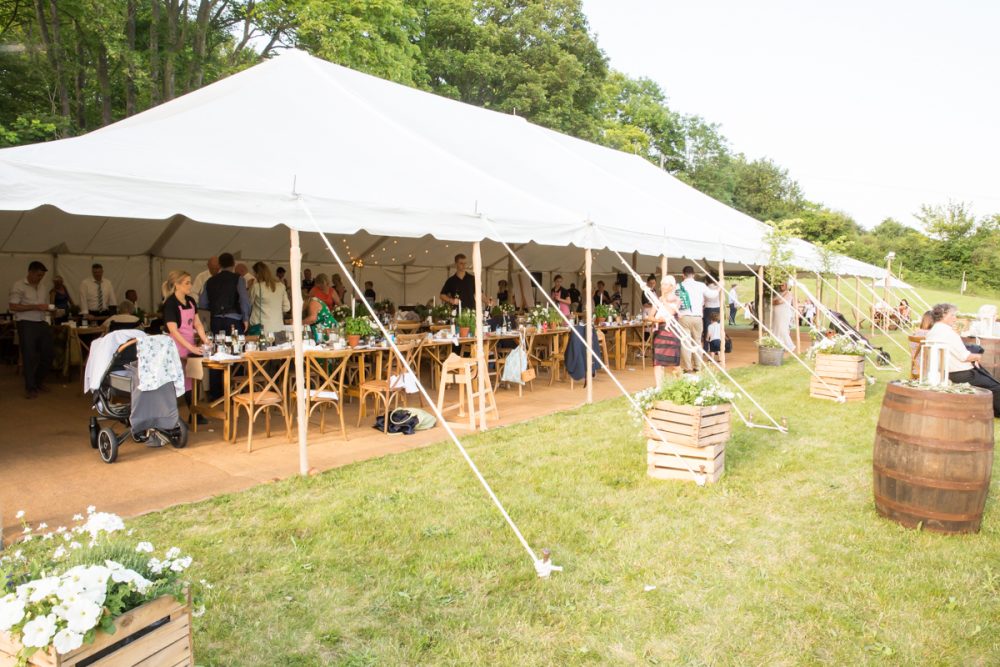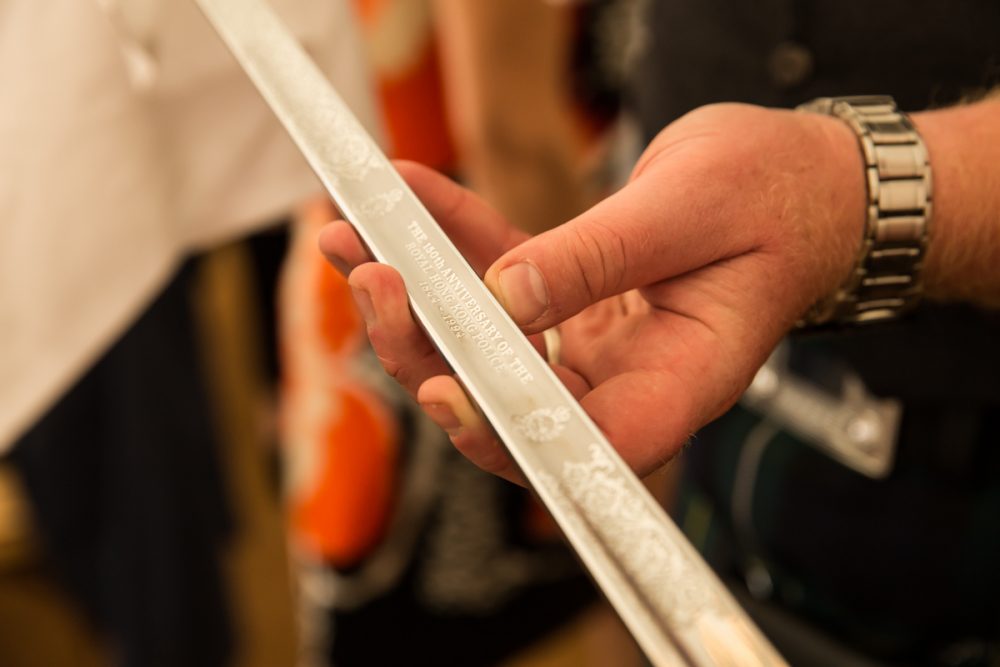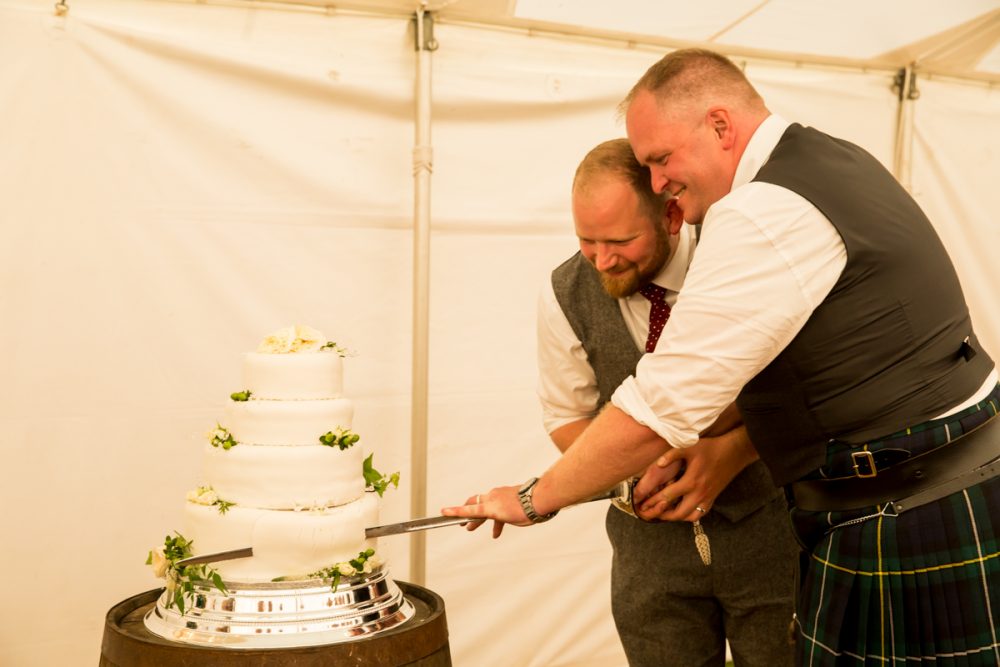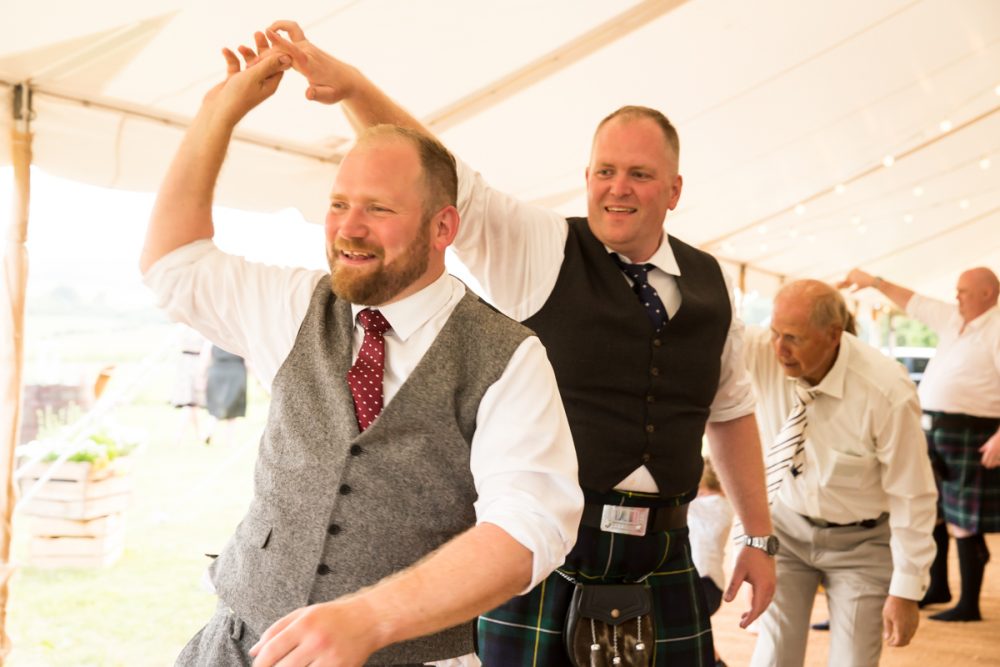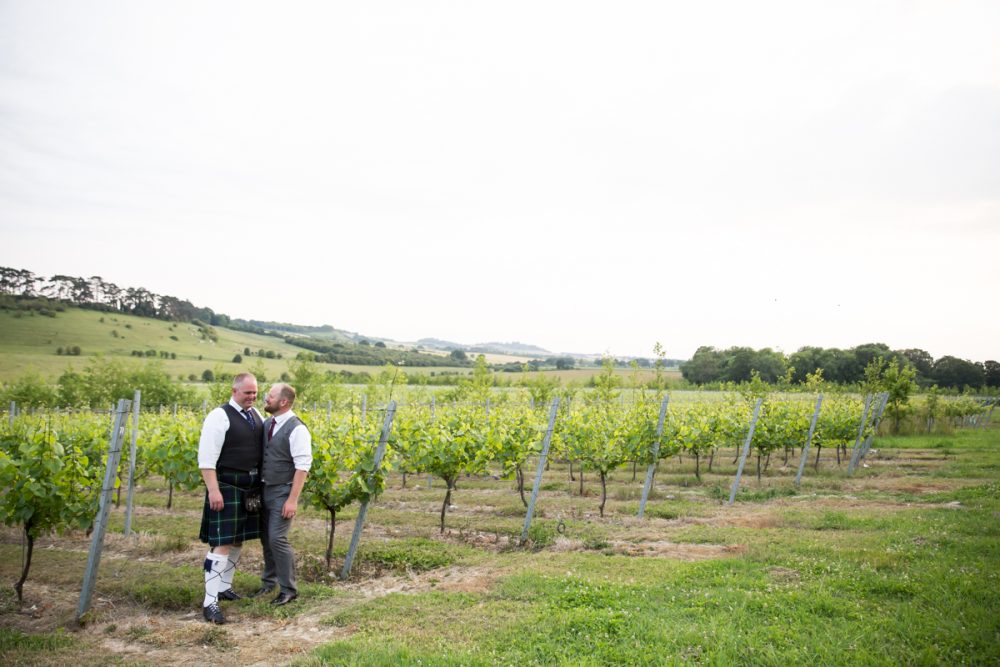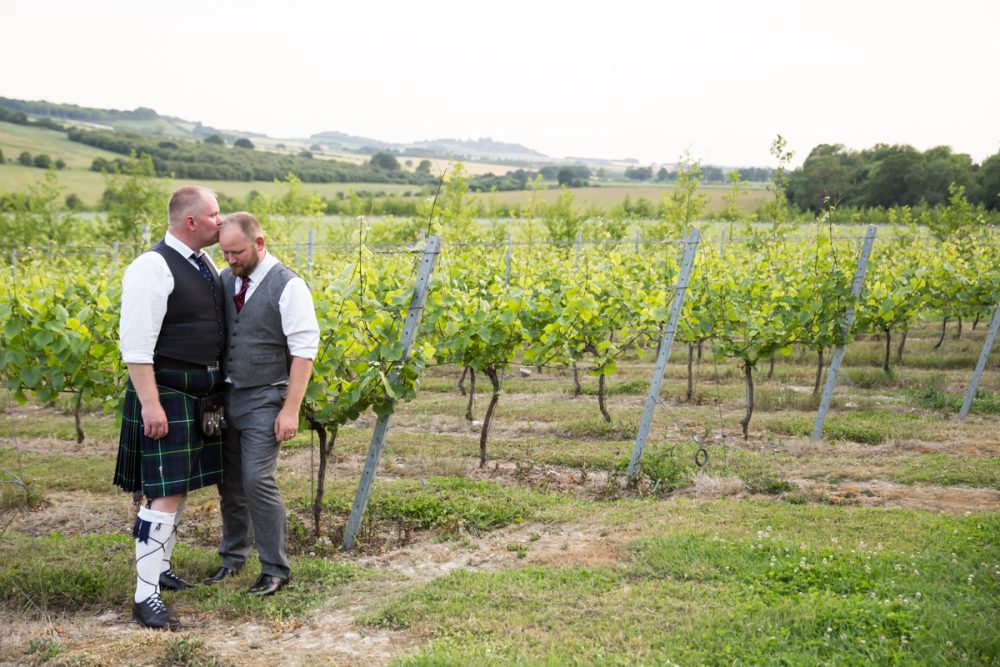 Richard kindly wrote about their experience with me from our initial call through to receiving their finished gallery: 
"We worked with Hannah to capture our wedding in June 2019 and we were thrilled with her work. From initial contact, through our engagement shoot and on the day itself Hannah was a joy to work with – professional, kindly and reassuring. We were after a photographer that had had a relaxed feel, so Hannah's style was perfect for us. She managed to capture the spirit of the day, with some lovely portraits of my husband and I and also capturing the little moments that made our day special. I particularly love looking back over the informal shots that she captured of our friends, family and our beloved golden retriever. It was important to us to have a photographer that we were comfortable and relaxed with. From the very first conversation we knew with would be a perfect fit – she just got it. We got lots of feedback from our guests on how lovely Hannah had been on the day that only reaffirmed that we had made the right decision. Choosing a wedding photographer is such a big decision, we were so happy that we chose Hannah.
Hannah talked about telling the story of the wedding which really chimed with us. We really enjoyed working with Hannah, she made us feel comfortable in front of the camera & got some beautiful shots on a very hot & sunny day. (Also, she also loves dogs so that was a good sign!)"
You can read more from Richard about their wedding planning over on Whimsical Wonderland Weddings who featured their midsummer vineyard wedding.
Thanks to all the Hampshire wedding suppliers involved in this beautiful vineyard wedding:
I was really honoured that Richard & Calum trusted me to capture their wedding. I was torn over the wording of gay wedding in this blog – I'd like to just call it a vineyard wedding but I know that some couples search specifically for gay wedding to find images and inspiration. This was the first gay wedding I had photographed and I found it incredibly moving – it makes me feel proud and lucky to live in a country where everyone can marry the person they love. I'd really like to photograph more LGBTQ+ weddings – I want my images to represent a wider range of relationships & families because I truly believe that representation matters.
If this vineyard wedding has inspired you, you might also like to check out this multicultural garden wedding in Hampshire and this garden wedding in Essex for outdoor wedding ideas. And if you're looking for ways to include your pet in your wedding visit my pets at wedding inspiration Pinterest board – I love to see couples finding a way to include their furry family members in their weddings! You'll find more of my storytelling wedding photography here – and if it appeals, send me a message so we can find a time to talk about how I could capture your wedding.