As a wedding photographer I've been lucky to experience many different weddings – and I've come to realise that what seems to make them super special is the personal touches, the thoughtful gestures, the things that are unique and that really reflect the couple themselves. When I'm photographing a wedding I aim to create a story of your wedding day and it's the bespoke, quirky, personal bits that really make the story. Where the couple have thought about which wedding traditions to question and which to follow. Someone who I know loves weddings that reflect the couple as much as me, is Nat. 
Nat: I'm a Humanist wedding celebrant. I write bespoke wedding ceremonies for couples who want something a little bit different. My ceremonies centre the couple, and are chock-full of personal touches. There are no hard and fast rules of what you must say and do with a Humanist ceremony: you just have to express your love and commitment in the way that suits you both the best!
Hannah: Nat & I chat about personal weddings quite a bit – mostly on Instagram (I'm @hannahlarkinphotography, Nat is @natraybouldweds – and thought we'd share some of our thoughts and ideas about wedding traditions to question…
Nat: Traditions and rituals are a wonderful thing: we as humans love marking important events in our lives with symbolism, and weddings are no different. But those traditions seem to have crept up on us and somehow we have our families and friends saying "oh you have to do this!" or "you won't be married without that!" – I am here to say that simply is NOT TRUE! You can get married with or without any traditions that you choose!
Hannah: Over a series of 3 blog posts we'll be sharing our top 10 wedding traditions to question as well as traditions to consider, if they fit for you.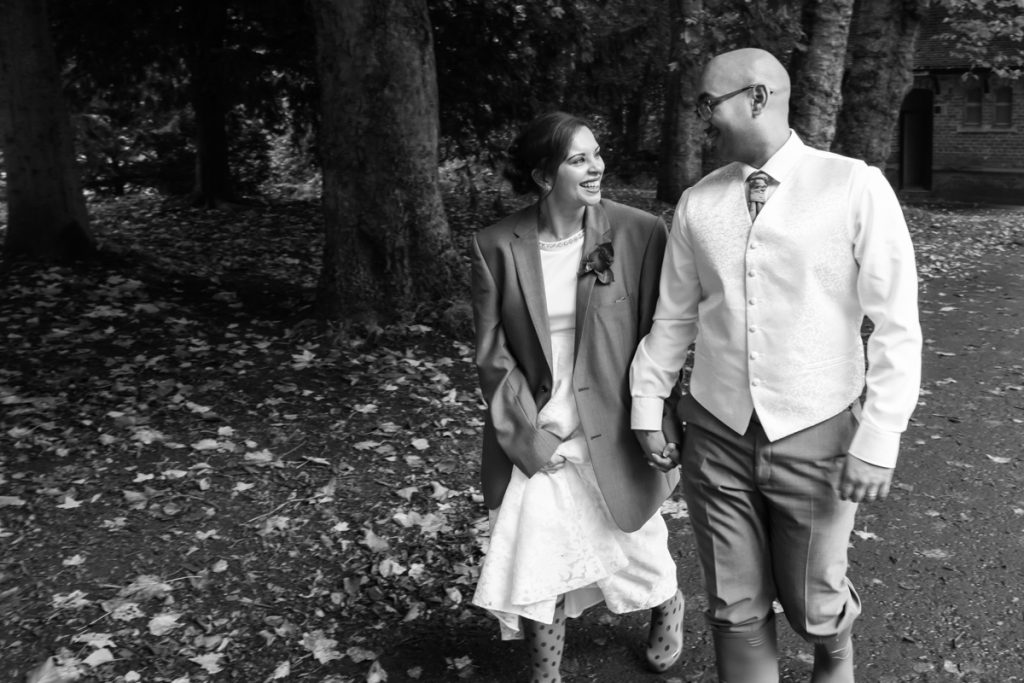 Wedding Traditions to Question
Hannah: I think it's really important not to feel you have to tick off each tradition or think "this is what we're supposed to do" if it doesn't feel right for you. We're assuming the 'there has to be one bride and one groom' tradition is long gone – we both love weddings that celebrate all forms of love. But here are our first 5 wedding traditions to question:
1) Your wedding has to be a religious or civil ceremony – instead you might like to consider a humanist or celebrant-led wedding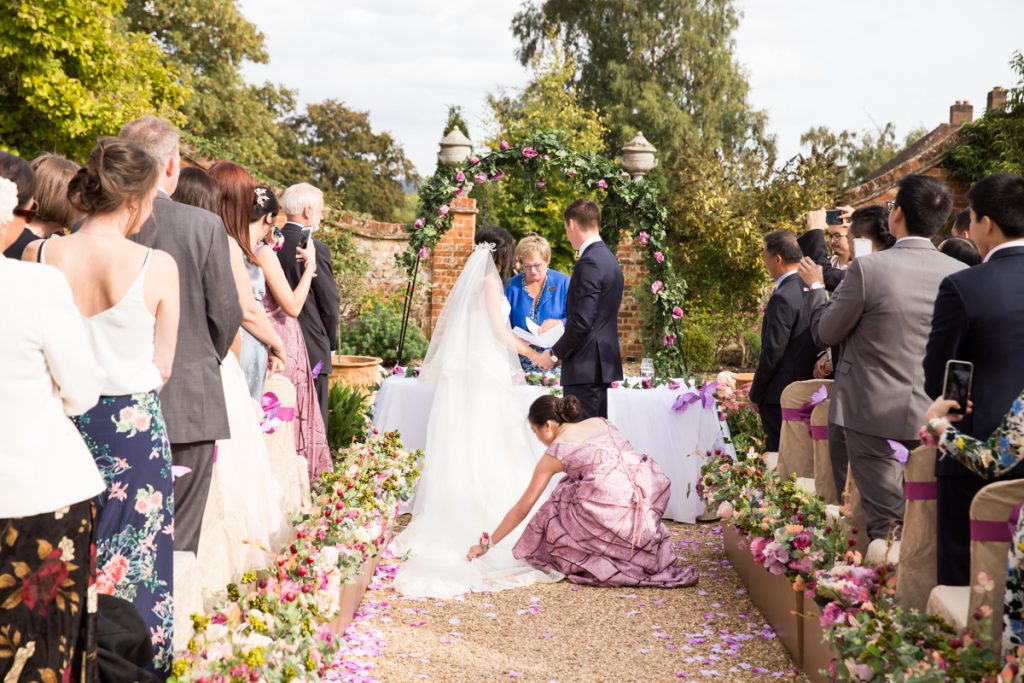 Nat: Yes! Please consider this as one of your wedding traditions to question! My job is to get you to just examine your relationship closely, and work with me to design a ceremony that really reflects the both of you, in every word. You don't get that in a civil ceremony, where the template is necessarily very limited. And if you aren't religious, or don't want a religious ceremony – the way to have a meaningful and moving wedding is to go Humanist! I trained as a celebrant because I had a Humanist ceremony myself. Not only did we have so many comments saying it was hands down the best ceremony people had ever been to, we both felt it was the absolute high point of the whole wedding day: just as it should be! I wanted to be able to make other couples feel that on their wedding day too.
Hannah: If you opt for a bespoke and personal humanist or celebrant-led ceremony in England you will still (at the moment) need to legally register your wedding in a register office – you can do this on a different day, either just the two of you like this London elopement, or with just immediate family or close friends to witness.
Nat: As Humanist ceremonies sadly aren't legal in England of Wales (yet – we are working on it!), you have to do a quick and cheap legal signing at a register office. All registrar offices are required to be able to offer a statutory ceremony for as little as £57, and if you ask for that by name, you can get your legal shebang done before your beautiful personal ceremony – the one where the words actually mean something to you!
2) Your wedding has to be during the day in a licensed building
Hannah: With a humanist or celebrant-led wedding you can consider other times & places. In Scotland you can get married anywhere and even in England & Wales there are some places where you can have a legal outdoor wedding (generally either going briefly indoors to confirm the legal part, or under a permanent structure like a pergola). My wedding took place outdoors in Northumberland and together with our witnesses we just moved indoors briefly to repeat the legal statements and sign the register. I've also photographed some beautiful garden weddings, woodland weddings and lakeside weddings. I love outdoor weddings and think it can give a more relaxed and natural feel to the day (although it's always worth considering an indoor backup just in case of rain).
Nat: Humanist ceremonies are also a fab option to consider if you are considering different timing for your day too: an elegant option that is becoming increasingly popular is having an early evening ceremony that opens up straight into the breakfast – meaning the event feels much more "evening wear", and works especially well for smaller gatherings.
3) You have to wear a white wedding dress – you're allowed to consider colours and patterns!
Hannah: I think it's worth thinking about what colours you usually wear, which colours suit you most and which colours make you feel happiest! I've seen stunning brides in pink wedding dresses, in traditional red or alternate blue Chinese qi paos, in traditional red and gold lengha or modern pink and green Indian wedding lengha.
Nat: It still surprises me how many of my brides still wear white or ivory gowns! – There are so many gorgeous colours out there to make a fabulous statement with. And if you are still wedded (see what I did there!) to a lighter colour, how about exploring a blush, or an ombre effect adding texture to your outfit… I wore a coloured wedding dress – I would never white in real life so I wasn't about to start then – I would look like an ill Victorian child!
4) You have to wear a strapless wedding dress – or even that your wedding outfit has to be a dress
Hannah: It seems that so many wedding dresses are strapless! And yet outside of weddings people don't normally wear strapless outfits? If strapless doesn't feel right or doesn't suit you, then consider sleeves, straps, halter necks – or even jumpsuits or bridal separates. You want to feel comfortable, confident and like yourself. I don't tend to wear strapless items – I worry about them falling down, spend the whole time hoiking them up and think they make my neck look strangely long! So I knew from the start that I wanted to have a dress with straps. I fell in love with Forever by Suzanne Neville from a photo, tried it on and didn't want to take it off. It has a structured corset body with but with a beautifully designed elegant crepe neckline and wide straps.
Nat: I had a gown too, but if I had my time again I would choose separates: there are so many cunning ways to pair a skirt or trousers with a formal top, that can be separated and then worn and re-worn again to your heart's content!
5) You have to have a wedding party of the same gender as you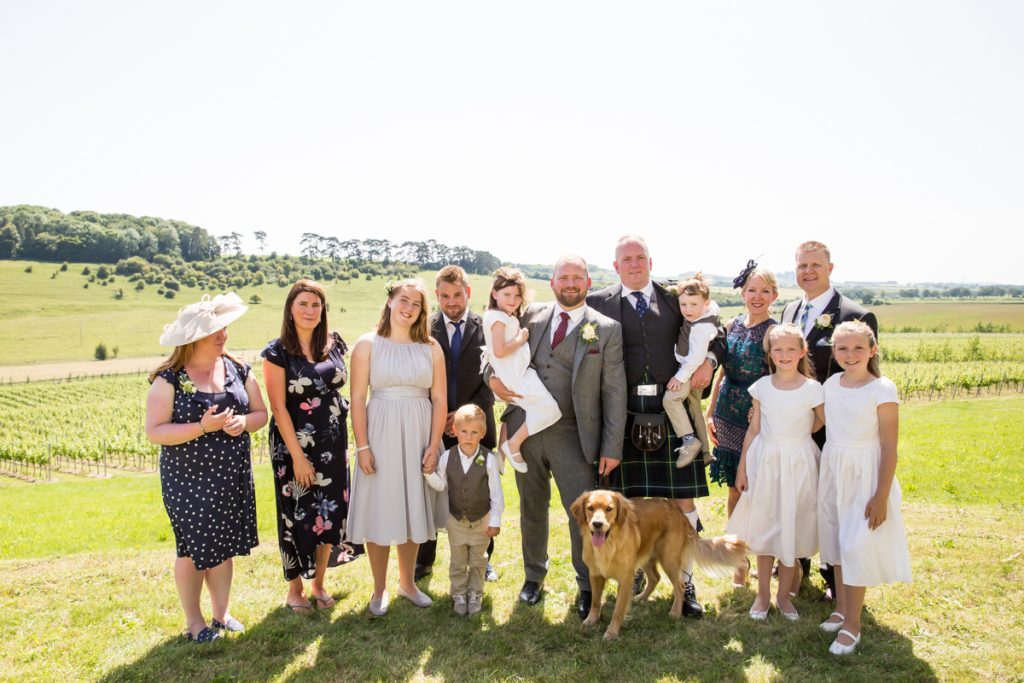 Hannah: I think this is becoming one of the more common wedding traditions to question. You should feel free to have bridesmaids and best men if that's what works for you, but women have male friends and men have female friends – don't let tradition exclude them if you'd like them there with you. Some lovely examples including having your grandma as your bridesmaid, a male friend as a 'flower man' throwing petals and having a best dog to include your pet in your wedding too! I'm a particular fan of including pets – see my Pets at Weddings Pinterest board for heaps of inspiration!
Nat: Think about the personalities who you want involved in your wedding ceremony: not just the genders. I think it is becoming more relaxed gradually to have "groomsmaids" and "bridesmen" but you can go even further! For example, don't feel your Best Person has to keep the rings. Why not have your mums hand them over to each other, or your oldest friends? Keeping a symmetry in the important jobs gives a beautiful balance to the day and further reinforces the support that your loved ones are giving to you both.
***
What are your thoughts about these wedding traditions to question? Which would you question and which would you keep? I'd love to know your thoughts… And if you're planning a personal wedding I'd love to talk to you about photographing your day – please send me a message. 
And to receive parts 2 and 3 of this blog about wedding traditions to question and those to consider direct to your inbox, sign up for email updates at the bottom of the page.